Up and off quite early for this one (well for me anyway!) and on arrival at Summerhayes, several people said I wouldn't be fishing for silvers today! Apparently the fish were on the top gasping for air earlier due to low dissolved oxygen so Pete had to put the aerator on which would create a fair bit of tow. I was hoping to avoid the peg closest to the aerator and peg 23 which I've never really got on with. I pulled out peg 5 which never used to be in due to a massive lily bed but this has been removed by Pete. Poor Adie Bishop drew peg 2 by the aerator and he wasn't happy but Pete bet him a fiver he'd frame from it!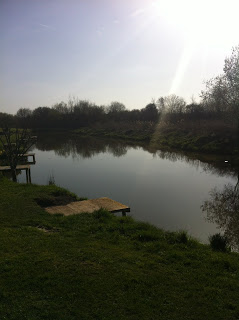 Sellicks looking up from peg 2 (you can see my peg set back from the others)
I got comfortable at my peg and surveyed the scene, my peg was set back from the rest and I would've needed 17.5 metres to reach the far bank (not that I intended going over anyway) and I plumbed up at 11.5 metres so I could fish the line I normally fish (10 metres). I set up a 0.4 gram Drennan Carp float which I hoped would be heavy enough to cope with the tow and also a dibber for the inside to my right. The start time soon arrived and I cupped in half a pot of damp micros on the long line plus the same plus some corn on the inside. The anglers either side went straight across to the far bank.
I baited up with a 4mm expander, shipped out, emptied my toss pot, the rig settled and the float disappeared from view and I was soon netting a 6oz skimmer. All the talk at the draw had been of it being hard but this was going to be easy wasn't it? Next put in I bumped a fish before missing a couple of bites but then I couldn't buy a bite! The chap on peg 4 had two or three carp but apart from him I hadn't seen anybody on our side catch. I did manage a foulhooked skimmer just before the first hour was up and wasn't too concerned as I thought I could still do enough to get in the silvers frame as Pete was paying two today.
After two hours I was still stuck on two fish although I had missed a few bites, the chap on my left was still blanking but my neighbour on the other side was still getting odd carp and already looking like he was in contention of a good result. He'd also had a fish from his inside line so I thought I'd have a look as nothing much was happening on the long line. I had a few indications on soft pellet before hooking a small carp which I had in open water and it snagged me solid and I had to pull for a break. I think it must have found the remains of the old lily bed! I didn't waste anymore time down here as I was never going to catch the bloke on my right.
Back out long was still barren and the only action I had was a small skimmer and I also lost a couple a foulhooked carp which I wasn't too worried about. Despite my meagre tally at the half way mark I stuck at it as I was still doing well on our side compared to the others with the exception of peg 4. I netted a foulhooked 2lb carp but bites were still few and far between. The tow was quite bad but I actually had a few bites by laying the rig in against the flow and almost trotting it through. I also played around with the depth but nothing seemed to help.
I did manage a couple more skimmers and was hoping for a good last hour or so, Bruce Hunt and the chap next to him both packed up so it was really grim on our side. Then I lost another foulhooked carp which I thought I was going to land and then next chuck I hooked another. This was a decent fish and I had hell of a job getting it's head up, the reason why became apparent after I netted it, it was hooked outside the mouth! As I was unhooking it I heard a crunch and my landing net pole snapped just below the net – great! I chucked it up the bank and had to use a long bank stick as a make shift landing net pole, mind you with the lack of action it wasn't going to be too much of an issue.
The guy on my left finally landed a skimmer but more worryingly, Glyn Wickham a few pegs up seemed to be netting some silvers. I did catch two more skimmers in the final hour but it had been painfully slow. I packed up and chucked my ruined landing net pole in the bin before watching the start of the weigh in, Adie Bishop weighed 7lb 4oz but at least was guaranteed a fiver off Pete, the next peg didn't weigh and then Mark H on peg 4 put an excellent 55lb 10oz on the scales and I had been well and truly battered. My two carp weighed 7lb 12oz and my seven skimmers weighed 4lb 5oz to give me a total of 12lb 1oz. I felt I had a chance of sneaking in the silvers if I remained top along our side. Dave on peg 6 had a single skimmer for 1lb 9oz and then pegs 7 and 8 had packed up before it was Glyn's turn. He had 6lb 9oz including a nice tench all caught on worm in the last hour and with a few carp weighed a total of 13lb 5oz.
I then took my gear back to the car so missed the rest of the weigh in but back at the results I checked the weigh board and Nigel Wickham had a fantastic 15lb 11oz of silvers from peg 19 and I could have stayed in my peg until next Sunday and not had that. Glyn was second in the silvers and Mark Leahy had 5lb 12oz although he framed overall and there was also a 5lb 2oz. I reckon I'd missed enough bites for second but then Glyn had lost two big skimmers as well.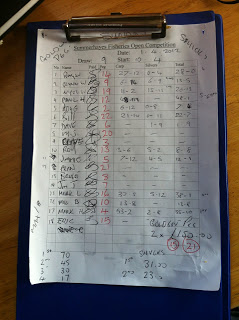 Lots of people didn't trouble the scales!
1 – Mark H (Summerhayes) – 55lb 10oz
2 – Paul H (Summerhayes) – 48lb 1oz
3 – Mark Leahy (Street) – 38lb 1oz
4 – Ray Wickham (Summerhayes) – 28lb
Silvers
1 – Nigel Wickham (Summerhayes) – 15lb 11oz
2 – Glyn Wickham (Summerhayes) – 6lb 9oz
So it looks my jinx on Long's has stopped but one has now started on Sellicks! Next up for me is a Good Friday match on Perry St but as I haven't fished it since last year, I'll be feeling my way in a bit, lets hope it's warm so I can fish up in the water.
So my three days fishing started with a bit of a flop and ended in an anti-climax with the highlight being catching my first mullet in between.