The weather forecast wasn't great for this one but I was pleasantly surprised to look out the window and see blue skies and some sun although the temperature was still quite chilly. I got out the pond and there was a good turnout of 19 anglers including all the usual suspects plus Brendon Ions and Scotty had also booked in for this one. Everyone wanted pegs 10 or 11 but per usual I couldn't get anywhere near and ended up on peg 14 which I was fairly happy with as it can be a decent peg.
I was going to fish up in the water if I could but the wind was a bit keen and I wasn't sure how it would affect the carp. Janders was opposite me on peg 6 and it's a good peg so my pound could be in jeopardy, my other side bet with Picky could be close as he drew the newly revamped peg 19, if the fishing wasn't so good for him he could always practice his high diving off the new pallet which was quite high off the water! Butch had drawn peg 10 with Mark Mockridge in 11 and I thought they would be the pegs to beat, I also had Bish on my right and Oz on my left.
I set up a Trabucco dibber with a hair rigged band for fishing up in the water, another dibber for fishing the inside to my right and a Drennan 0.4 gram Carp float for fishing at full depth at 10 metres away from my shallow line. I had soaked micros, 4mm and 6mm sinking pellets, corn and maggots for bait. All too soon it was time to start and everybody started feeding their various lines. I fed micros, corn and maggots at 10 metres and on the inside before pinging some 4mm pellets out to 11.5 metres. I had a 6mm pellet in the band and was lifting and dropping the rig in amongst the loose feed. The odd carp could be seen cruising around although the action wasn't instant on our side.
Mark in peg 11 got off to a flying start and Bish had an early fish too, Janders hooked a fish after about 20 mins, I had a couple of indications before hooking a carp of my own and safely netted a 3lb+ carp, then disaster struck when my band came off the hair, I carried on just fishing with a banded pellet but had no more bites, so quickly tied another hair rig but this didn't improve things either. Bish had a couple more fish and Blaker on peg 7 was catching steadily and had around 4 carp in the first hour and a half. Nobody else around me was catching much so with two hours gone, I cupped in some more feed on my inside before having my first look with the deep rig at 10 metres.
I was toss potting in some micros and missed a couple of bites before catching carp number two on corn, so far so good. After a couple more indications this line just went dead, so I tried the inside but no bites here and I was scratching my head. Bish now had 4 carp and Blaker had five or six and was looking good to frame. Over the next three hours I kept rotating my lines but the only action I had was from a foulhooked fish over my deep line which I only had on briefly before the hook pulled out. Janders was now on two carp as well and it looked like that pound was going down to the wire. Butch was struggling in 10 and Mark had slowed up in 11 but apart from Blaker nobody I could see was really catching and I started to think that if Bish and Mark framed I might sneak the section.
With an hour to go I was on the inside and I was getting odd knocks which at least meant there were some fish there. Then Janders got his third carp and I needed another to stand any chance of winning his pound. Time was ticking by and then with half an hour to go I hooked one and from the amount of black hydro streaming out, it was either a very big fish or foulhooked, my money was on the latter. I eventually netted a 5lb carp hooked up the bum! The score between me and Janders now stood at 3-3 with 20 mins left. Butch was now getting the odd fish and Blaker had added a couple more as well.
No more action for Janders or me and we would have to wait for the scales to see where the pound would be headed. As I was packing up I asked Bish how he'd got on and he said he'd had 7 carp plus 2 skimmers, Mike T next to him had 3 carp, I don't think Mark had added much to his early 8 fish but hopefully he'd still be there or thereabouts. As I took my holdall back to the car, it became apparent our side had been hard, Oz on my left had one carp and chucked back, Mike Collins and Les to Oz's left both weren't weighing either. Then Bushy on 18 said he had six carp and tench and said Scotty and the Hoff opposite him had both caught well, so it looked like that end had fished half decent. Picky only had one carp and was admitting defeat when I said I had 8 or 9lb.
Rocking in peg 1 didn't weigh so Scotty was the first angler to wet the weigh net and put an excellent 47lb 14oz on the scales, Hoff had 32lb 8oz next door, Brendon didn't weigh, Dunner had 16lb 14oz before Jander's three carp weighed 15lb 12oz and I paid him a pound, he was only admitting to 10-11lb and is as bad at estimating as me! Blaker plonked 41lb 4oz on the scales to go into second place, Mike (from somewhere near Exeter) had 17lb 4oz and then Butch had 16lb 10oz. Mark in peg 11 had a level 27lb before Bish just pipped him with 28lb 2oz. Any hope of a brown envelope for me had long gone but I weighed as there was still the Picky side bet to go for, my three carp went 13lb 14oz. Bushy had 29lb 8oz to take the last frame place and then Picky's single carp plus a few silvers went 12lb 10oz – phew! At least I was quits on the side bets. Dave Mockridge had 12lb 12oz to win the section and make Picky's day a little bit worse.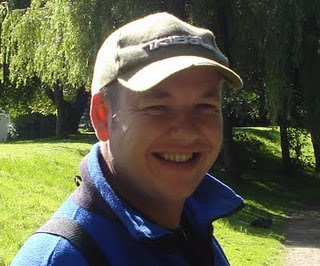 Scotty was top dog on the day with 47lb 14oz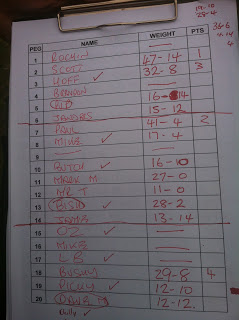 A patchy weigh board
1 – Scott Russell (Tackleuk) – 47lb 14oz
2 – Paul Blake (Chard) – 41lb 4oz
3 – Mark Hollister (Chard) – 32lb 8oz
4 – Steve Bush (Chard) – 29lb 8oz
Sections
A – Alan Dunn (Chard) – 16lb 14oz
B – Steve Bishop (Chard) – 28lb 2oz
C – Dave Mockridge (Chard) – 12lb 12oz
Well the first part of my Easter double header hasn't gone well, lets hope Sunday and the first match of the Spring League goes better!