After Fridays match I was looking forward to the first match of the Spring League and hopefully I'd do better than the three carp I had then. Les read out the rules and this year we are allowed to have two 'jokers', basically if you play your joker you get double points at the end of the match. Also there would be two sections for points with the winner of each getting ten points down to one for last in the section. After Friday I wasn't really sure where I wanted to draw and when I went in the draw bag there were only a couple of pegs left. I opened it up and peg 9 was staring back at me, I wasn't too upset as I'd done okay off it last year although it wasn't used on Friday.
I took my kit to the peg and surveyed the scene, I had a cormorant roost (fish refuge) on the inside to my right and that would do for my inside line. I was also intending to use my normal up in the water approach but in a departure from Friday's plan of attack, I was going to fish a line at 5 metres, feeding meat. Dunner was on peg 10 and it's normally a flier and Hoff was on my right on peg 8. Opposite there was Mike Hosgood (I believe he hails from somewhere near Exeter!) on the other corner peg (11) with Blaker next to him on 12. For bait I had 4mm and 6mm pellets for the shallow rig, micros, meat and maggots for my other two lines.
Les blew for the start and all over the pond, cupping kits were being shipped out, I fed the inside and 5 metres before starting shallow at 11.5 metres with a hair rigged banded pellet and started firing pellets out while lifting and dropping the rig. Much the same as Friday, I had a couple of indications and after 20 mins I foulhooked a carp which came off. Hoff got off to a flying start landing a couple of carp from on the deck at about 11.5 metres. Andy 'Chilly' Winters on peg 13 was also quickly into fish. There is a rope that goes across the pond from between pegs 8 and 9 to between 12 and 13 on the far bank and there was a distinct lack of action from our side of the rope!
Bish on 14 (where I was on Friday!) was soon catching fish from his inside line and Mark Mockridge was catching fish up in the water on 15. After two and a half hours me, Dunner and Mike hadn't caught a carp!, I think Blaker might have had one and lost a couple of foulhookers but already it wasn't looking good at our end. Hoff was still catching so I tried my 5 metre line and then my inside but no bites and I was at a loss. In desperation I tried double maggot on my 5 metre line while still feeding pellets shallow, I did miss a bite before I was distracted by carp coming up for the odd floating pellet on my long line. I went back out long and had a small carp (phew!) before catching one of around 4lb, here we go I thought, all was not lost yet. Dunner had a fish on the feeder and Mike got in on the act as well and all of a sudden it seemed like there were a few fish about.
Chilly had slowed up but Bish was now catching up in the water as well as from his inside line and it also filtered up the bank that Bushy was catching in peg 3 and had landed seven carp in the first couple of hours. So it looked like the frame places would be taken up by Bish, Hoff and Bushy but from what I could see there was still a chance of picking up some section money as apparently Les was struggling in peg 7 and with both me and Dunner on two fish apiece it was all to play for (as long as Hoff framed!).
Well famous last words as for the remainder of the match the only action me and Dunner saw was a lost foulhooked fish each. Mike started catching odd fish although Blaker was having a nightmare and was losing foulhooked fish at an alarming rate and seemed to spend most of the match with his head in his hands. Chilly had also slowed right up and had snapped his number five section earlier in the match so his day wasn't going well either. I kept trying the inside but never had a bite there and spent the last half an hour back up in the water but no more bites saw me stuck on two fish (well one and a half!). A really frustrating day but me and Dunner had to laugh about it as it just didn't seem like the fish were there. Hoff on the other hand had bagged right up and caught well from the inside to his right on worm, interestingly he never had a bite to his left by the cormorant roost where I had fished and fed.
I packed up and as I walked down the bank, any thoughts of sneaking a section win went out the window when Les said he'd had four carp and Butch on peg 6 had several as well. Mike had ended up with several fish and was mightily relieved as he had played his joker this morning and should now salvage decent points. The only other angler to play his joker was Picky on peg 20. With my pitiful haul of two carp there was also a good chance I could be £2 down in sidebets to Janders and Picky. The weigh in started at Dave Mockridge on peg 1 and he had 18lb 4oz, Mike Collins had 11lb 14oz before Bushy put an excellent 69lb 10oz of carp on the scales. I still felt it could be close with Hoff and Bish also having similar numbers of fish.
Butch had 11lb+ in peg 6 before Les had 17lb odd and would win the section if Hoff framed, his fish went 61lb 12oz to go into second place. My two fish went 6lb 4oz and I'd been battered off the next peg again, still at least I beat Dunner who had 5lb 10oz. I didn't see the rest of the weigh in as I was taking my box back to the car but at the results Bish had come close with 67lb 8oz and pushed the Hoff into third place. I did lose both sidebets with Janders weighing 18lb 8oz (and yes the score so far this year is 3-3!) and Picky weighing 12lb 8oz (and the scores are now level at 1-1 with him). I scored a lowly 2 points which wasn't a great start to the league for me.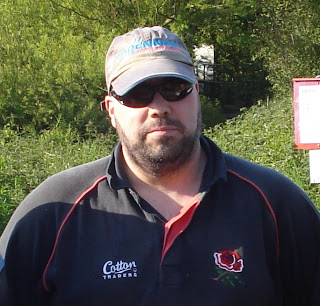 Bushy (the up in the water king) weighed an excellent 69lb 10oz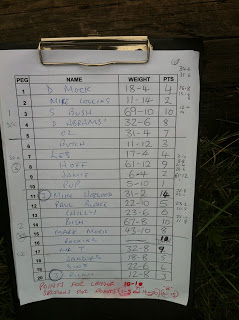 The results board (just don't look at peg 9 please!)
1 – Steve Bush (Chard) – 69lb 10oz
2 – Steve Bishop (Chard) – 67lb 8oz
3 – Mark Hollister (Chard) – 61lb 12oz
Sections
A – Dave Abrams (Weymouth) – 32lb 6oz
B – Les Braunton (Haines Angling) – 17lb 4oz
C – Mark Mockridge (Chard) – 43lb 10oz
D – Mike Thomas (Chard) – 32lb 8oz
Well that was a pretty disastrous two days fishing, well the next round is in two weeks, next Sunday I'll hopefully be at Summerhayes so tune in to see if this bad run continues.