After a bit of a bad run where I've gone three matches with no brown envelopes, I was really looking forward to this one. Hopefully I'd be able to have a nice day catching silvers. I spent ages on Saturday making up four new rigs, all sparkly Malman pencil floats, I re-elasticated two of my pole tops and put a pulla bung in one of them before sorting out expanders for me and Janders.
I was up bright and early but although it looked nice outside, there was a definite chill in the air and we'd had a bit of a frost, would this affect sport though? I picked John up and off we went, Pete had eighteen booked in for this one on Sellicks and all the usual faces were there plus Alvin Jones, who I hadn't seen for ages. There were two golden pegs and Janders only went and drew one of them (peg 8), was it going to be his lucky day? I pulled out peg 12 and was quite chuffed as the last time I was there I won the silvers with over 15lb and was hoping for more of the same today. It's also a good carp peg with a long inside line to my right leading up to a corner.
I was going to have my work cut out fishing for silvers though as I had Adie Bishop on the next peg to my right and Glyn Wickham on my left, both good silver fish anglers. The wind was bitter and pretty strong and would be sure to make presentation difficult at long pole lengths. I set up a 0.6 gram Malman pencil for fishing at 10 metres for the skimmers with Preston red (number 11) elastic rigged up to my pulla bung, hopefully this lighter elastic would stop me bumping skimmers. I also set up a dibber for down the edge at 8.5 metres. Bait was the usual 4mm expanders, corn and micros for feed. Glyn and Adie both looked like they were going down the chopped worm road for silvers.
11:00 arrived and Pete blew for the all in, I cupped in half a pot of micros on my skimmer line before potting in the same plus corn down the edge. I started out with a 4mm expander and second put in, the float sunk from view and I was into my first skimmer, it was all going to plan before it came off at the net!, so much for my super duper new elastic! Then I couldn't buy a bite and it was already looking like being pretty hard. I did manage three 4oz skimmers plus a couple of tiny ones and a little tench in the first hour but it really wasn't happening. Adie hadn't caught and Glyn had only had one carp. Bruce Hunt next to him was catching though and already had three of four carp.
Going into the second hour, Adie had a couple of carp and Glyn had lost one when his top three snapped in half! I could see Janders netting skimmers and he looked to be doing okay as nobody apart from Bruce was really catching. As the silvers weren't really having it yet, I decided to feed another half a pot of micros before trying down the edge. I normally fish corn down the edge but decided to try expanders as quite a few tench and crucians get caught from the inside on this peg as well. I had small toss pots fitted to both of my pole tops and was feeding micros every put in. My first bite saw me catch a tiny skimmer before I lost a foulhooked carp and came back with a scale on the hook. I then had two carp quite quickly with the second one around 4-5lb. Any hopes of doing a decent weight soon disappeared though when I lost a second foulhooked fish and then could only get the odd tiny blade.
Adie had a phone call and had to pack up and leave which meant I now had a blank peg to my right but would it help? Glyn was still struggling and only had a couple of carp and had suffered foulhooked fish as well but thankfully he hadn't snapped any more pole sections! I re-fed the inside before going over my skimmer line and had one straight away but this proved to be another false dawn and I really didn't know what to do next. Janders seemed to have slowed up now and it still looked like Bruce was the man to beat as he now had five or six carp after two hours. I lost another foulhooker but this time from my skimmer line so went down the edge for another look.
Glyn had a tench and then followed that with a near 3lb crucian and had blown my paltry silvers out the water in one fell swoop. That was it, I was going to stick it out down the edge as I reckoned another half a dozen carp would get me in the frame. I had a small carp straight away and then things went pear shaped when I knocked my number four section in the pond where it promptly sunk! After much faffing about I managed to get it back but my inside had died again and all I added was a couple more blades. Time was running out and I still didn't know whether to try and catch carp or stick it out on my longer line to see if could sneak in the silvers frame (he was paying two today). Janders and Glyn would both beat me on silvers but as Glyn now had several carp as well, I reckoned he would frame and you don't get double bubble.
I bumped a good skimmer on my long line which didn't help my cause at all and only added a couple more tiny fish so with an hour to go I was back down the edge (make up your mind Jamie!). I missed a couple more bites before getting snagged and lost my hooklength so I chucked that rig up the bank and went back to 10 metres (I really didn't know whether I was coming or going by this stage!). I was resigned to another poor day when I had another skimmer but bites were very few and far between. I've then hooked a beast which I thought might be a big bream or tench before it woke up and led me a merry dance on my light elastic. I eventually got down to my top kit and the pulla bung worked a treat and up popped a carp that had to be around 8lb! I didn't think it would help me much, apart from maybe take a £1 off Janders. That was the last of the action and I was quite glad to pack up as I was freezing cold and the wind really had been a pain. I ended with 19 fish (4 carp and the rest, mainly small skimmers plus that little tench).
On my way back to the car with half my kit, I stopped at Janders who said he'd had seven or eight skimmers, a tench and three carp so it could be close between us. Pete started the weigh in and the early pegs had been hard before Nigel Wickham had 22lb 11oz (which included 5lb 13oz of silvers), Janders had 7lb odd of carp and an excellent 9lb 10oz of silvers, I said he'd frame in the silvers with that although Alvin was admitting to 10lb of skimmers. There was a 17lb 10oz on peg 9 before it was my turn, my silvers went 4lb 1oz (which was more than I thought), before my four carp went 16lb 10oz to give me a 20lb 11oz total so at least I had won a £1 off Janders. Glyn had 6lb 8oz of silvers plus 26lb 1oz of carp to go into the lead. His lead lasted until the scales reached Bruce who took over top spot with 39lb 8oz.
Jess Jenner had 18lb 13oz and Mark Leahy had 19lb 15oz and I was still hanging on in 4th spot, with five pegs to weigh I was sure someone would pip me. Alvin had 11lb 11oz of quality skimmers to push Janders into second in the silvers pool and with no more decent weights, I'd actually sneaked fourth place and a little envelope would be headed my way.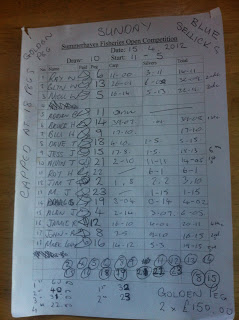 The weigh board showed me how handy that last gasp fish was!
Looking at the weigh board there were six weights between 14 and 20lb, so that last fish propelled me from 10th to 4th place! I picked up £22 plus the all important £1 from Janders who also picked up for his silvers second. He fished a really tidy match to pick up for the first time here, well done mate. I'm glad he did well because I'm sure he was starting to think I was giving him dodgy expanders!
1 – Bruce Hunt (Summerhayes) – 39lb 8oz
2 – Glyn Wickham (Summerhayes) – 32lb 9oz
3 – Nigel Wickham (Summerhayes) – 22lb 11oz
4 – Jamie Rich (Against Men and Fish) – 20lb 11oz
Silvers
1 – Alvin Jones (Paul Church Motors) – 11lb 11oz
2 – John 'Janders' Anderson (Donyatt Superstars) – 9lb 10oz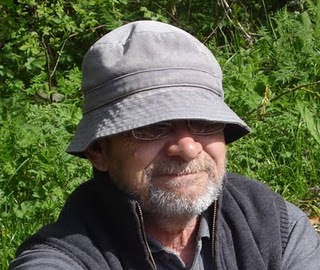 Janders (silver fish expert!)
Things got better when I got home and Chelsea beat Spurs 5-1 to reach the FA cup final. Next week we're back at Perry St so tune in to see if I can do better than my last two visits.
Also I can't go without passing on my best wishes to Les Braunton who got admitted to hospital with a mild heart attack last week, the good news is that it was very minor and Janders said he's coming home today. Hopefully he'll be there next Sunday, get well soon Les.