The forecast wasn't great for this one with rain, wind and even hail predicted! I woke up and the there wasn't a cloud in the sky and the sun was shining, had they got this one wrong? I got out the pond and it was great to see Les there, he's had to give up the fags and will have to make some changes to his lifestyle but other than that he looked in good nick (still a grumpy bugger though!). As we drew, the blue sky started to go rather grey and it looked like we'd be in for some rain. I pulled out peg 16 and was reasonably happy as I wanted a middle peg after the last match. Janders drew peg 7 and played his joker as did several others although they were all hoping to avoid it turning into a 'choker' as Picky very wittily put it!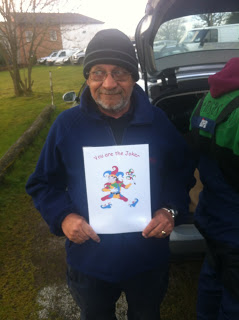 Janders played his joker
Picky had drawn 14 and it looked like I might be losing another two squid this week. I had Dave Mockridge on my right and Dave Abrams on my left (a Dave sandwich!). I set up two dibbers, one for up in the water with a hair rigged banded pellet and the other for fishing down the edge to my left. I also set up a Drennan 0.4 Carp for fishing at 5 metres with meat. Dave M provided the early excitement when he hooked a 7lb carp on a bare hook which he landed and put back, hopefully we'd be in for a good day (famous last words!). Then my mate Andy turned up and managed to accidentally kick Chilly's landing net pole and snapped it in half! The sky was getting blacker all the time and the wind was really cold and quite blustery.
Les blew for the start and I fed meat dusted with some groundbait on the inside and at 5 metres before starting at 11.5 metres up in the water. I was firing 6mm's out and had a bite quite quickly, the carp was only on briefly though and I suspect it was foulhooked. I did manage a 4oz roach on 6mm banded pellet so avoided the blank, then it started to rain and that was enough for Andy and he left us to it. Blaker opposite on peg 5 got an early fish and Janders got off to a flying start landing two carp in quick succession but other than those two, not a lot was happening from what I could see.
Just before the first hour was up I managed a carp of around 5lb and wasn't too far off the pace, Rocking Roy in peg 10 had landed a couple and Blaker and Exeter Mike had also gotten off the mark. It was painfully slow though, I was just thinking about trying my other lines when I lost another foulhooker before catching carp number two. Janders had another to stay one fish ahead and Bish in peg 3 had a couple up in the water so I stuck with it for now. Dave M lost a carp but so far hadn't landed anything and was wishing he'd kept the fish he had before the whistle.
After two hours I was on two carp and it looked like being hard, I fed my other two lines again with the intention of trying them shortly. Then I had my third carp and me and Janders were neck and neck. The rain kept stopping and starting and it was freezing cold which probably explained the slow sport. With half the match gone I still only had the three carp (plus that roach), Janders had another to inch ahead again and Blaker and Mike were getting odd fish and looked to be losing some foulhooked fish as well. I decided to try my 5 metre line and baited up with a 6mm cube of meat and toss potted in some free samples over the top. No indications after 15 mins saw that rig up the bank, not to be used again. Next stop was my inside line, this was slightly better in that I had an indication but no proper bites.
I was still feeding pellets at 11.5 metres and after no more knocks down the inside I was soon back out and had a 4oz rudd to add to my 'bulging' net. I lost another foulhooked fish so they were obviously out there mooching about, I tried changing depths and even went out to 13 metres but just couldn't tempt anymore fish. Odd fish seemed to be coming out from the inside lines so I thought I'd spend the remainder of the match down the edge. The Hoff in peg 1 and Dino in 2 were catching quite well and were now on eight fish apiece and it looked like they'd be in the money today. After those two early fish, Bish hadn't added anymore on peg 3 and Dave A on my left had been quiet although I saw him net one fish, Dave M still hadn't caught on my right.
With the intermittent rain, all over the pond people were putting brollies up, only to take them down again ten minutes later, Exeter Mike was playing a carp when his brolley decided to shut of it's own accord around his ears and he wanted to know who'd turned the lights out! I'd had no more action down the edge so it was back out to 11.5 metres, Janders had suffered several lost fish but was still stuck on four fish so if I could get one more, it would at least give me a chance in the £1 sidebet. With half an hour to go I hooked and landed my fourth carp but that was the last of the action and I wasn't sad to hear Les blow for the all out as it really was a pretty miserable day.
I packed up and was sure my rubbish run at Perry St this year was set to continue, if they'd caught opposite, surely the pegs to my left in my section would have found a few as well? Well Dave M had dry netted although he was in the other section and I'm sure he couldn't imagine that happening when he was playing that carp before the start! As I walked back to the car park, Dave A said he'd had two carp, Chilly only had one, as did Bushy and Oz in 20 had two carp and a tench so there was glimmer of a brown envelope for me, now we just had to await the scales.
As always the scales started at peg 1 where Hoff put ten carp in the weigh sling for 46lb, a good weight and he'd played his joker too!, then Dino took the lead with ten carp for 57lb 12oz, Bish had struggled for 10lb 8oz and then Exeter Mike and Blaker both had over 20lb. Mike T only had two for 5lb 8oz in peg 6 and then it was Jander's turn. He asked what I had and I said I reckoned I had about 10lb, he was admitting to a rather accurate 8lb 4oz but actually weighed 16lb 10oz, over 100% out, I chucked my pound at him in disgust! The next decent weight was Rocking Roy in peg 10 with 26lb 8oz which was followed by Mark Mockridge with 34lb 8oz in peg 11. Picky said he'd had 9 carp so I paid him up as well (he weighed 38lb 10oz to go into third place) and this was turning into a rather expensive day!
Then it was my sections turn and my four carp (and a roach and a rudd) went 15lb 4oz so I wasn't too far off Jander's weight, Dave A had 11lb, Chilly had 4lb 12oz so didn't need his landing net pole after all!, Bushy had 9lb 12oz and Oz a level 9lb, so I'd sneaked the section win and picked up £30 (which took the sting out of losing both sidebets)- get in!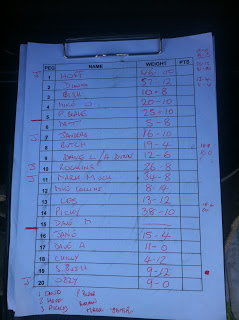 Today's weigh board
So Dino won, followed by Hoff and Picky, there were also some preliminary knock out rounds today (I had a bye) but I can't remember who was against who! With several jokers played today it was all change in the league with the Hoff taking top spot with 27 points followed by Mark Mockridge on 26 and Exeter Mike on 21.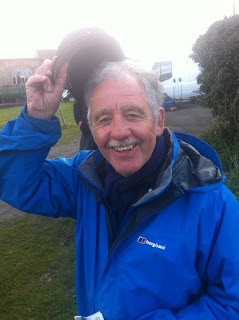 The legend that is Graham 'Dino' Pepper
1 – Graham Pepper (Taunton) – 57lb 12oz
2 – Mark Hollister (Chard) – 46lb
3 – Alan Gage (Chard) – 38lb 10oz
Sections
A – Paul Blake (Chard) – 25lb 10oz
B – Roy Fowler (Chard) – 26lb 8oz
C – Mark Mockridge (Chard) – 34lb 8oz
D – Jamie Rich (Against Men and Fish) – 15lb 4oz
Next week me and Janders are off back to Summerhayes, lets hope the weather is better and we can have a good day catching 'silvers'.
Update – just found out the results of the early knockout rounds (points scores in brackets)
Mark Mockridge (9) and Roy Fowler (8) beat Dave Mockridge (1) and Paul Blake (8)
Alan Gage (10) and Dave Abrams (5) beat Les Braunton (5) and Mike Collins (3)