I woke up and was relieved to see it actually wasn't raining for once! The temperature was still a little chilly but a vast improvement on recent weeks. I got out the pond and the first thing Les had to do was draw for the pairs, I got paired up with Picky and we were up against Chilly and Mark Mockridge. Then the anglers who'd already drawn corners pulled their pegs before the rest of us dived in. I was half hoping for a corner but opened my peg to reveal 19, it's not been great and is a new platform, high off the water. My five peg section has been pants (even the corner!) and I won the section last match with a lowly 15lb odd.
Quite a few jokers were played today, including Blaker on peg 7, Mike T in 1, Les in 11 and Dave Abrams in 20. Most people are playing them when they draw corners but would any of them turn into 'chokers'? Bushy didn't play his in corner peg 10, would he regret it? I got to my peg and safely negotiated a route to the top of the pallet after setting up a base camp! Looking down on the anglers around me, I had Dave A on my left and Exeter Mike to my right with Mike T, Mark M and Picky opposite so at least I'd be able to see how my £1 was looking as well as how we were getting on in the pairs.
I'd tried meat for the last two matches without a bite on it but had it with me again this week (third time lucky perhaps?) and was going to feed it at 5 metres and down the edge to my right and as always I had a rig for fishing up in the water with hair rigged, banded pellet. With plenty of time to set up, I had a sandwich and a coffee and then we were off. I feed my two meat lines before starting up in the water. Odd fish could be seen cruising about but the first hour was a complete anti climax and I never had a bite! I wasn't too worried though as apart from Picky who got off to a flying start with four fish in the first hour and Dave A, who had one, nobody else I could see had caught a carp.
I came in on my 5 metre meat line and was feeding a few cubes by hand and after half an hour I started to get the odd indication and finally hooked and landed a decent carp of 5-6lb and I was off the mark. This put me ahead of most people at our end but then Mike T and Mark started catching and soon overtook my single fish. The only other action I had was from a 4oz rudd that took my cube of meat on the drop. I'd still been feeding pellets on the long line and I could see odd fish out there mooching about so after feeding both my meat lines with some more grub, I was back out there.
I started getting indications and landed my second fish but I was having trouble with foulhooking fish, I got to three fish but had lost the same amount. Picky, Mark and Mike were now catching regularly and I was looking at low points in my ten peg section again and the best I could hope for was winning my five peg section money. From what I could see Dave A had one carp, I think Exeter Mike had one and the bankside grapevine said that Bish had four so it was all to play for. I was still feeding meat on both my other lines but every time I thought about trying them I would get an indication off a fish from my long line. I did land a couple of foulhookers and they just didn't seem to be having it properly.
I got to six carp with an hour to go and always seemed to be a fish or two behind those three opposite but felt I was ahead of the anglers either side (Dave and Mike had two apiece I think). With half an hour to go I decided to try my previously untouched inside line and I gave it ten minutes without a touch before spending the remaining time on the long line. I did manage one more fish which I was convinced was foulhooked because it gave me a right runaround but it was fairly hooked and that was that. As I packed up I asked Mike how many he had and he said three and with Dave having two and Bish on five that just left Dave M in our section and I wasn't sure how he'd got on.
As we all started taking our gear to the cars, I paid Picky a £1 as he'd had 9 carp and 2 bream, Janders said he'd had 5 carp but wasn't in a rush to pay me as he'd netted a couple of lumps and as I'd had some smaller carp it could be close for the other nugget. The scales started with Mike T who had 26lb 4oz before Mark had a level 37lb and then Picky had 47lb to go into the lead, this lasted until we got to Blaker in peg 7 and he plonked a fantastic 106lb on the scales and he'd played his joker too! Bushy had also done well in peg 10 with 79lb 10oz but hadn't played his joker! Les had a 'choker' in 11 with only a single carp. Janders five fish went 24lb 6oz and I didn't think I had that. Then the scales arrived at my section and Dave M had 20lb 9oz, Bish had 20lb 2oz and then Exeter Mike's three carp went 21lb 14oz. Now I thought I had approx 20-21lb and was convinced I'd just miss out. My seven carp actually weighed 29lb 4oz and I received a lot of ribbing over my poor estimates. Dave A had 6lb and had suffered a 'choker' as well, so I'd won my section and won a £1 off Janders to boot!
Blaker won with Bushy second and Picky sneaked into third, I picked up £25 for the section win and my 8 points combined with Picky's 10 saw us knock out Mark M and Chilly who had a combined score of 14.
The other knock out results are below (points scores in brackets)
Steve Bishop(4) and Mike Hosgood(6) beat Graham Pepper(7) and Steve Osborne(2)
Steve Bush(9) and Janders(6) beat Mark Hollister(8) and Dave Lawrence(3)
Mike Thomas(7) and Dave Abrams(1) beat Butch Baker(4) and Brendon Ions(3)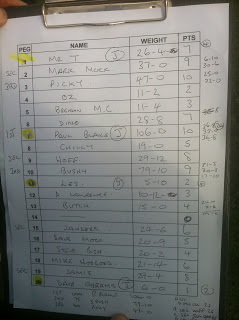 Today's weigh board
1 – Paul Blake (Chard) – 106lb
2 – Steve Bush (Chard) – 79lb 10oz
3 – Alan Gage (Chard) – 47lb
Sections
A – Mark Mockridge (Chard) – 37lb
B – Mark Hollister (Chard) – 29lb 12oz
C – John 'Janders' Anderson (Donyatt Superstars) – 24lb 6oz
D – Jamie Rich (Against Men and Fish) – 29lb 4oz
After three matches Mark Hollister and Mark Mockridge jointly lead the league with 35 points followed by Paul Blake on 33, with two matches to go until the half way point, there are still several anglers who have yet to play their jokers.
So a pretty good weekend for me so far, Chelsea won the FA Cup and a section win today, I'm off to Summerhayes tomorrow so come back tomorrow night to see if I finish the Bank Holiday on a high.