Well I woke up to howling wind and rain of biblical proportions battering my window but I was still going fishing which confirms that most anglers are indeed raving bonkers! I picked Janders up and the weather was atrocious, we got to Summerhayes and I was half expecting Pete to say the match was off but no, there were plenty of other lunatics all eager to fish! Pete did say he was going to switch the match from Sellicks to Longs which might afford some anglers some cover. The top pegs looked relatively calm and I drew peg 1 which was one of those, the down side is that the peg is quite narrow, still the weather would be a bit of a leveller. Janders drew peg 36 opposite and would have the rain right in his kisser.
I decided to keep things simple and just had a Malman 0.4 gram pencil for my main skimmer line and a dibber for the insides to the left and right. For bait I just had 4mm expanders, micros and some corn. I had Ray Wickham on my right on peg 39 and Nigel Wickham was the next peg along from him on 37 which was also one of the golden pegs. To my left I had Roy Hughes who I knew would be targeting silvers as I suspected quite a few would today as the wind would make fishing across nigh on impossible.
The rain was still coming down quite hard and my Preston waterproofs would have a good workout today, my peg wasn't too affected by the wind and I could fish at 8 metres comfortably which put me two thirds of the way across the peg. A quick coffee to warm my already cold hands and then we were off. I cupped in half a pot of micros at 8 metres before feeding the same plus corn to my left margin and just micros to the right. I shipped out and didn't have to wait long before my first bite, I struck and it felt like a good skimmer before the hook pulled and I came back with small scale on the hook. Next chuck I missed a bite before losing what felt like a small tench or crucian, this was going well!! I then had a 12oz tench and thought if I could do 3lb an hour I wouldn't be far off. I was getting regular bites and added a little skimmer and two crucians before losing another skimmer at the net. After the first hour I probably had around 2lb and nobody around me had caught much yet.
Hour two was slightly better and I had two more crucians plus a few skimmers to put me on around 4.5lb, still under my target but at least I was catching steadily. Hour three saw things start to slow and I only had a little tench plus a couple of skimmers and a tiny carp to put me on around 6lb in total. Bites were very sporadic so I tried fishing to the left and right of my feed but never had a bite, I also put in a very lightly fed line to my left at 8 metres in front of the empty pallet, no bites here either. Hour four and my main line was as dead as a dodo, so I tried both inside lines but apart from a couple of knocks I didn't have any proper bites. With no fish added to my net in hour four I revised my target to 10lb which meant I needed to catch around another 4lb of silvers in the remaining two hours.
It still seemed to be quite hard at our end and several people were walking about, Nigel was getting the odd carp down the edge but that was about it. I stuck it out on my main line and lost another foulhooked skimmer, before catching a 2lb carp which didn't help me much, I also lost another foulhooker which I think was a carp. I did get a couple of better skimmers, a roach and a lovely golden tench which probably put me on 8lb with an hour to go. I was by now very cold and my micros were in danger of turning into mush. Nigel was still getting carp and probably had a dozen by now which would give him a good chance of the golden peg, Roy was getting odd skimmers but like me he'd get one or two before it went quiet. I managed another three in the last hour to put me on about 9.5lb but I was only admitting to 8lb!.
It was sweet relief when Pete shouted the all out and I quickly packed up my sodden gear and took it back to the car. I asked Janders how he got on and he said he'd only had three carp so the £1 should be safe. The scales started at 39 and Ray had 8lb and reckoned I had more than I was admitting, Nigel put an excellent 24lb 11oz on the scales, Janders had a level 6lb and handed over a nugget (5-4 to me now!), then a couple of anglers (including Digger) didn't trouble the scales before Bruce put 21lb 7oz in the weigh sling. Jim Jenner in peg 30 had 10lb 7oz of silvers and I thought I might be close to that, then the chap on 28 (Paul Homewood I think) had 13lb 1oz of silvers and I was sure I didn't have that although Ray reckoned I did! Jess Jordon went one better with 13lb 15oz and I knew I wouldn't be picking up today.
The next decent net was Glyn Wickham who had a single carp of 1lb 15oz plus a brilliant 22lb 5oz of skimmers to give him 24lb 4oz which was just 7oz shy of stopping his brother from winning the bonus peg payday. Adie Bishop also came close with 20lb 6oz and had lost four carp which would have won it. Roy had just over 9lb of silvers and then it was turn, my two carp went a level 2lb and when I pulled my silvers out I didn't think it would be enough and Pete called out 12lb 5oz and I missed out on second in the silvers by 12oz – bugger! I'd lost/bumped enough to have won it with Glyn framing but I'm sure others lost fish as well.
1 – Nigel Wickham (Summerhayes) – 24lb 11oz
2 – Glyn Wickham (Summerhayes) – 24lb 4oz
3 – Bruce Hunt (Summerhayes) – 21lb 7oz
4 – Adie Bishop (Summerhayes) – 20lb 6oz
Silvers
1 – Jess Jordon (Summerhayes) – 13lb 15oz
2 – Paul Homewood (Summerhayes) – 13lb 1oz
Nigel had a nice pick up of £230 with the golden ball and his brother was second, I think they all fish the worm and really make it work here. As for me, well at least I know my Preston waterproofs work!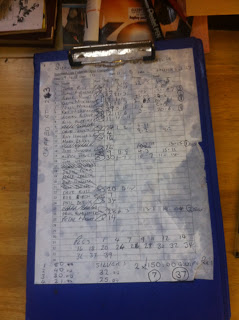 Even the weigh board got soaked!
Well next week is round three of the Spring League at Perry St, so be sure to come back to see if I can start May with a bang or will Janders pull it back to 5-5.