Up and off to Bridgwater for my second match in two days, the forecast wasn't great at all for today but I was looking forward to a day of fishing for silvers. One of the first people I saw on my arrival was Bobby Gullick and was surprised when he said we were fishing Sellicks today and not Longs. Apparently Longs had fished poorly yesterday so Pete had switched it to the 'Blue Lagoon'. I just hoped I'd draw a peg where I could fish for silvers, I delved into the draw bucket and pulled out peg 23 and was slightly disappointed as it looks the part for carp with it being an end peg but I have struggled on it a few times although I did do 12lb of skimmers in the pairs match last year. Pete said he'd won the silvers off it in the last match, which lifted my spirits somewhat.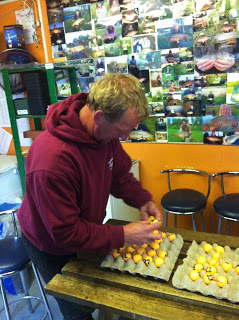 Pete with his orange balls!
As yet the weather wasn't too bad, dry and no wind so far, maybe they'd got it wrong! I had Clive Cunningham on my right with Bobby next to him and I could see Nigel Wickham opposite on the other end peg. I set up two rigs, a 0.6 gram Malman Pencil for my main skimmer line at 8.5 metres and a dibber for tight in the corner. Bait was simple, just some Bait Tech 4mm expanders, micros and a small tin of corn. Pete blew for the all in and I cupped in half a pot of micros on my skimmer line plus the same and some corn in the corner. I baited up with an expander and toss potted in a pinch of micros, Clive hooked a decent fish straight away which came off and then I hooked one of my own which turned out to be a 2lb carp and not exactly the start I'd hoped for.
The next two chucks I had two skimmers and I set myself a mental target of six skimmers an hour which should give me 3lb and an 18lb total at the end of the match, sounds simple when you say it like that doesn't it? Clive netted a carp and Bobby caught a decent 5-6lb fish and I could see anglers past him netting skimmers and carp as well. The rest of the first hour went pretty well for me and I added another four skimmers and a tiny one which meant I had hit my target although I had bumped and missed a few as well. The second hour was even better and I had nine decent skimmers plus a couple of blades and reckoned my silvers net was up to 7.5lb. This was probably a little conservative as some of the skimmers were getting on for a 1lb apiece.
Clive was struggling and I hadn't seen Nigel opposite using his landing net much. Bob shouted down to ask what I'd had, I said about 7lb and he said he'd had four carp. Then we had a couple of showers and the wind got up and there was a wicked 'trip' going back the opposite way to the wind and my bites slowed right up. It seemed the same for everybody though and in hour three I still manged to put the odd skimmer into the net and even had two carp in two chucks, much to Bob's disgust! I thought I probably had about 10lb of skimmers at the half way point. Bob was now on five or six carp and Clive had gone to take shelter in the club house.
The only way I could get bites was by holding the float back against the tow and quite a few bites were coming as soon as the rig settled, I was still getting blades and even added a couple of foulhooked skimmers about a pound and a half apiece. I was slipping off my initial target of 18lb but thought I could still do around 15lb which is normally there or thereabouts. After four hours I was up to about 12.5lb and had landed another nuisance carp. Bob had been for a wander and said nobody on the far side was really catching silvers and four carp was good over there! I could see Nigel getting odd skimmers and carp but as I was putting odd fish in the net as well, I wasn't too worried.
In the quieter periods I kept thinking about trying my swim in the corner as I wasn't too far off the pace with carp but I really didn't want to come off the skimmer line in case I went back and they'd disappeared! Bob was now getting odd carp and looking good to frame, the guy next to him was getting skimmers regularly and I had him down as a danger man. We were getting some heavy rain showers and then they'd stop and the sun would come out!, wish this bloody weather would make its mind up! Hour five and I had a lovely little tench of 12oz or so plus some more skimmers including a couple of 'fliers' and I thought I must be getting close to my target of 15lb.
The last hour was really good for me and I had some decent skimmers plus a few blades and thought I must have 16-17lb although Bob reckoned I had more. He'd finished up with thirteen carp plus some silvers although the chap next to him had suffered a run of lost carp and packed up with an hour to go and tipped back his fish, Bob said he'd chucked back about 15lb of silverfish! Maybe I hadn't done as well as I'd thought but both Bob and Clive said I'd won the silvers and that Bob's travelling partner, Tom Thick, would win the match as he had around thirty carp. I'd ended with four carp, one tench and forty skimmers and had a thouroughly enjoyable day but I was pretty sure I didn't have as much as Bob thought I did.
The scales started round the other side and Nigel had 8lb 11oz of silvers and a 26lb 13oz total, the next good silvers weight was Roy Hughes with 10lb 2oz and this stayed in the lead until we got to Tom who had 12lb 2oz of silvers but he wouldn't be picking up any silvers money today as he had 72lb 3oz of carp to go with them to go into the lead with 84lb 5oz, a fantastic weight. Eric Fouracres took the silvers lead with 11lb 15oz from peg 19 and it was looking like the chap next to Bobby had thrown back a framing silvers weight. Then Bob had 40lb 12oz of mainly carp to go into fourth place behind Tom, Bill Hopping with 43lb 8oz and Adie Bishop with a level 43lb, very close weights again.
Then it was my turn and my four carp went 9lb 4oz and my net of mainly skimmers went 23lb 12oz to give me a 33lb total and another silvers win, I really do enjoy this sort of fishing and once again I was only a couple of fish off a frame place although the £40 I picked up was actually better than the winnings for third place.
1 – Tom Thick (Bristol) – 84lb 5oz
2 – Bill Hopping (Summerhayes) – 43lb 8oz
3 – Adie Bishop (Summerhayes) – 43lb
4 – Bob Gullick (Garbolino Blackmore Vale) – 40lb 12oz
5 – Glyn Wickham (Summerhayes) – 33lb 5oz
Silvers
1 – Jamie Rich (Against Men and Fish) – 23lb 12oz
2 – Eric Fouracres (Summerhayes) – 11lb 15oz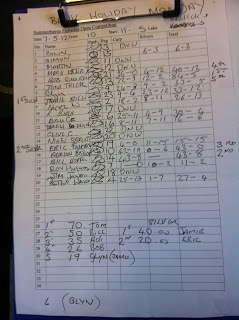 After Tom's weight, it was really close
Well another really enjoyable day and I love coming here, Pete has got a cracking little venue and the crowd that fish it are all really nice too. I'm actually coming back again on Wednesday as it's my birthday (35 again!) and I've booked a day's leave. The match is on Willow Lake which is one I haven't fished before but apparently it holds a good head of silvers so check back mid week to see if I can keep this good little run going on my birthday!