I always take a days leave on my birthday (unless it falls on a weekend of course!) and today I booked into a match at Summerhayes. It was on Willow Pool which is a bit of an unknown entity as it's never used in matches and I was quite excited about fishing a new water. There were only eight booked in for today including Exeter Mike who was fishing Summerhayes for the first time. Pete said he would pay the top two and one in the silvers pool. I drew peg 5 which put me opposite an island and I had empty pegs either side, so plenty of room. Mike had drawn peg 1 which Bruce Hunt had said he fancied.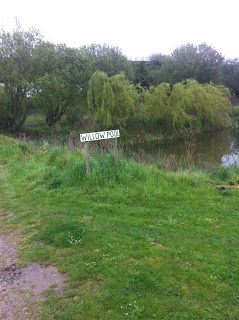 Willow Pool
The pond was very weedy but odd fish were topping and I couldn't wait to get started. I set up a 0.4 gram Malman Pencil for fishing at 10 metres into open water to the left and right of the island and also a dibber for fishing against the island. Bruce, Martin and Pete were on the opposite bank and from all the snipping going on, I presume they would be fishing chopped worm. Pete said there were lots of big eels in here and they could make a big difference as far as the silvers pool was concerned. I only had Bait Tech 4mm expanders, micros and corn with me but was hoping to target silvers as always.
Pete shouted for the start and I fed my three lines with micros but with the addition of some corn for the island swim. I started in the right hand swim and was getting indications straight away, in fact I moved the rig and a small 2oz carp was already hooked! Next chuck I had 3oz tench and from what I could see most people were getting a few small fish. Bruce had a couple of decent eels early and I started to think that to do well today you would need to sort out some better fish. I was catching bars of soap and small carp around 2-4oz most chucks and even added a better sample around 12oz and seemed to be doing better than most. After an hour I had around 15 fish but I had no idea what they would weigh and thought I must have around 2lb.
The second hour was almost identical apart from catching a skimmer and a rudd as well, I also added another carp around the pound mark. Martin and Adie Bishop were now struggling and Pete was only getting odd fish as was the chap to my left. Mike seemed to be doing quite well and the bloke on the end peg on our bank was netting decent carp quite regularly after a slow start. Ray, Nigel and Glyn Wickham turned up to watch for a bit and while Ray was behind me I had a few more small fish, another carp around a pound and then lost a good one when the line wrapped round the tip of the pole and the elastic didn't come out, the Tubertini 808 came back straightened out!
The third hour saw my bites dry right up and it seemed to be the same for everyone with the possible exception of Mike and the other end peg. Bruce was catching small rudd regularly and I was hoping he'd do enough to frame and I might sneak the silvers. Brendon Ions who fishes some of the Chard matches also turned up for a look around and said Mike was still doing well and catching some pound plus carp. So after my good start I was rapidly slipping down the places and it was starting to look like a birthday brown envelope wasn't coming my way.
I tried my island swim with corn on the hook to give my other swims a rest but never had a proper bite on it. With my other two lines dying a death I plumbed up a margin swim and put a bit of feed in to try later. I would still get odd fish from my two open water lines but I'd only get a bite as soon as the rig settled, if I left it, it would just sit there. With two hours left I was at a bit of a loss as to what to do next. Adie was still struggling and Martin packed up early, Pete managed to snap one of his butt sections (sounds painful!) and had to go and get a replacement. Glyn said the chap on the end peg was catching well and getting carp to 4lb! It looked like he would be an easy winner but second and the silvers pot still looked to be anybodies.
We were now getting a few showers and the wind was being a bit of a pain and I was still struggling, I tried by the island with soft pellet and also my margin line but never had a bite in either swim. Going into the last hour I was still getting odd fish and then in the last half hour my regular bites returned. I had two small tench in two chucks and then hooked another decent (1lb+) carp and was playing it with kid gloves when it weeded me and then the hook pulled out! Next put in I've hooked a small tench and my bloody elastic wrapped round the pole tip again and that came off as well! I did manage another small carp and a little tench before the all out.
I ended up with 48 fish, mainly small carp and tench with a few rudd and one skimmer and I had no clue what they would weigh. Mike was first to weigh and his silvers net weighed 3lb 14oz and his carp 12lb 2oz to give him a 16lb total, John Hill on the next peg had 6lb 11oz, which included 4lb of silvers. I felt my only hope was if Bruce framed and I might nip in and take silvers but I wasn't sure I had 4lb of them! I weighed my carp first and they weighed 11lb 13oz and when I plonked my silvers on the scales I could see it was going to be close and Pete called out 4lb 2oz, so I'd gone into the lead for the silvers but my total of 15lb 15oz was one agonising ounce short of Mike's weight. Adie had 4lb 11oz and hadn't enjoyed it very much, Gary on the end had 3lb 10oz of silvers and 33lb of carp to give him an easy victory as I knew nobody else would be close to that.
Pete had 7lb 4oz and then Bruce had 4lb 2oz of carp and when he pulled out his silvers net I knew there would be no happy ending for my birthday blog!, he had 9lb 11oz of mainly rudd to give him 13lb 13oz in total. Mike did tell me that he'd found a 6oz carp hung up in his keepnet after the weigh in but that last lost carp would have done it for me, oh well. Quite an enjoyable day with lots of bites and definitely better than working!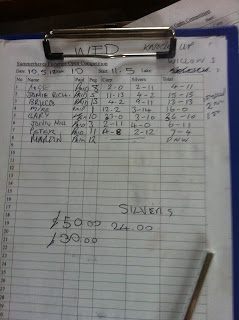 Ounced out on my birthday!
1 – Gary (Summerhayes) – 36lb 10oz
2 – Mike Hosgood (Exeter) – 16lb
Silvers
1 – Bruce Hunt (Summerhayes) – 9lb 11oz
I could get used to this fishing three times a week malarky, if only work didn't get in the way! I must admit though, three matches in four days and I'm shattered! Next up is round four of the Spring League at Perry St on Sunday, will I draw a peg where it's worth playing my joker? Come back Sunday night to find out!