Well finally the sun was shining and it was a glorious day and for the first time in ages it looked like I wouldn't need my waterproofs. First job of the day for Les was drawing for the semi finals in the pairs, I got partnered with Bushy against Exeter Mike and Weymouth Dave and the other semi saw Bish and Mike T take on Janders and Picky. Then it was time for the draw proper and all the people who had already had corners went in before the the four corner pegs were added and the rest of us went in. I opened my peg to find 14 staring back at me, it's a good peg and I played my joker as next match I would have to play it and I could be on peg 20, which has been crap.
Blaker had drawn 10 with Chilly on 11 and Bushy had 13, so at least I'd be able to see how my partner was getting on. Exeter Mike was across from me on peg 5 so I'd also be able to see how half the opposition were doing. I could also see the Hoff and Rocking on the other side of the pond on pegs 6 and 7. Lots of carp could be seen cruising around and I hoped I'd be able to catch up in the water today. I set up a dibber with a hair rigged band for up in the water and another dibber for down the edge plus a rig for fishing meat at 5 metres. My bait tray was pretty simple with just pellets and meat.
Les blew for the start and I cupped in some meat down the edge and at 5 metres before starting up in the water. Bushy was into fish straight away and so was Blaker in 10, I had my first carp after about half an hour and then Mark Mockridge walked down from peg 12 with a lump to be weighed, on his return he said it was 10lb and he'd had a couple of carp to go with it as well. I had a second carp which was foulhooked so shallowed up a bit and had a third at the start of the second hour. Bushy's nephew (who was sat with him) came down and asked how many I had, told him I had three and he said Steve had caught seven already!
The Hoff and Exeter Mike had both landed a couple of carp and Blaker was still landing fish like a man possessed but I felt I was doing okay. I landed carp number four which was a good 7lb and then lost one just before the end of the second hour which snapped 0.14mm. The third hour was slightly better and I landed three decent carp to put me on seven and it looked like a good weight was on the cards. I was still feeding meat on my other two lines in case the long line died off.
I had two more carp in the fourth hour and was just thinking that I'd hooked ten and landed nine (which is unusal for me) when I hooked a good fish which I thought I had under control when the bloody hook pulled out! (9-2 now). Hoff was still getting odd fish but I thought I was still a couple ahead, Rocking hooked a carp up the bum which kept leaping out the water (well you would wouldn't you!) but he safely netted it. Blaker was still catching and looked to be on for a huge weight. From what I could see, I was behind Blaker and Bushy but I didn't know what pegs 11 and 12 were doing but other than those I was doing pretty well.
I kept thinking about trying my other two lines but I was still getting indications and didn't see any point in switching swims yet. I got to eleven carp and then Brendon Ions turned up for a walk round, while he was with me I bumped a carp (11-3) before catching number twelve. In amongst the carp I'd also had two 8oz skimmers which had snaffled a 6mm pellet, 12 inches deep! Hoff had started putting a run of fish together and I didn't think there could be much between us. We were now into the last hour and Dave Lawrence (who was standing in for Dunner) came down from peg 15 and was really struggling.
I got to thirteen carp with half an hour left, I hooked another which kited towards Bushy and then the hook pulled out (foulhooked!) and that was the last of the action. Despite feeding my other lines all day, I hadn't tried them once and when Bushy said he'd had 22 carp with half of them coming from his inside line, I wish I had at least given them ten minutes each. I packed up and as I wandered back past the other anglers there were varying catch reports, Bish had seven and Weymouth Dave had six or seven but otherwise it was just odd carp between pegs 15 and 20.
The scales started at Dino in peg one and he had 66lb 8oz to set the bar really high (and he'd played his joker today), the next decent weight was Exeter Mike with 28lb 12oz before Hoff had 13 carp for 51lb 12oz, I thought I might have a little bit more as I had some lumps. The scales reached peg 10 and Blaker had three nets in and his final tally read 134lb 8oz, a stunning weight and a new match record for Perry St Pond, well done mate. Chilly had 33lb 8oz in eleven before Mark M had a level 40lb. Bushy then had 85lb 4oz to go into second place (and he'd played his joker as well), I pulled my nets out and nearly received a yellow card from Les as some of my fish were very close to 8lb! – whoops. After two weighs I totalled 65lb 6oz and was just over a pound short of Dino's weight. With Dave not weighing I would pick up the section if Bushy framed.
Bish did 37lb 8oz and he'd also played his joker, Janders had a really bad day at the office and handed over a pound but what about Picky? He was admitting to nine carp and as they were paste fish they would be lumps, he weighed 44lb 14oz and his £1 was soon nestling in my pocket as well (3-2 to Picky now), Weymouth Dave had 29lb 12oz and Butch had 14lb 12oz off peg 20. So I'd won my third section on the trot and picked up £30. I'm slowly creeping up the league but that first bad result is proving costly. Still me and Bushy knocked Exeter Mike and Weymouth Dave out and we're through to the final in two weeks time, the results are below with points scores in brackets.
Steve Bush (9) and Jamie Rich (8) beat Mike Hosgood (6) and Dave Abrams (7)
Steve Bishop (8) and Mike Thomas (4) beat Alan Gage (9) and Janders (1)
I'm looking forward to the pairs final and would dearly love to win it again, I won it three years ago with Les and last year reached the final with Hoff but fell at the final hurdle. I still have a corner to come (as does Bish) but the dreaded peg 20 will be lurking in the draw bucket!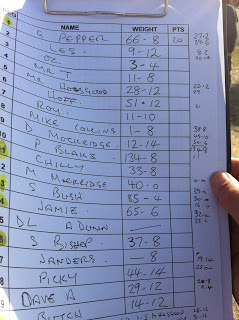 With the weather warming up, some excellent weights were recorded.
1 – Paul Blake (Chard) – 134lb 8oz
2 – Steve Bush (Chard) – 85lb 4oz
3 – Graham Pepper (Taunton) – 66lb 8oz
Sections
A – Mike Hosgood (Exeter) – 28lb 12oz
B – Mark Hollister (Chard) – 51lb 12oz
C – Jamie Rich (Against Men and Fish) – 65lb 6oz
D – Alan Gage (Chard) – 44lb 14oz
The league is changing all the time as people play their jokers and the current leaders are Dino and Blaker with 43 points followed by Hoff on 42.
Next week me and Janders are at Summerhayes on Lily lake and I've only fished it once so make sure you come back next week to see how we get on.