I was on a real high after Chelsea beat Bayern Munich on penalties to win the Champions League final and was hoping for a good days fishing to finish the weekend on a high. The match today was on Lily lake and I've only fished it once and managed to win the silvers that day with 7lb 8oz and was hoping for more of the same today. All 14 pegs were taken today and I pulled out peg 6 which put on the end peg and it looked nice with rushes lining the inside and a bed of lilies at about 13.5 metres. Janders drew peg 1 and he also had lilies to his left although he was a bit hemmed in by the pegs on both sides of him.
I had Glyn Wickham on my right and he'd fished the pond in the week and caught loads of carp and some big eels on his usual chopped worm approach. I set up a 0.6 gram Malman pencil to fish at 11.5 metres towards the lilies and a Carpa 2 float for fishing down the inside to my left. Pete shouted the all in and I cupped in half a pot of micros on my long line and the same plus some corn on the inside. First put in I had a skimmer but it was only about an ounce, still it was a start! Next chuck I had a 2lb carp and I was off to a flying start.
I was getting bites every put in but they were only from tiny skimmers and a rudd, Bruce and Glyn had both latched into some big eels and I was already behind on the silvers front. After an hour I had that carp plus 5 or 6 bits and tried a grain of corn on the long line to see if I could improve the stamp of fish. I had a few digs but was going nowhere fast. I fed some more grub on that line before having a look on the inside. I had two carp in two chucks before losing one and felt I could still do a decent weight. I fed the inside again before going back on my longer line but annoyingly could still only catch blades and not proper skims.
Bruce and Glyn were still getting odd eels and carp and now Heardy and Adie opposite were getting carp as well by fishing the lily beds in between us. I noticed Glyn was also fishing a shorter line and getting odd fish so out of desperation I fed a 6 metre line with some micros before trying the inside line again. No more bites from there so I fed it again hoping that it might come good in the last hour or so. Around the pond, most people were getting the odd carp without really bagging and even the worm boys (Glyn and Bruce) had slowed up. My 6 metre line was a bit of a flop with just more tiny blades and a 4oz roach all I had to show for it after an hour.
We were now around halfway through the match and I was sure there wouldn't be a brown envelope heading back to Chard tonight (especially for silvers!). Jess who was the next peg on my left was now fishing towards the lilies that were in front of both of us and starting to catch quite well and I noticed he was fishing worm as well. Martin was still hooking quite a few carp but losing most of them and Adie was netting fish regularly now as well. Scotty and Jon Martin turned up and worked their way around the pond before sitting behind me. With Jess catching well, Scotty reckoned I should cup some feed in by the lilies and add another section. I took his advice and really should have done it earlier but with my pole anything further than 11.5 metres is hard work.
I had a quick go on the inside to let it settle but no more bites saw me heading out to 13 metres but to be honest it still wasn't quite long enough (story of my life!), I started getting odd indications before catching a carp on corn. It was also noticeable that Jess slowed up after I put that feed in. Any thoughts of a last gasp comeback soon disappeared though and with an hour to go I was back on the inside line. With me not feeding and fishing by the lilies, Jess started catching again and added more carp and a big grinner. I did add one more carp from the inside and that was my lot. I ended with 5 carp and 11 bits and bobs.
With Pete not fishing today he had started the weigh in before I'd packed up, the early pegs hadn't really fished and Roy who normally fishes for silvers as well had just 1lb 5oz of them in his 7lb 9oz total which confirmed the skimmers had other things on their minds. Bill on peg 4 went into the lead with 30lb 6oz and Glyn had 18lb 10oz (of which 4lb 8oz was silvers, mainly eels). My carp went 9lb 1oz and along with a mammoth 15oz of silvers I had a 10lb total, a bad day at the office. Jess had 34lb 6oz to go into the lead, the next decent weight was Adie who had 26lb 10oz to go into third place and then Bruce had 15lb 3oz but went into the silvers lead with 11lb 11oz (which included some big snakes to over 2lb!). Janders had 5lb so I pocketed his pound to make it 8-4 to me.
If I'd targeted the lilies all day I might have done better but the people who'd done well today had all fished worm and I didn't have any with me!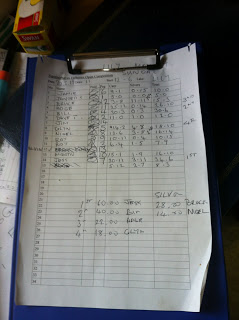 Decent leading weights but some (including me) struggled
1 – Jess Jordan (Summerhayes) – 34lb 6oz
2 – Bill Hopping (Summerhayes) – 30lb 6oz
3 – Adie Bishop (Summerhayes) – 26lb 10oz
4 – Glyn Wickham (Summerhayes) – 18lb 10oz
Silvers
1 – Bruce Hunt (Summerhayes) – 11lb 11oz
2 – Nigel Wickham (Summerhayes) – 3lb 8oz
Next up for me is the Spring League (and pairs final) at Perry St next Sunday, come back to see if I draw a decent corner or the dreaded peg 20!