Round five arrived and it was another hot day, I was running a little late and got to the draw, paid my pools and then it was time to draw for the pairs final. Bish got drawn with Bushy and I got drawn with Mike T. Then it was time for those who hadn't had corners yet to draw and I was convinced I'd pull out 20, I drew but refrained from looking and waited to see the others reactions, Bish didn't look too happy as he'd drawn peg one and there was lots of floating white fluff across pegs one and twenty making them nearly unfishable. Poor old Janders pulled out twenty so at least I was at the right end of the pond, I opened my peg and saw ten staring back at me, it's the best peg on the pond and the pressure was on! Mike Collins drew the other corner, peg eleven.
Then the rest drew and my partner Mike pulled out peg 15 which isn't great but Bushy drew three and that's not brilliant either. It worked out quite well with each pair having a corner and a mediocre peg. I had tied loads of hooklengths yesterday and had brought a third keepnet on the off chance I'd draw peg ten, but would I need it? When I got to my peg there were carp everywhere, it was black with them. It looked like they had mostly finished spawning but would they be in the mood to feed?
I set up a dibber for up in the water with hair rigged banded pellet, another dibber for the corner and a 0.4 gram Drennan Carp for a 5 metre meat line. With plenty of time before the start, I made up a couple of new dibber rigs so I had plenty in case of breakages. For bait I had meat and loads of 6mm pellets. I slapped on some sun cream and was ready for the off. Les shouted the all in and I cupped in some meat at 5 metres and meat and pellets in the corner at 11.5 metres before starting out in front at 11.5 metres. Predictably a lot of the fish disappeared when the match started but I could still see dark shapes milling about.
I was pinging pellets out and lifting and dropping the rig and was soon into a carp which came off (not a great start!), I then had a rudd on 6mm pellet so I'd at least avoided the blank. I had my first carp which was around 3lb before losing another that tore off and went into some submerged branches and I lost my hooklength and came back with several branches attached to my rig. I tied on another hooklength and was thinking about switching to black hydro but the rest of the first hour went really well and I landed the next four carp to put me on five. Hoff on 12 was getting a few as was Picky on 13 and Chilly two pegs to my right in peg 8.
I was feeding meat by hand on my five metre line and firing some pellets into the corner but wanted to leave those lines to settle as long as possible. Hour two was pretty good and I added another three carp with the last one being a bit of a lump which I walked down to Les to get weighed and was quite surprised it only went 7lb 14oz. Les said they were all struggling down that end and Bushy hadn't had a bite yet! I went back and carried on up in the water but made sure I kept feeding my other two lines regularly. Hoff was still getting odd fish but Picky had slowed up although Blaker on 14 was getting a few now.
The third hour was a lot slower and I only added one carp and my other two lines were beckoning. I tried the 5 metre line but five minutes without any indications told me they weren't there and I moved on to the corner swim, first put in I missed a bite on meat so decided to try banded pellet. It didn't take long for the float to slide away and I was soon playing carp number ten. I safely netted it but was quite concerned that the breeze had turned around and all the fluff and floating crap from pegs one and twenty was heading my way, and quite quickly. Of course it all congregated right where I was fishing with only a tiny clear area, tight to the bank. I did manage another carp but had to add the 13 metre section to get the rig in the clear water. There were obviously loads of fish there and I had another two carp before the gap got covered completely.
I had no choice but to go back to fishing shallow out in the open water, Chilly was still getting odd fish and had been down to get one weighed at 7lb 14oz (I reckon the scales were stuck!) although Weymouth Dave between us was really struggling. Hoff had also got a carp weighed on the opposite bank and his went 9lb 6oz so if I caught another lump I was going to get mine weighed over there! I had a couple more quick fish shallow (and even had to put my third keepnet in!) and thought if I could catch five more in the remaining hour and a half to put me on twenty I'd be there or thereabouts. More fluff and detritus was arriving all the time and I had to find a hole in it and fish and feed there.
I got to 18 carp and then lost one (only the third fish I'd lost all day) with half an hour to go. I got two more to reach my target and then just before Les blew time I hooked number 21 which I landed a few minutes after the whistle. I was well chuffed with how my match had gone and was hoping I'd beaten my biggest match weight. It was a shame about the fluff as I reckon I could have done a lot more if I could have fished in the corner. I packed up and as I walked back asked the other anglers how they had got on and most had struggled with five of six carp apart from Chilly who had landed ten or eleven.
Both Bushy and Bish had caught six or seven carp and would finish high up in their section while Mike T only had a couple of carp and even if I won my section I knew we'd be a few points adrift. The weigh in started at Bish and he had 23lb 6oz, poor Les didn't weigh and has been having a torrid time of late, Bushy had 18lb 10oz and then there were no decent weights until Chilly had 41lb 8oz in peg 8. Dave A didn't weigh and then it was my turn, after weighing my three nets and adding on the 7lb 14oz from earlier, Les called out 80lb 6oz and I'd beaten my biggest match weight but more importantly I'd gone into the lead.
Hoff weighed 52lb 6oz to go into second place and then Picky weighed 19lb 14oz and handed over a £1's worth of 20p pieces, cheers mate (and it's 3-3 now). Blaker had 29lb 14oz and Mike T had 11lb and I thought that would be curtains for us in the pairs (hard luck mate) and then the next decent weight was Mark Mockridge who had 33lb 8oz from 17 which was the best weight from that end of the pond. Janders had really struggled in that horrible peg 20 and handed over a nugget. Back at the results and as we thought, Bish and Bushy were crowned pairs knockout champions beating us 17 points to 14, well done lads. Still I picked up £100 and recorded only my third ever win at Perry St and beat my biggest match weight in the process.
1 – Jamie Rich (Against Men and Fish) – 80lb 6oz
2 – Mark Hollister (Chard) – 52lb 6oz
3 – Andy Winters (Chard) – 41lb 8oz
Sections
A – Steve Bishop (Chard) – 23lb 6oz
B – Brendon Ions (Chard) – 19lb 2oz
C – Paul Blake (Chard) – 29lb 14oz
D – Mark Mockridge (Chard) – 33lb 8oz
Pair Knockout Final (points scores in brackets)
Steve Bush (8) and Steve Bishop (9) beat Jamie Rich (10) and Mike Thomas (4)
At the halfway point in the league and now eveyone has played one joker, the leaders are Mark Hollister and Mark Mockridge with 51 points followed by Paul Blake and Graham Pepper on 50. I sneaked up a couple of places and I'm currently in seventh place with 42 points.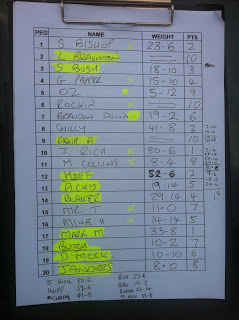 Peg 10 does it again
Well a really good day for me and Janders and me are off to Summerhayes on Wednesday so come back then to see how we got on.