I had a days leave today and had booked into a match at Summerhayes, Janders fancied a day out as well so I picked him up and off we went, it was another glorious sunny day and I was hoping I'd draw a peg where I could fish for silvers. I wasn't actually sure which lake we'd be on and was pleased when Pete said we were on Sellicks. I really fancied another crack at peg 23 after winning the silvers off it the last time we fished Sellicks and blow me if I didn't go and draw it! I am drawing well at the moment and it's bound to end soon! Janders drew 17 and we were both on the same side of the pond.
I had Heardy two pegs to my right and Glyn Wickham was next on from him. I was going to use my Garbolino G8 pole for only the second time today and Scotty had very kindly fitted pulla bungs to all my top kits (well apart from one which he managed to snap demonstrating some Preston toss pots!). I set up a 0.6 gram Malman Pencil for the skimmer line at 10 metres with white hydro and a dibber for the corner at 11.5 metres with Preston green elastic. Bait was the normal Bait Tech 4mm expanders, wetted micros and corn.
Pete shouted the all in and I cupped half a pot of micros at 10 metres before cupping in micros and corn in the corner but was hoping I wouldn't have to go for carp. First chuck I had a bite and struck into what felt like a decent skimmer, I shipped back to my top two and then it woke up and shot off, luckily the white hydro and 0.12mm hooklength held and after ten minutes I was still playing what was obviously a good carp. I was playing it with kid gloves as I was still getting used to my new pole and eventually netted a carp of 6lb or so, good start! I was hoping the skimmers would move in but apart from a couple of little blades, it was hard work. I eventually started getting the odd decent skimmer and had four after the first hour for about 2lb. I wasn't too worried because if I could keep catching at that rate, 12lb of skimmers would get me close to a silvers pick up.
Martin hadn't caught a carp yet and Glyn didn't seem to be doing much but going into the second hour I could only get the odd tiny skimmer. Exeter Mike turned up for a look round and brought donuts with him – cheers Mike! While he was with me I had a couple of skimmers and a decent roach to put me on about 3.5lb of silvers and I was still on target. After he left, I went back to struggling for the odd blade and after two hours decided to feed it again and leave it while I tried the corner. I went in with corn on the hook and toss potted some corn and micros in. I had a really good hour, landing seven carp and I started to think I could do a good weight as nobody on our side was really setting the world alight. Janders wandered down and said he was struggling. With my bites fading in the corner, I cupped in some more bait and went back to 10 metres to see if the skimmers had arrived.
I had another carp straight away and then a skimmer and was still doing well on our side although Martin was getting odd carp now and Glyn seemed to be catching skimmers and the odd good eel on his usual chopped worm approach. I've then hooked another carp and it was under control but I wasn't really concentrating and it went between my keepnets and snapped me! This signalled the start of a really bad patch where things went a bit pear shaped as I then hooked another carp in the corner and the hook pulled out at the net! Martin was now getting fish quite regularly although he was losing a few too but I felt he was eating into my early lead and Glyn was now catching really well and looking good to frame or even win the match.
I really didn't know whether to try and win the silvers or stick it out for carp, I was back in the corner and although I was getting bites on corn I couldn't hit them, I was thinking of trying banded pellet when there was a splash from my carp net as a carp tried to leap out, nothing unusual there but then it tried again and this time was successful, it hit the pallet bounced and went back into the lake! Great, I was even losing fish I'd already caught. It felt like it was all going wrong and Martin was closing in all the time and Glyn was now out of sight. I lifted my carp net higher out of the water and put a spare landing net over the top as I couldn't afford any more escapes.
With two hours left and only about 4lb of silvers in the net, I gave that up as a bad job and concentrated on the corner, banded pellet was a bit of a flop and I never added any more fish in the next half an hour and time was running out. I decided to dump a big pot of bait in the corner and go back to my 10 metre line to let it settle. I had three carp on soft pellet quite quickly to put some breathing space between me and Martin but was missing a few bites as well. With only 15 mins left I went back into the corner and managed another carp which I think put me on 13 but it was difficult to keep track, what with fish jumping back in after I'd already caught them!
I packed up and was convinced the carp that had escaped and the one I'd lost through my own stupidity were going to cost me. As Pete hadn't fished today he was soon starting the weigh in around the other side, when I caught up with the scales there was a 6lb 11oz silvers weight and then a 10lb 6oz which made me glad I hadn't stayed fishing for silvers as I'd have struggled to do that. Then Adie Bishop put a fantastic 63lb 5oz on the scales. Bruce had 22lb 15oz and there was an 18lb 13oz, Janders had 6lb 8oz so at least I should have a £1 to come. Glyn had 41lb which included a brilliant 22lb 6oz of silvers and then Martin had 26lb 7oz and I wasn't sure I had that and that bloody fish was going to come back and haunt me!
My silvers went 4lb 10oz (so I wasn't too far off with my estimate this week!) and my carp went 26lb 6oz to give me 31lb and third place – phew! I picked up £15 to keep my winnings ticking over and was so relieved that the mad patch I had in the middle of the match hadn't bitten me on the ass.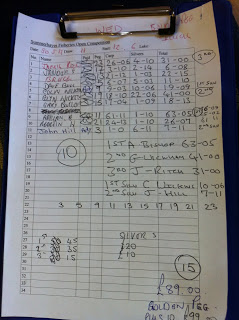 Todays weigh board
1 – Adie Bishop (Summerhayes) – 63lb 5oz
2 – Glyn Wickham (Summerhayes) – 41lb
3 – Jamie Rich (Against Men and Fish) – 31lb
Silvers
1 – Colin Wilkins (Summerhayes) – 10lb 6oz
2 – John Hill (Summerhayes) – 6lb 11oz
I must say I enjoyed using my pole and it performed well, next up for me is round six at Perry St so come back Sunday night to see if my drawing hand is still working!
I can't go without saying a big congratulations to Scotty who won at the Viaduct today with a massive 296lb 15oz.