I was running late today and turned up at the pond and the draw was well underway, Les told me I'd drawn peg 13 which I was quite pleased about as it's been a consistent peg. Janders was next door on 14 and I had the Hoff on 12 with Bushy in corner peg 11. With a few people away there were quite a few stand ins today including some right 'stars'. Bait Tech's Steve Tucker was fishing the pond for the first time in twenty years and managed to pull out peg 10! and Tackleuk's Scott Russell was on peg 3, next peg to where he won the last time he was here.
Along with my usual £1 side bets with Picky and Janders, Brendon Ions (fishing for Chilly) also wanted a piece of the action, this could be an expensive day! I set up the usual rigs, a dibber for hair rigged pellet shallow, another dibber for the insides and a 5 metre meat rig. Bait was just pellets, pellets, pellets and some meat! I walked round to let Scotty have some bait for tomorrow (it comes to something when he owns a tackle shop and I have to pick up his bait for him!) and by the time I walked back it was nearly time to start.
I fed the 5 metre line and the insides with meat before starting up in the water, Les on peg 7 was into fish nearly straight away as was Tucks in 10 and Butch in 9 and Dino in 8 weren't far behind. From all the splashing, it sounded like Bushy got off to a flying start as well. It took me a little while before I hooked a fish which promptly came off (foulhooked I think), not a great start but I did manage two carp in the first hour and I wasn't too far off the pace (apart from Tucks, Bushy and Scotty who had also been bagging).
I was pinging pellets out and lifting and dropping the rig and I added three more carp in the second hour and was now ahead of the majority at our end. Les had slowed up, Dino and Hoff had a couple and I think Janders was on two fish. Butch was catching quite well shallow and Tucks was still netting fish regularly. If I could stay ahead of Hoff and Bushy framed, I might be able to sneak the section. I was still feeding meat at 5 metres and when I only had one more carp in the third hour I thought it was time to try my other lines. I did miss one bite on meat at 5 metres but it didn't feel like there were a lot of fish there.
With Butch still getting the odd carp shallow and Hoff adding another I didn't want to waste too much time off the long line which I was still feeding with three or four pellets regularly. I did catch carp number seven from my left hand margin but no more bites and nothing from my right hand inside soon saw me back out shallow. Les and Dino were getting odd fish although from the amount of moaning Dino was doing I guessed he was losing a few as well. Butch was now only one fish behind me, he levelled it at 7-7 before I got another shallow to inch ahead again. Hoff was on four and had lost a good paste fish. I got to nine but it was now raining and I wasn't getting as many indications so with an hour and a half left I decided to have another look in the margins.
After half an hour and no more bites I was back out long but Butch had caught me up and was now on nine carp and Les had added a couple more to put him on seven. I just couldn't get bites long now and was sure Butch was going to pip me at the post but with five minutes to go I latched into a decent fish which I netted after the whistle and at about 6lb, I was hoping I'd done enough to beat Butch who'd ended up on nine fish. As I was packing up, Janders walked up and said he'd had three carp so one nugget should be safe and as Brendon only had a single carp I should be two pounds to the good, I wasn't sure about Picky though.
Taking my gear back to the car, it was obvious the other end had fished quite poorly again and some people weren't even weighing. Exeter Mike had 25lb in peg 1, Scotty went into the lead with 49lb 12oz although Kevin Baker ran him fairly close with 40lb 12oz from peg 4. Picky had struggled for 14lb odd from peg 6 but to be fair the fish holding tree was removed in the swim clearing on Friday (4-3 to me now matey!). Les had 34lb and Dino had 28lb 8oz, Bushy was only admitting to 11 carp and reckoned that last fish of mine had beaten him. Butch had 34lb 8oz with his nine carp and as I was admitting to 35lb it could be close.
Tucks weighed 63lb 12oz and looked like he was heading for victory on his first visit for twenty years. Bushy was telling the truth and must have really struggled after getting off to such a blistering start, his 11 carp went 42lb to put him in third place. Hoff had 16lb 10oz and then it was my turn, my first net weighed 22lb 10oz and my second net was called out at 22lb to give me a 44lb 10oz total to put me into third place. This only lasted until the scales reached Mark Mockridge who had the same number of fish but had some right lumps and weighed 50lb 2oz to go into second place, still at least I won the section. The only other decent weight in the remaining pegs was Bish with 26lb 10oz.
I picked up £30 for the section win plus £3 in side bets so not a bad day and my 9 points pushed me up another place in the league which is starting to tighten up, I wish I'd played my joker now! Mark M nows leads with 61 points followed by Bushy on 56 with the Hoff and Dino on 55. I'm on 51 and still sneaking up there although it only takes one bad draw for it all to go pear shaped.
It was also the preliminary round of the individual knockout and the results are below (points scores in brackets), twelve anglers had byes (including me).
Scott Russell (9) beat Steve Osborne (5)
Steve Bush (8) beat Dave Abrams (1)
Paul Blake (4) beat Alan Gage (3)
Butch Baker (7) beat Dave Mockridge (3)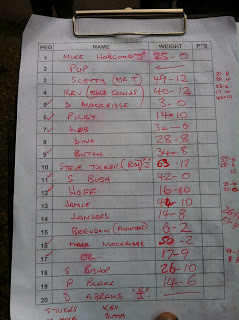 Some good weights again although some areas were hard
1 – Steve Tucker (Bait Tech) – 63lb 12oz
2 – Mark Mockridge (Chard) – 50lb 2oz
3 – Scott Russell (Tackleuk) – 49lb 12oz
Sections
A – Kevin Baker (Chard) – 40lb 12oz
B – Butch Baker (Chard) – 34lb 8oz
C – Jamie Rich (Against Men and Fish) – 44lb 10oz
D – Steve Bishop (Chard) – 26lb 10oz
Well the first of my four matches went okay, more of the same tomorrow please when me and Andy head to Summerhayes. Be sure to check back to see how we get on.