I'd booked into Summerhayes for today and Andy was coming along too as he'd enjoyed himself the last time he fished it. I was up early (for a change) and picked Andy up half an hour before the agreed time and we set off. We made good time and the match was on Longs today and Pete said it had been fishing well for silvers which suited me just fine. I sorted Andy out with some micros and expanders and after a quick coffee it was time to draw. I was convinced I'd draw 39 as it's a peg I draw a lot and never seem to do very well off but actually pulled out peg 7 and Andy drew peg 14.
I got to my peg which is in a very carpy looking corner with reeds everywhere but hopefully I wouldn't have to venture anywhere near them. Mark Hanham was two pegs along on my left and Adie Bishop was the next peg on my right, on peg 4. I set up a Malman 0.4 gram float for fishing at 10 metres straight out and also plumbed up at the same distance out towards the empty peg to give me a second swim. I also set up a dibber for the inside line but I won't mention that again as I never picked that rig up all day! Bait for today was soaked micros, Bait Tech 4mm expanders and corn. Just before the start Adie walked up and had a look at my Malman pencil float and let me have some of the ones he makes to try out, cheers mate, they look the business and I'm looking forward to setting them up.
Pete blew for the start and I cupped in half a pot of micros on both my 10 metre lines before cupping in micros and corn on the inside line to my left. I missed a bite first chuck (nothing new there then!) but then had a 10oz tench on my second attempt to get me off the mark. I had a couple of decent skimmers along with a few smaller samples and thought if I could do 3lb an hour, I would stand a chance of picking up in the silvers today. Mark and Heardy next to him were both catching carp regularly and Adie was getting a few too. I foulhooked and landed a good skimmer just as the first hour was up to put me bang on my 3lb target. I did lose a couple of flying skimmers that shed the hook which would have put me closer to 5lb.
The second hour was similar and I had more skimmers along with a couple of lovely crucians to put my running total at 5.5lb and another lost 'flier' stopped me reaching my target for hour two. Then I actually had my licence checked by an EA bailiff which doesn't happen very often but I guess it must be double time on a Bank Holiday! Then during the third hour, my bites just dried up and I added one more skimmer to put me on about 6lb plus a couple of small nuisance carp and I also lost one. Andy wandered up and he was struggling a bit too, I did try my other 10 metre line but never had a bite on it. I also thought about trying my inside line but Mark and Heardy were both so far ahead on carp, I couldn't really see the point and still felt my best chance today was with silvers. Bruce Hunt had drawn a good silvers area and would be going all out for them but if I could keep catching odd fish I might be able to sneak second.
Hour four was a nightmare and I only added a couple of tiny blades although I missed a few bites and bumped a couple of fish. The dreaded white fluff was also being a pain and my original target or 3lb an hour was long gone and I felt I'd now struggle to do double figures unless my bites increased dramatically. The other 10 metre line was a non starter so it was just a case of toss potting in micros and waiting for bites. I managed another skimmer and then had a decent tench to put me on about 7.5lb and things were looking up. I had a couple of flying skimmers which actually stayed on the hook and with an hour to go I was on about 10lb.
In the last hour I had another tench and a couple more skimmers and landed a good one of 1.5lb right on the whistle to put me on about 12.5lb although I hoped I had a little more. I packed up and was pretty sure Heardy had won (he won yesterday too) as he'd caught steadily all day, Mark had done okay but had lost quite a few. I met Andy by the car and he said after he went back earlier all he could catch on his skimmer line was carp. We'd had a £1 side bet on overall weight and silvers and I reckoned Andy had done me on weight but I had him on silvers.
As we watched the weigh in, there was an 8lb of silvers on peg 39 before Roy had 9lb 15oz to go into the silvers lead, then John Dursley topped that with 12lb 7oz and I thought I might just have that. Bruce had 14lb 6oz of silvers and I wasn't so sure I had that and I kept thinking those lost 'fliers' were going to cost me although Bruce also had over 20lb of carp so he might frame and there was still a chance I could sneak in. Bill Hopping then went into the overall lead with 46lb 14oz, Andy had 14lb 14oz of carp and 8lb 12oz of skims to give him a 23lb 10oz total. Then Martin had an excellent 59lb 9oz to take over top spot and I couldn't see anybody topping that, Mark Hanham had a level 28lb and then it was my turn. My three small carp went 2lb 14oz and my silvers went 19lb 14oz! which was a little over my estimate to give me a 22lb 12oz total but more importantly the lead in the silvers with just Adie to weigh, he weighed 27lb of carp and I'd won the silvers again.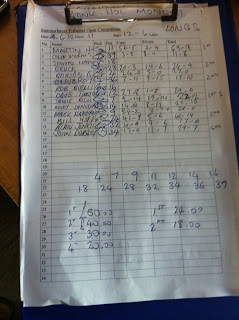 A close frame yet again
1 – Martin Heard (Summerhayes) – 59lb 9oz
2 – Bill Hopping (Summerhayes) – 46lb 14oz
3 – Bruce Hunt (Summerhayes) – 34lb 9oz
4 – John Dursley (Summerhayes) – 29lb 7oz
Silvers
1 – Jamie Rich (Against Men and Fish) – 19lb 14oz
2 – Roy Hughes (Summerhayes) – 9lb 15oz
I picked up £24 for the silvers win to keep my winnings ticking over and had a really enjoyable day. I had a good first two and last two hours but luckily the dodgy two in the middle didn't cost me. On the right day I think a really big net of silvers is possible. Andy finished just shy of a silvers pick up and not far off a frame place. We're coming back again on Wednesday so come back to see how we get on.