Me and Andy headed for Summerhayes again and for me it was my third match in four days, I'd really enjoyed the match on Monday and had a lovely net of silvers and was hoping for more of the same today. Most of the usual suspects were there including Bruce Hunt and Heardy who was looking to make it a hat trick of wins today. The forecast was for some heavy showers later but it was dry so far. Andy said he fancied a draw down the straight nearest the porta cabin and I said I wouldn't mind either. Andy got his wish and drew peg 28, I pulled out peg 19 which was down on the end where I'd never fished before. Both were good silvers pegs and we had loads of empty swims around us.
I had Adie Bishop on 17 on my right but nobody between me and Andy on 28 (loads of room). I had my Garbolino with me again but was hoping we wouldn't get any rain as I didn't want it to get wet! I set up the usual two rigs, a 0.4 gram Malman Pencil for the silvers and a dibber for down the edge (but once again I never picked that rig up so won't mention it again). I plumbed up at 10 metres where I intended to fish for the skimmers but I noticed it was a couple of inches deeper down the middle at 8.5 metres. Bait was the usual Bait Tech 4mm expanders and micros plus corn but that ended up getting chucked away at the end per usual.
Just before the start I had a crisis of faith and decided to start down the track at 8.5 metres (would I regret it?). I fed half a pot of micros down the track and some micros and corn down the edge (the first and only time I fed it all day!). After 10 minutes I still hadn't had a bite and was wishing I'd started at 10 metres like I had originally intended. Then I had my first bite and netted a lovely, buttery crucian to get me started. I thought I'd give it an hour but it was slow and I only added a couple of skimmers and two small fish to finish the first hour on 1.5lb of silvers which was a long way off the mark.
Going into hour two I toss potted some micros at 10 metres and had a couple of skimmers from that line plus another crucian and although bites weren't fast and furious I was catching odd fish and ended hour two with about 4lb of silvers which was an improvement on the first hour. Adie was catching carp quite well so that made my mind up not to bother with them. Brendon Ions turned up again to watch and while he was with me I had some more skimmers, plus a couple of carp and both my lines were fizzing like crazy. I had a nice tench as well and at the half way mark I probably had around 7lb of silvers and thought if I could catch 14-15lb I wouldn't be far off as 14lb was second in silvers on Monday.
Then the rain came down and it was torrential with huge droplets, Brendon ran back to his van to shelter and my micros got saturated in seconds! I couldn't even see my float for 15 mins before it eventually eased off slightly. Brendon came back and Andy turned up just as I was netting a foulhooked skimmer. I seem to foulhook a lot and I wonder if it's because they are sat above the feed. Andy reported that he was catching quite well before heading back. I had another carp and while I was playing it the rain came down hard again and by the time I'd netted it and put my coat on I was pretty moist and my micros were in danger of turning to mush!
Brendon left me to it and I was probably on around 9lb of silvers when he left with around three hours of the match to go. Hour four started okay with another skimmer and a small carp before it all went a bit pear shaped. I got a bite every put in but missed nearly every one and when I did hit one, it turned out to be a carp. I eventually hooked a decent skimmer before it leapt out of the water and shed the hook! I kept swapping between my lines and even tried fishing off the feed but it didn't make any difference and with two hours to go I probably had 9-10lb of silvers and any chance of a pick up was slipping away.
I had another tench at the start of hour five and a couple of decent skimmers before I went back to missing bites. By swapping lines after a couple of bites I managed to put odd skimmers (and pesky carp) in the net and with an hour to go I was probably up to 12.5lb and thought a grandstand finish might still see me sneak in. A young lad who fishes the pond regularly stood with me for a bit and I added two more skimmers, a couple more carp and another tench to put me on 14.5lb with 20 mins left. I really wanted one more skimmer to put me on 15lb but I only added a rudd and a tiny blade and missed loads more bites.
I finished with 40 fish which was more than I had Monday but I had 8 or 9 carp in that plus some small roach, rudd and tiny skimmers and thought my 14.5lb estimate wouldn't be too far off the mark today. I packed up and met Andy by the car, he said he'd had a lovely day and thought he might have more than he did in the pairs when he had 25lb of silvers and 15lb of carp! I knew I didn't have that and thought he'd be taking £2 off me. Apparently Heardy had been bagging (no change there then!) and there was a good chance he was going to make it three out of three.
The scales started at peg 34 and the chap called Roger had 20lb 7oz of silvers! but then had 32lb 10oz of carp which gave him a 53lb 1oz total which I hoped would be enough for him to frame if I was to have any chance of sneaking in the silvers. John Hill then had 11lb odd of silvers before it was Andy's turn, he had 18lb 8oz of silvers, including some lovely tench but it wasn't as much as he'd thought. He then added 18lb 5oz of carp for a 36lb 13oz total. I still felt he would beat me on carp and silvers. My carp weighed 14lb 8oz and when I pulled my silvers out I was amazed when Pete called out 20lb 4oz and Andy called me some very nasty names! Still he beat me on overall weight so the side bet was quits.
Adie Bishop then went into overall second place with 47lb 3oz, then peg 10 plonked 23lb 6oz of silvers on the scales and I was now down to third in the silvers! Bruce had 34lb 8oz and had run out of rigs after being seen off by loads of carp in peg 7. Andy was still hanging on in third place and I was still in second place in the silvers if Roger framed and there was just Heardy left to weigh. When we reached his peg, he had three nets in, so it looked like he would be doing the hat trick! After all his nets were totted up, his final weight was called out at 84lb 4oz which pushed Andy down to fourth and one place out of the money. With Roger framing in second place, I hung on to second in the silvers and picked up a tenner which was better than a kick up the bum!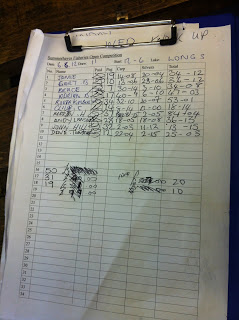 Really good frame weights and the silvers weights weren't bad either!
1 – Martin Heard (Tiverton) – 84lb 4oz
2 – Roger K (Summerhayes) – 53lb 1oz
3 – Adie Bishop (Summerhayes) – 47lb 3oz
Silvers
1 – Gary B (Summerhayes) – 23lb 6oz
2 – Jamie Rich (Against Men and Fish) – 20lb 4oz
So a really enjoyable day again (apart from the rain) but once again I suffered from missed bites and it's cost me today. Andy was close to a pick up again and it can only be a matter of time before he does. I do love this venue (especially Longs) and as the weather warms up I can see the silvers weights getting even better.
Well that's three pick ups out of three so far which just leaves Dillington on Sunday, can I finish my week off with a flourish? Come back on Sunday evening to find out.