Today's blog will be on the short side as I've got to finish getting my stuff ready for my holiday to Thailand and the wonderful Gillhams Resort (the fact I didn't do very well has nothing to do with it!). We all gathered to see what todays draw sequence would be and Dino reckons he can tell which pegs he won't be on due to some kind of enigma code he's worked out, of course we all took the piss but when Les opened the envelope, sure enough he was right (can you do my lottery numbers for me next week please?). Nobody else had a clue what he was on about so we'll have to wait until next time to see if Mystic Dino is right again! I wasn't too upset as the sequence put me on peg 13 which has been quite consistent. Janders didn't turn up today as he's been poorly (get well soon mate).
The first thing I noticed on getting to my peg was that there was a cold wind blowing up towards peg 11 and whilst the anglers on the other side were in t-shirts, I had all the clothes I had with me on! After the draw for the first match I would have the same next peg neighbours throughout the series so Picky was on 12 and Mike C on 14. Rocking was in 11 with Oz in 10 and opposite me I could see Dangerous in 9, Bushy in 8 and Dunner in 7 with Bish and Chilly along from him. I decided to try and have a go for the silvers today as it has been a good area so set up a 0.75 gram Drennan G-Tip with 0.10mm bottom and size 20 808. My other two rigs were dibbers for fishing down the edges to my left and right.
I mixed up some Bag 'Em groundbait and added a generous dollop of chopped worm and caster and on the whistle cupped in two balls at 11.5 metres, before putting in some corn, caster and dead maggots on my left margin before cupping in the same on the right along with a full cup of loose groundbait. I started out with a worm head on and toss potted in some choppie and after 20 mins had my first proper bite and was soon netting a decent skimmer of a pound or so and was hoping it would be the first of many. My next bite saw me lose a carp when the hook pinged out (foulhooked?) before I had a small carp and then just going into the second hour I had skimmer number two on double dead red. Picky had a couple of skimmers too and Dunner was catching silvers well. At this early stage nobody was really bagging although the two corner pegs were getting odd carp.
Bites then dried up on my long line apart from a couple of perch so I fed another ball of groundbait before having my first look on the insides, the left hand margin just produced some small perch and it was the same on the right hand side until I hooked a carp which came off. I then landed a carp before the next one snapped me and I stepped up from 0.12mm to a size 16 808 to 0.14mm to a size 16 Kamasan B911. I was getting a few bites but going nowhere fast, Picky was in the same boat but Bushy was getting a few carp as were Oz and Rocking in the corners and Dunner was still picking off silvers.
I had another quick look on my skimmer line but it was dead as a dodo and as I'm doing okay in the carp league I thought my best bet would be to concentrate on the insides. It was neck and neck between me and Picky for the side bet but with only a couple of carp apiece, that's not saying a lot. I could see Chilly and Bish both catching well and I didn't really know what to do next with time ticking by rapidly. I was still getting odd bites on double dead red maggot but the culprits were small perch although I did manage a nice 4oz rudd but I wasn't going to win the silvers with them. I lost a couple more foulhooked carp and managed to actually land a couple as well but going into the last hour I only had five carp, 2 decent skimmers and a few bits. Picky was possibly just ahead thanks to a nice tench.
I had my sixth carp with 15 mins to go but Picky had a purple patch and went one ahead and that was that. I wasn't too upset to hear the whistle go as I was freezing cold and after doing okay in the first two matches, I've lost my way out here a bit. Dunner had done it just right by getting his head down for silvers all day, and would be there or thereabouts for the silvers but as for the carp I didn't have a clue as I couldn't see most of the pond. From what I could see, Chilly, Bish, Bushy, Oz and Roy had done okay on that front. I packed up and paid Picky the pound (3-2 to him now) before taking my kit back and watching the weigh in.
Hoff had struggled in peg 1 for 17lb of carp and a few silvers and as I've got this one to come, I'm not looking forward to it much, Butch had 23lb 4oz in peg 2 but only a couple of pounds of silvers and already it was looking like there could be a lot of movement in the league positions after today. Dave M in peg 3 had 18lb odd of carp but his 5lb 14oz of silvers made him the early leader. Mike T had 16lb of carp and 3lb of silvers in peg 4 before Chilly had 38lb 12oz of carp and 6lb of silvers from peg 5 to go in front for both. Bish did slightly better with 42lb of carp but his 8oz of silvers wouldn't do his silver league position much good. Dunner only had a couple of carp but his 12lb of skimmers saw him take the lead for silvers.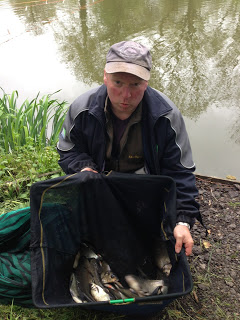 Dunner with his excellent 12lb of skimmers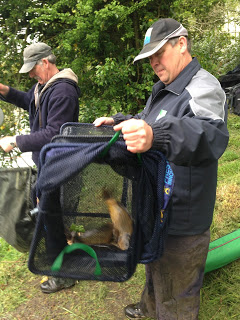 Oz with part of his 35lb 8oz catch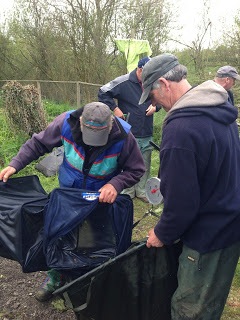 Rocking weighing in his 34lb 12oz
Bushy then had 39lb 14oz of carp to go into second place, Dangerous had 15lb of carp and a few silvers and then we got to Oz, he had 35lb 8oz and was a couple of carp short, Rocking was also close with 34lb 12oz. Picky's seven carp included some brutes and he weighed 31lb 8oz and his silvers went 5lb 4oz. My silvers weighed 3lb 6oz which is my top silvers weight of the series so far! and my carp went 21lb 6oz for absolutely nowhere. Mike C had 12lb of carp and then Blaker had the same weight as Bushy to go joint second. Exeter Mike had 7lb 10oz of skimmers to keep him up there in the league and then Les had 13lb 6oz of silvers which included some big eels (and it's nice to see someone taking the silvers league seriously!). Dino had his best weight so far with 28lb of carp from peg 19 and Mark M had 20lb of carp from peg 20 which is another difficult peg.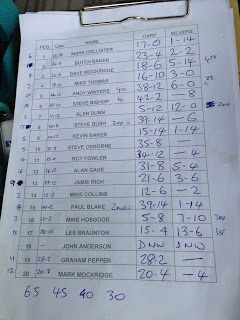 Today's weigh board
So after all the weights came from the top end of the pond last match, I drew it this week and all the weights came from the middle of the pond! (do you think the fish are trying to tell me something!).
Carp
1 – Steve Bishop (Readers Wives) – 42lb 2oz
2 – Steve Bush (Chard) – 39lb 14oz
2 – Paul Blake (Chard) – 39lb 14oz
4 – Andy Winters (Chard) – 38lb 12oz
Silvers
1 – Les Braunton (Chard) – 13lb 60z
2 – Alan Dunn (Chard) – 12lb
3 – Mike Hosgood (Near Exeter) – 7lb 10oz
4 – Dave Mockridge (Chard) – 5lb 14oz
After four matches this is how the two leagues stand
Carp League
1 – Andy Winters – 164lb 14oz
2 – Steve Bishop – 147lb 11oz
3 – Paul Blake – 130lb 10oz
4 – Steve Bush – 128lb 10oz
Silvers League
1 – Mike Hosgood – 26lb 4oz
2 – Les Braunton – 25lb 12oz
3 – Alan Dunn – 24lb 3oz
4 – Steve Bush – 22lb 4oz
It was also the semi finals of the pairs knockout today (points scores in brackets)
Paul Blake (18) and Mark Mockridge (12) beat Mark Hollister (13) and Mike Thomas (7)
Andy Winters (20) and Steve Bush (17) beat Steve Bishop (19) and Steve Osborne (15)
Lots of changes in the top four in both leagues and one good result in either can make a huge difference, Chilly is starting to pull away in the carp league although the silvers league is a very tight affair.
So a really disappointing day again but I'm off on holiday tomorrow and hopefully it will be shorts and flip flops and screaming bite alarms plus a few cold beers, can't wait!
Next up – Thailand!!!!!!!
What's new – Ilminster Summer League results on News Pages
Check Out – TF Gear Hardcore Jacket Review below