Well it seems to be a relative review fest at the moment, I've just received the TF Gear Camo Waterproof Jacket from site supporter Fishtec and first impressions are very, very good. Now I'm not a carp/speci hunter but I wanted a jacket that I could take with me to Gillhams Resort in Thailand as at this time of year there can be some spells of monsoon like rain but with the heat you don't want anything too bulky or cumbersome. This jacket seems to fit the bill perfectly and would be equally at home in the UK in all but the most extreme conditions.
I'll give you the blurb from the website and then I'll let you have my take on the jacket, the official product description is as follows and can be found here
http://www.fishtec.co.uk/buy.cfm/waterproof-fishing-jackets/tf-gear-hardcore-camo-waterproof/40/yes/70544
Hardcore camo was born out of a passion for fishing, street wear and to reflect
carp fishing culture and lifestyle. The same innovative fabrics, the most rugged
durable materials, the latest breathable technology and the most protective
waterproof garments. This is Hardcore fishing clothing with a new and exciting
street edge. Striking camo that blends seamlessly into the fishing environment,
a design that gives your bank-wear soul, a brand that lets you create your own
style.
Features



100% waterproof – seam sealed security




Breathable and moisture free




Storm proof hood – ultimate head protection




Hand and zipped storage pockets




Rugged ripstop fabrics




Premium quality zips
The RRP is £89.99 but the jacket can be purchased from Fish Tec for £44.99 and if you're a member the price is discounted even further to £40.49 and that is a great price for a quality garment. It's available in medium, large, x large and xx large sizes (mines a large before anybody says anything!).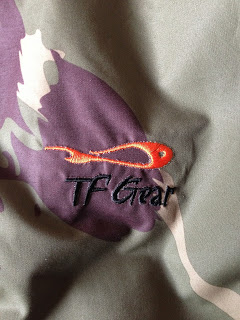 A quality bit of kit
Now I'm not going to repeat the product description but I feel it needs fleshing out a bit, they mention pockets but not how many, there are loads, there are four outer pockets (six if you include the hand pockets), including two zippered pockets which are ideal for mobile phones or other items you need to keep dry and there is also an inside pocket. It would make an ideal jacket for anglers who like a stalking, mobile style of fishing as there's room for loads of terminal tackle and other bits and bobs.
The hood has a draw string so you can pull it tight around your head in the kind of awful conditions we seem to face for much of the year but there's also a feature that I haven't seen on other similar coats and which I think is a tremendous idea. It's basically a little sleeve which holds the end of the draw string and stops it flapping about (see photo), a very simple idea but in windy conditions those toggles can sting!
A fantastically simple idea!
I can't comment on the jacket being 100% waterproof, breathable or moisture free as so far I've only worn it in the house!, but I fly out to Thailand next Monday and I can think of no better test for the jacket as the weather over there will test all three of those things. I'm no expert on such things but it looks well made and fits nicely (if you excuse my gormless expression below) and as I give the jacket a thorough workout, I will keep you updated.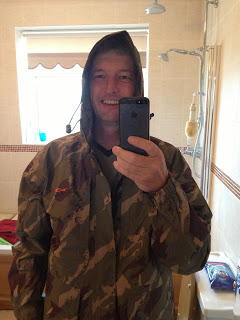 I look pretty gormless but I think the jacket looks great!
I've already said I'm not a carp angler but I think this jacket is perfect for that style of fishing, it's great for Summer, Spring and Autumn but there's plenty of room for a fleece underneath so there's no reason why it can't be worn all year round. The product description seems to me to be aimed at the carp fishing market but I think that does the jacket an injustice, I'm sure there are loads of pleasure anglers who would love it and it's just the job to have with you on those days when you are only expecting the odd shower and ideal to have in your carryall to chuck on when the wet stuff arrives.
For me, Thailand aside, it will be an asset to have when just walking around a fishery when I don't want to have my full match fishing regalia on and similarly if I had a dog, it would be ideal to have in the car for when, once again, our unseasonal weather catches me out.
As I said earlier, my first impressions are very, very good (especially at that price) but as they say 'the proof of the pudding….' so I will update on my return from The Land Of Smiles.
Update 23rd August 2013 – Well I've had the jacket for nearly four months now and it's still going strong, it's been to Thailand and back, it's been mullet fishing with me and I wore it for the junior match last weekend when it rained nearly all day. It performed really well and I love all the pockets and keep finding new ones! Still highly recommended and I'll be wearing it to the junior match at Perry St tomorrow.