The match was on Longs today and it would be really interesting to see how it fished after Pete lost a lot of skimmers due to low oxygen a couple of weeks back. He phoned me just after it happened and he was gutted and I was gutted for him as I've really enjoyed the silvers fishing on Longs. He said he hadn't lost hardly any tench or crucians and of course the carp survived but surely not all the skimmers had perished? When I got there and somebody said the top silvers weight on Wednesday was 7lb, I feared the worst.
I drew peg 11 which used to be a really good skimmer peg and I still felt around 10lb would be needed to win the silvers and that would be a decent days fishing. I had Glynn Wickham on my right and Ray on my left and they would both go for silvers so between us we should get a few shouldn't we? The wind was wicked again and it looked like we were in for some rain – great! I decided to fish three lines at 10 metres and rotate between them, feeding micros with Bait Tech 4mm expanders for the hook. I set up two MW F1 Slims, one a 10 x 11 with 0.10mm bottom and size 18 808 and the other a 14 x 11 with 0.12mm bottom and a size 16 808.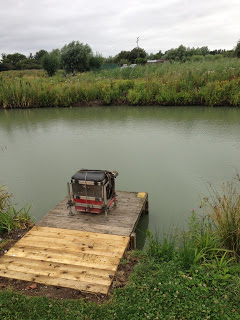 Peg 11 on Longs
On the whistle I fed half a cup of micros at 10 metres to my right, straight out and then to my left before starting on the right hand line first. I had to wait ages for a bite which wasn't a good sign and then lost a carp which smashed my hooklength and I just knew it was going to be hard. I did manage a small skimmer of 2oz and a small carp and also lost a couple of foulhooked carp. The wind was awful and I wasn't really enjoying myself much. Ray had a small tench and not long after Glynn had one as well so at least there were some about.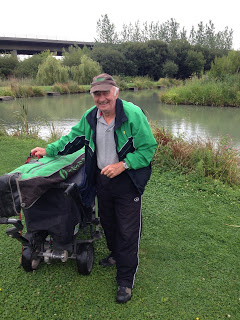 Ray Wickham was on my left today
I was rotating my three lines and getting bites but they were either carp with quite a few of those foulhooked or tiny skimmers. After a couple of hours I only had a couple of blades plus some carp and I never imagined it was going to be this hard! Glynn had added a small crucian and an eel but Ray was now really struggling as well. I decided to try fishing at three sections to see if I could catch some small fish but after half an hour and lots of missed bites I had only added a small roach. Out of desperation I tried a worm head and had another small roach but it dropped off.
Back out at 10 metres and the only action was from odd carp and I'd had enough already, with only a couple of hours left I started a new line at four sections and had a small tench quite quickly, then I had a carp and then a small skimmer, was I about to stage a comeback? No, was the answer as although I was getting quite a few bites I was missing most of them and I suspect small fish were the culprits. I did manage a couple more blades and carp and also added a lovely little golden tench but I was more than ready for the all out. Glynn had added another small tench and a crucian plus some blades and would do okay today and he also took a pound off me.
My final tally was 5 small skimmers, 1 tench, 1 golden tench, 1 roach plus about 8 carp and the whole day I kept thinking about some of the great days silvers fishing I've had here and I honestly don't know if it'll ever recover to be as good again. I know Pete is going to net Perch Pit in September and put the silvers in Longs so maybe I'll revisit it again then. I can't describe how gutted I am as it was a cracking mixed fishery.
I didn't follow the scales around but as they got close to me I went and had a look at the weigh board, there were some good carp weights considering most people couldn't fish long because of the wind and Bill 'The Paste' Hopping was leading the way with 55lb 12oz. The top silvers weight was a lowly 5lb 8oz and I thought Glynn might have that. Ray had 19lb 7oz of carp but only 1lb 6oz of silvers, my carp went a level 16lb and my silvers weighed 1lb 15oz which put me second but I knew Glynn had beaten me and with Pete paying the top two in silvers, there would be no brown envelope this week.
Glynn's silvers only weighed 4lb 3oz which surprised me as I thought he had more but it was enough for second in the silvers. I stayed for the results and then drove home, still feeling really gutted that all those lovely skimmers have gone.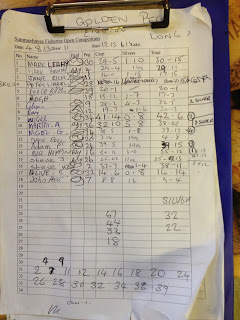 Today's weigh board
1 – Bill 'The Paste' Hopping (Summerhayes) – 55lb 12oz
2 – Nigel Wickham (Summerhayes) – 42lb 6oz
3 – Adam Palmer (Royal Marines) – 39lb 15oz
4 – Nigel Garrett (Summerhayes) – 39lb 13oz
Silvers
1 – Martin Addicot (Taunton) – 5lb 8oz
2 – Glynn Wickham (Summerhayes) – 4lb 3oz
Next up – Summerhayes (Sellicks)
What's new – Latest Chard AC and Ilminster AA results on news page
Check Out – Mine and Andy's trip to the seaside (below)