Through this blog I occasionally get things sent to me to review and I really enjoy doing it as I love getting home to find unexpected parcels waiting for me! I try to write an honest review of any products that come my way or indeed, any gear that I actually buy! I was recently contacted by a lady from Canvas Design asking if I would like to do a review of one of their canvases, all I had to do was send them a photo that I would like turned into a canvas. I decided on my favourite photo which is of a 80lb Amazon Redtail Catfish caught at Gillhams in 2012.
As soon as the print was ready I received a text telling me when the canvas would be delivered and the following day I had another message to let me know when it would arrive during an hour long window – fantastic service. The canvas was really well packaged and from me sending the photo off to receiving it was within 48 hours. I must admit I was a little apprehensive unwrapping it but it was brilliant and I am over the moon with it. The original photo is below with a picture of the canvas underneath and you can see how good it is.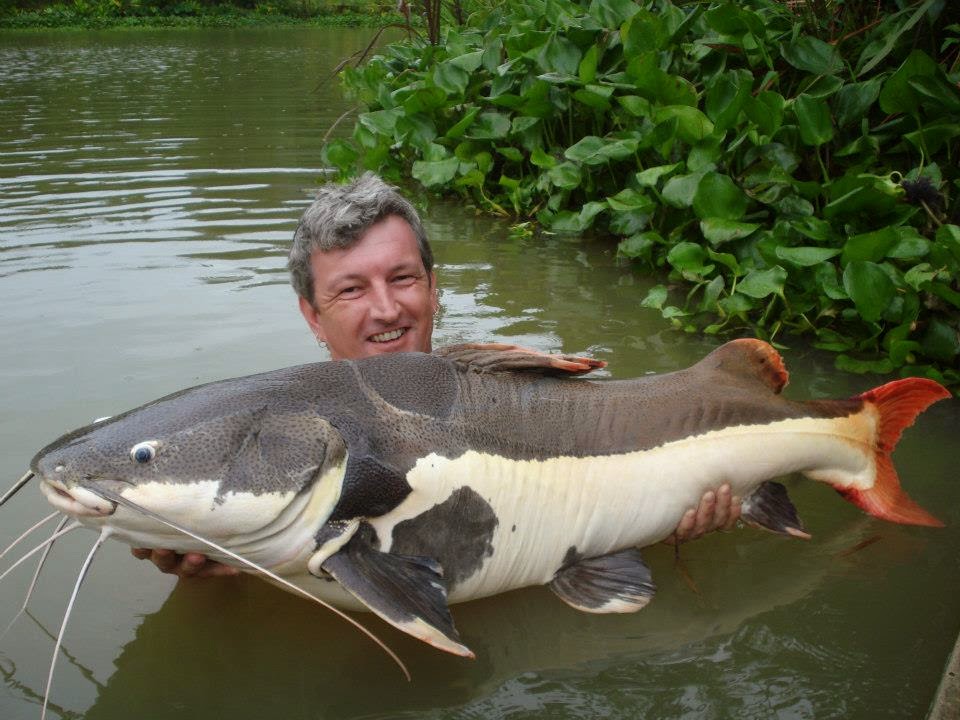 The original photo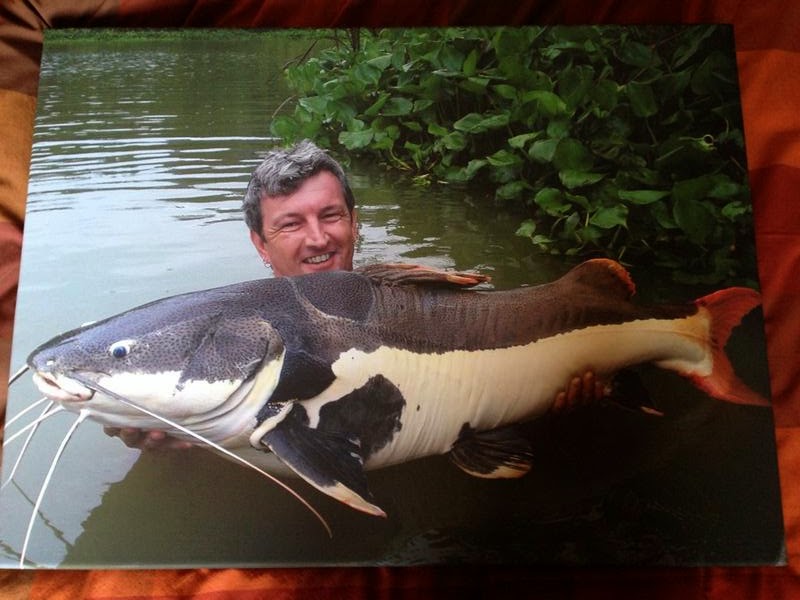 The canvas
The 100% cotton canvas is of the highest quality and comes hand stretched over a 3.8cm pine frame with a free hanging kit supplied. My wall was looking very bare but I've now hung it over my bed (well I didn't want to have to look at my ugly mug all night!) and I think it looks fantastic. In fact I'm actually thinking about getting a couple more done and paying for them!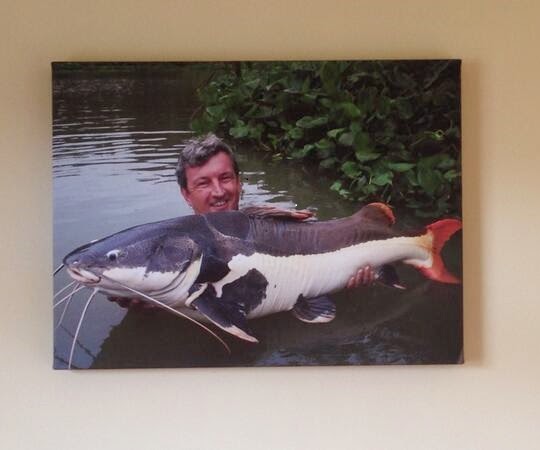 Pride of place over my bed
Looking at their website (which is really easy to use), they can do a wide range of sizes and you can have square, landscape or portrait canvases. If you can't see the size you want they can make you a custom canvas right up to 72″. They also do three different types, Canvas Lite (with an 18mm pine frame) with prices starting from £5.99, Canvas Classic which start at £7.99 and Floating Canvas Prints which look amazing but are a little more expensive, starting at £36. You can also have a photo montage done and they even do waterproof canvases! All shipping is free too!
I think they would make an ideal present for anyone and gift vouchers are available on the site and you can even get a canvas sent to someone if you wanted to.
I have to say again how impressed I am with this company and the service they provide, these canvases will brighten up any wall. Have a look at their websites (links below) and if you're still not tempted there's even a discount code (BLOG15) which will get you an extra 15% off.