When I spoke to Pete to put mine and Janders names down for this match, he said it would be on Longs today so after picking Janders up, I was a little disappointed on arriving to see all the cars parked by Sellicks! It was also really windy (just for a change!) and there were also some showers forecast – great! As we collected our keepnets it was pretty cold and I was glad I'd not forgotten to wear my hoodie today. We paid our pools and had a coffee while waiting for Pete to sort out the pegs. There had been a match on Sellicks yesterday and it had been a fairly low weight affair with only 6lb needed to win the silvers.
When Pete announced the draw I was fairly near the back of the queue and thought peg 4 would do me as I'd had a lovely day there a couple of weeks back. It wasn't to be though and my ping pong ball had the number 15 on it which put me near the top of the pond, a great carp peg which wasn't what I wanted but it does occasionally do a weight of silvers. Janders drew peg 1 and although very windy, it's quite a narrow peg and I though he might do okay today.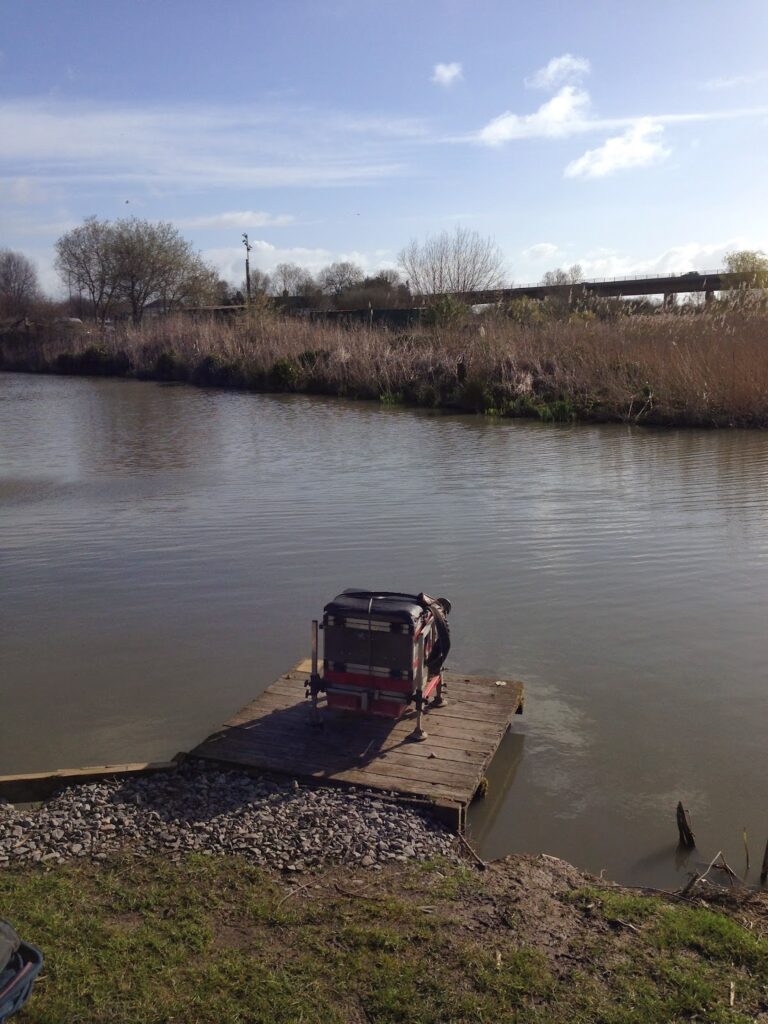 Peg 15 on Sellicks
The wind was horrible and all over the place and I just knew it was going to make for a frustrating day, I set up a 0.6 gram Malman Pencil and also a 0.75 gram Drennan AS float (which I never picked up all day!), both with 0.10mm bottoms and size 16 Tubertini 808's. I plumbed up two lines at 10 metres, one straight out in front and the other angled to the left and also a shorter line at 5 metres where I thought I might be spending most of the day unless the wind eased off. Ray Wickham was on my left on peg 16 and Martin Addicot was on peg 14 and moaning about how he hated the peg and would be packed up by dinnertime and I was wishing I'd brought some earplugs!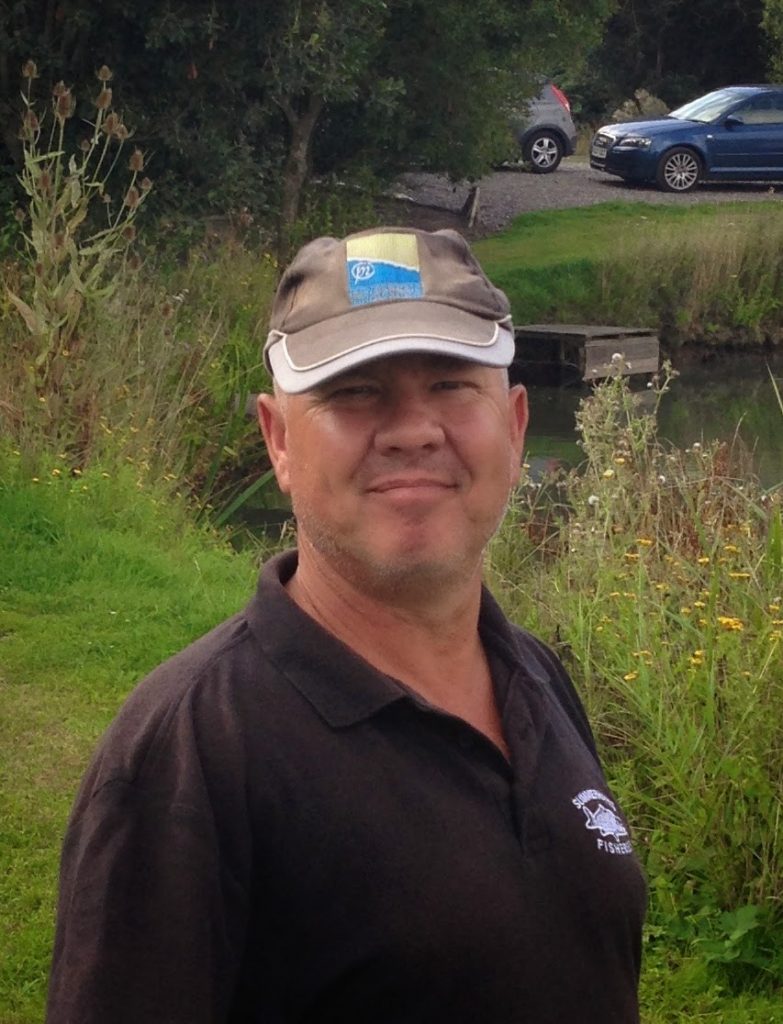 I don't think Martin liked his peg!!!
I was just about ready when the whistle went and cupped in half a pot of micros on all three lines before starting straight out with a 4mm Bait Tech expander on the hook, I missed a bite before connecting with the next one, although very briefly and I think it must have been foulhooked. I swapped to the other 10 metre line and lost another foulhooked carp so I had a look on the shorter line much earlier than I really wanted to. I had two small carp quite quickly (one was foulhooked) before finally catching a 4oz skimmer to get me off the mark. Just before the first hour was up I've hooked a right lump which I had on for ages, the wind was being a right nightmare though and as well as trying to use the pulla bung, I also had to keep some of my pole sections from being blown in the pond! After about 10 minutes the carp decided it was fed up with all my faffing about and went under my keepnet and snapped me!
I had my third carp at the start of the second hour and then had a good 1.5lb skimmer followed by another of a similar size that jumped out of the water on the strike. Ray had bumped a couple of better skimmers and Martin only had a couple of carp so at this early stage I was doing okay. I added a couple more 4oz skimmers and another small carp and was fairly happy with my silvers catch rate as I was getting quite a few bites and it felt like there were a few fish there. The wind was getting right on my nerves and even blew my pole roller bag in the pond but luckily I managed to retrieve it.
The third hour was similar and I added another good skimmer plus a few smaller ones and a couple more nuisance carp and I still felt a decent weight of skimmers was on the cards. Martin was still getting the odd carp but poor Ray was having a bit of a 'mare and had lost another good skimmer plus several carp. Along with the wind we were now getting the odd rain and hail shower and it was bloody cold too! Then as we passed the half way point I went from getting regular bites on the shorter line to really struggling. I did add a couple of smaller skimmers but really should have rested this line but I just didn't fancy having to wrestle with the pole and the wind on the longer lines.
Martin was still moaning the odd carp into his net and I could see Mark Leahy further down on our side catching the odd carp as well and they were slowly but surely pegging back my early lead. With about an hour and a half to go I was on nine skimmers and around the same number of carp but my shorter line was dying on me. When Martin had two carp in quick succession, I knew I had to do something so I fed some micros on the 5 metre line before going out to wrestle the wind on the longer line. To be honest presentation was awful but I had two carp and bumped another and I was just about still in front of Martin.
I had another look on the shorter line, but when my neighbour had another carp I was soon back out long and added another carp myself. I think I was now on 13 or 14 carp but I had lost count as I only use my clicker for the silvers. I came back onto the five metre line for the last five minutes but didn't add any more fish to my tally, Martin on the other hand hooked one right on the whistle and landed it safely and I thought it might be tight between us. Ray reckoned we would be first and second but I wasn't so sure as we had no clue how the pegs on the far side had fished.
I packed up and as I took my box back to the car I asked how people had got on and most had struggled, Mark Leahy on peg 18 said he'd lost loads of foulhookers, young Reece on peg 19 said he'd caught quite a few skimmers as had Dave T in peg 21, Glynn Wickham in peg 23 had really struggled and hadn't caught any silvers at all so at least I'd won a pound today (that's 2-0 this year so far!). As I loaded the car I missed Janders weighing in but he had really suffered with the wind to weigh 2lb of silvers and 3lb of carp, he said he could only fish one line as if he turned around his hat blew off!
Andy B in peg 4 had 5lb 8oz of silvers and Dan P next door had 5lb 6oz of silvers and 18lb 4oz of carp to go into the lead. Bruce Hunt in peg 7 had 6lb 8oz of mainly small rudd and went into the silvers lead before Dave B in peg 9 pushed Bruce down into second with 8lb 3oz. Then we got to Bill 'The Paste King' Hopping in peg 11 and he had a few silvers and 46lb 8oz of carp to storm into the lead with 47lb 12oz. Rob Birch didn't weigh in on peg 13 but at least Man United won this week!
Martin Addicot was next and weighed 27lb 2oz to go into second place and had actually stopped moaning for five minutes! Then it was my turn and my carp weighed 34lb 8oz and my silvers went a level 5lb to give me a 39lb 8oz total and I went into second place. The rest of our bank didn't take long to weigh in with several people chucking back, Reece weighed 4lb 8oz of silvers and had to pay Dave B a pound and Dave T had 3lb 12oz of silvers and that was that.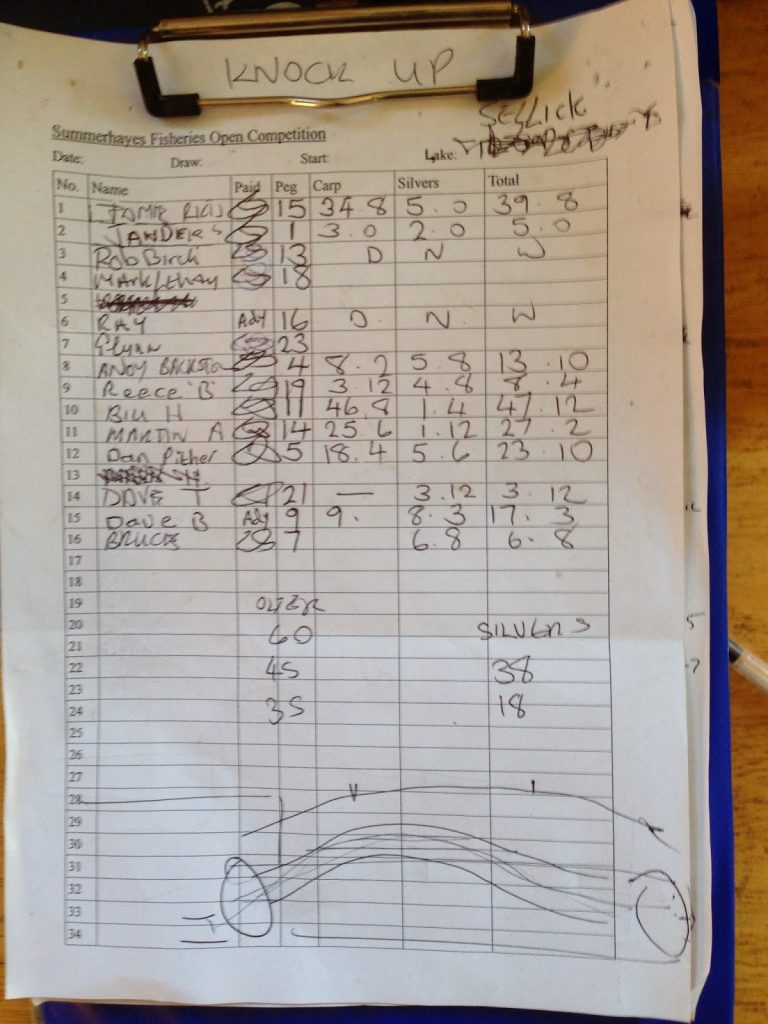 Today's weighboard
I was well chuffed to frame again and glad that lost lump hadn't cost me although I reckon if I'd spent longer at 10 metres I might have pushed Bill's weight. Still I picked up £45 for second place plus pounds off Glynn and Janders. So a pretty good weekend as Chelsea beat Arsenal 6-0 yesterday to stay top although Man City and Liverpool are right behind us with games in hand.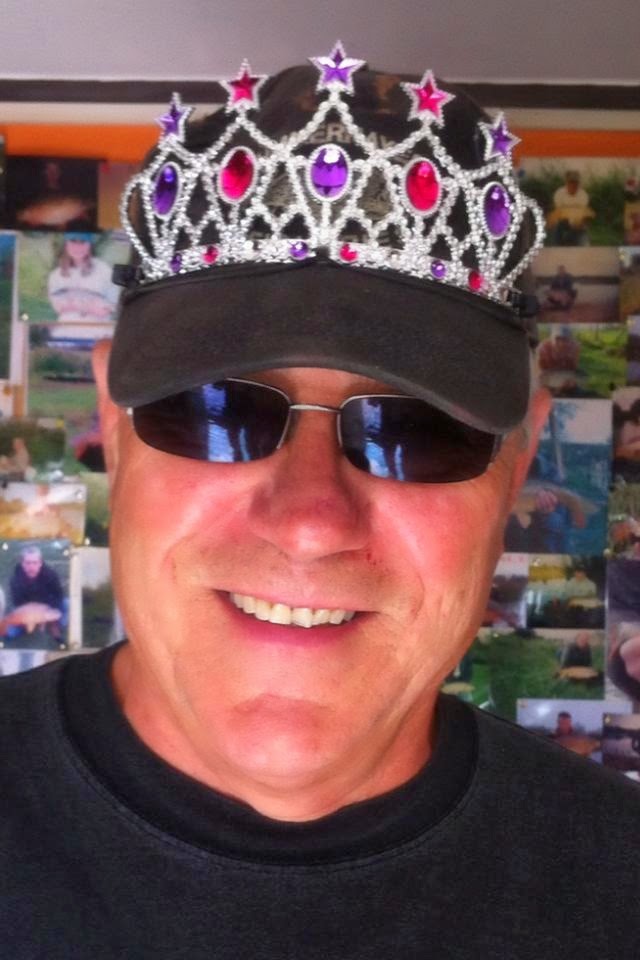 Bill 'The Paste King' Hopping
1 – Bill 'The Paste King' Hopping (Summerhayes) – 47lb 12oz
2 – Jamie Rich (Against Men and Fish/Burt Baits) – 39lb 8oz
3 – Martin Addicot (Taunton Moaners) – 27lb 2oz
Silvers
1 – Dave Ball (Summerhayes) – 8lb 3oz
2 – Bruce Hunt (Tiverton) – 6lb 8oz
I've actually got a few days off work next week so I'm going to fish on Wednesday so come back then for a bonus blog!
Next up – Summerhayes
What's new – Lots of page updates
Check Out – My Canvas Design review (below)
Blog of the week – See how Tim got on at Emerald Pool today – Tim's Blog