I haven't fished a Wednesday match for a fair old while and as I had a few day's leave to use up I booked in for this one. It was a lovely day too with the sun shining and hardly any wind for the first time in ages. On my arrival, I collected some keepnets before grabbing a coffee and then Pete announced we would on Longs today instead of Sellicks – result! When it was time to draw I got to the bucket quite late and there were only a couple of balls left, I pulled one out and had a look and peg 11 was staring back at me which I was well chuffed with. It's one of the most consistent silvers pegs of late and has done several 30lb plus weights and Alvin won overall off it a couple of weeks back.
As I walked to my peg I passed Bruce on peg 1 who wasn't too happy with his draw but he said it was just nice to see the sun for a change. There was nobody between Bruce and me on peg 11, loads of room! I had a lad called Paul on my left on peg 13 and he said he always draws the same area, which can't be bad as 11, 12 and 13 are great pegs! I must admit as I was setting my gear up, thoughts of beating my best silvers match weight of 25lb odd were running through my head!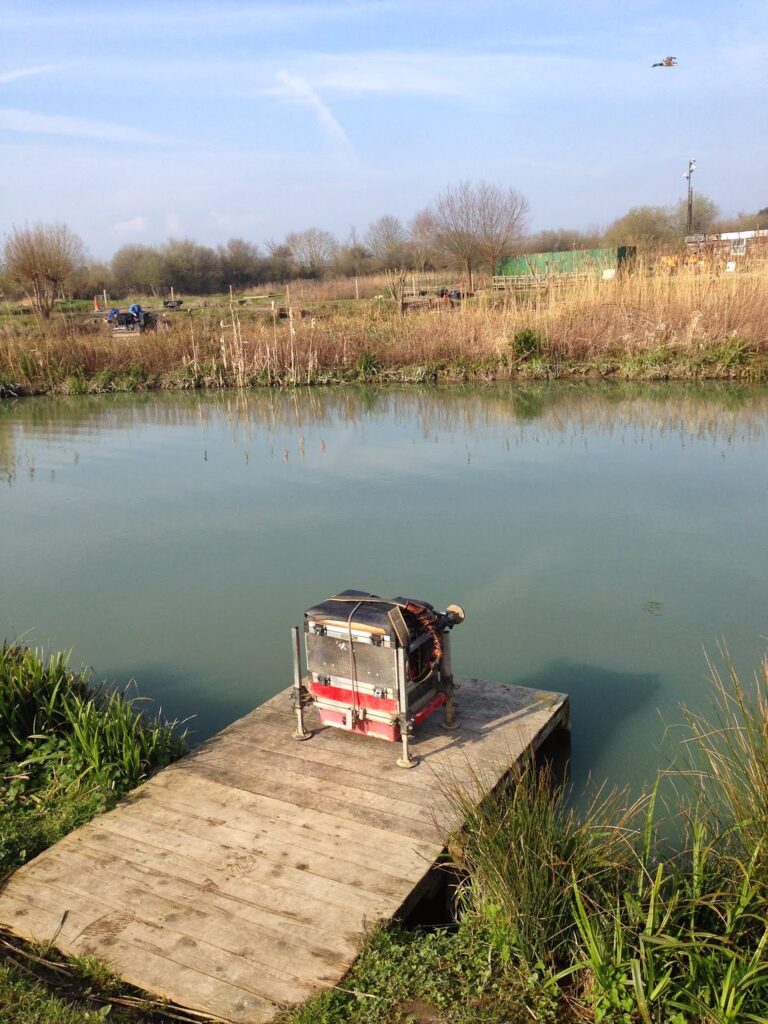 Peg 11 on Longs
I set up two MW F1 Slims, a 10 x 11 and a 14 x 11, both had 0.10mm bottoms and size 16 Tubertini 808 hooks and plumbed up three lines at 10 metres and a line at 5 metres. Bait was the usual micros that I had dampened the night before and Bait Tech 4mm expanders. Although a nice bright day there was some wind and it was quite chilly. Pete shouted the all in and I cupped in half a pot of micros on all four lines before starting on the right hand line. I had to wait for what seemed like ages before I had a bite and then I promptly missed it!
Next chuck I had another good bite and connected with this one but it was no skimmer and after a few minutes I netted a 3lb carp and I hoped I wouldn't see too many of them today. I took this as a sign to move to the middle of my three 10 metre lines and started getting regular bites but they were from 2-3oz skimmers and small roach, where were all the big skimbobs! I tried the left hand line but never had a bite there so went back to the right again. I was just getting odd roach and blades and after half an hour I was starting to get concerned at the lack of quality.
Then I had a pound skimmer from the line straight out in front and next chuck hooked a decent fish which I knew wasn't a carp and after a spirited scrap I netted a lovely 1.5lb tench, this was more like it! So after an hour I had about 3lb of silvers plus that carp and I hoped the swim would get stronger as the match progressed. The second hour started okay with some more blades, a 12oz tench and a gorgeous little crucian carp of 8oz or so. The left hand line was a flop and I still hadn't caught over it, so I decided to try the 5 metre line for the first time and had another little tench and a blade before I went back to the right hand longer line. Basically I was trying to get a couple of fish off each line before moving to the next one.
As the third hour started I was on about 5lb of silvers and a couple of carp and things needed to improve if I was going to collect an envelope today. I added more small skimmers and roach plus a couple of carp before hooking a lump which gave me the right run around before I eventually netted a carp which had to be 8lb plus. With all the carp catching and faffing about, the third hour was a bit of a flop silvers wise and I probably only added a pound or so and any thoughts of a big weight had long gone. I also binned the left hand 10 metre line as I hadn't caught a fish off it.
I kept trying the five metre line but all I could catch from it was the odd carp and I didn't know what to do next. Paul was catching carp and silvers well and I could see Ziggy across on peg 32 bagging up. I could still catch the odd small skimmer and roach from my ten metre lines but the bigger skimmers were few and far between. With two hours left I had to do something so got some 6mm hard pellets from my carryall and tried banded pellet. This seemed to discourage the small fish and when my first fish was a decent skimmer, I thought I'd cracked it until I saw it was hooked under the chin! I then had two carp before catching my fourth tench, albeit a baby of 8oz.
I also lost a couple of carp which I think were foulhooked and pulled out of a couple of big skimmers but did manage a couple more big skims before the end of the penultimate hour. I was having to wait ages for bites on the hard pellet and missed quite a few so switched back to expanders for the last hour. I had two good skimmers straight off and thought I might be in for a good last hour but then it was back to small skimbobs and I added a couple more small carp as well. The all out was shouted and I'd ended up with 44 silvers (which included four tench and that crucian) but a lot of them were small fish and I thought I might just have double figures which was a bit disappointing, I also had 13 carp including that lump and thought I might have 40lb in total.
Jacko walked up from peg 16 and asked what I'd had in silvers and I said I'd struggled for about 8lb, he said he'd struggled and I thought perhaps it hadn't fished as well as expected because although a bright day it got very cold during the last hour or so. Then I asked Paul how he'd got on and he said he'd had about thirty carp and 15lb of silvers! I knew Ziggy had also done well although he had slowed up near the end so I thought that would be the two frame places filled but maybe I could sneak in the silvers!
The scales started with Mark Hanham in peg 37 and he weighed 34lb 12oz, Bruce had 21lb 5oz from peg 1 (which included 8lb of silvers) before it was my turn, my carp went a level 32lb before I pulled my silvers out and Jacko reckoned I couldn't lie straight in bed as Pete called my weight at 15lb 11oz to give me a total of 47lb 11oz. Paul had 41lb 11oz of carp and 16lb 14oz of silvers to go into the lead on both fronts and I was hoping he'd frame. Jacko had 14lb 5oz of silvers and then Roger Russell had 13lb 8oz and I was still hanging onto second in silvers.
I missed the next few weights as I took the rest of my kit back to the car and caught up with the scales as they weighed the last two anglers, I was expecting Ziggy to beat me and was surprised when he weighed 39lb 10oz and when Paul Elworthy had 29lb 3oz (which included the best silvers weight of 20lb 14oz) I thought I'd actually sneaked second overall. It wasn't until I got back to the hut and took a photo of the results that I saw Steve Kedge had pipped me with 50lb 8oz from peg 29! Pete was paying the top two overall and the top two silvers and I actually ended up second in the silvers and picked up a tenner so at least I've kept this little run going (11 pick ups in the last 12 matches).
Looking at the results, I wasn't far off winning it and I reckon if I'd attacked the peg a bit more I might have done enough, also the silvers weights were all very close with the top six all catching double figures and that's decent fishing and I expect the weights to improve further as the weather warms up.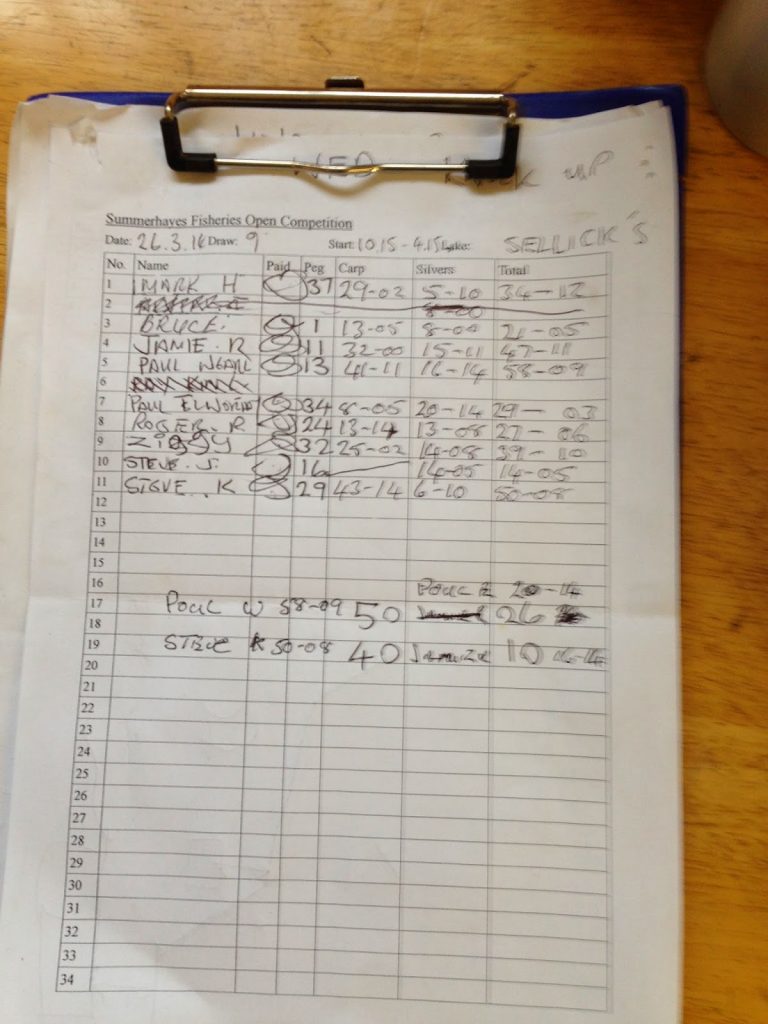 Some good weights again today
1 – Paul W (Tiverton) – 58lb 9oz
2 – Steve Kedge (Somerset Angling) – 50lb 8oz
Silvers
1 – Paul Elworthy (Summerhayes) – 20lb 14oz
2 – Jamie Rich (Against Men and Fish/Burt Baits) – 15lb 11oz
So another really good days fishing although I failed miserably to beat my best silvers weight. I'm back again on Sunday with Rob Cox and we're on Sellicks I think, so come back then to see if I can keep this good run going or I crash and burn!
Next up – Summerhayes
What's new – Lots of page updates
Check Out – My last match (below)
Blog of the week – Lee Williams had a good day at Plantation Lakes – Lee's Blog