I was looking forward to fishing Longs this week as the silvers weights have been steadily improving with over 18lb needed to win it in the last match. Rob Cox also fancied giving it a go for the first time so I met him at the Little Chef in Ilminster and off we went. There was a good turnout with over twenty anglers fishing today, including Alvin Jones who I hadn't seen for ages and Steve Jackson. The hot pegs for silvers have been 30 and 34, I was near the end of the queue but when it was my turn to draw, peg 34 was still in the bucket. My drawing hand had deserted me though as I opened my fingers to reveal peg 18 down the far end, an area I have struggled on the last few times I've been down there. Pete did offer me some crumbs of comfort when he said somebody had caught 16lb of big skimmers off it recently.
Rob had drawn peg 12 which can be a good silvers peg and he had Alvin next door on peg 11. For company I had Rob Birch on my right on peg 16 with Nigel Wickham on my left and he had his brother Glynn to his left. Ray Wickham was next to Rob so we had the whole family down our end! When I woke up this morning, the sun was shining and it looked like a lovely day so I didn't bother wearing a hoodie, I should have remembered it's always windy at Summerhayes because as I was setting up I was freezing cold!
The wind was wicked and I just knew it would be a pain in the bum, poor Rob Birch tried plumbing up on the far bank and got caught in some overhanging vegetation and then had to spend ages setting up again only to go across again and the wind blew his brand new rig into the same spot and he lost that as well, not a happy bunny!
I set up a 10 x 11 MW F1 Slim for fishing at 10 metres and also a 0.4 gram Malman Pencil for the five metre line. My bait table was very simple, just some soaked micros and the usual Bait Tech 4mm expanders. On the whistle I cupped up quarter of a cup of micros at 10 metres, angled to the right and half a cup at the same distance but straight out in front of me. I also put in the same amount on the shorter line. I baited up with a 4mm expander and started on the right hand line, second chuck I've had a decent skimmer and hoped it was a good sign. I then had a blade before swapping to the other long line, a couple more small fish followed before I had my second good skimmer and although I wasn't bagging at least I knew there were a few better fish about.
The second hour was pretty similar and I had some more blades and my third proper skimmer, I did lose a carp and then hooked what felt like a small carp, I was giving it some stick and was then pleasantly surprised when a 12oz tench popped up! At this early stage nobody down our end was catching much although I could see Alvin netting fish in peg 11. I tried the shorter line but my only fish off it was a motherless minnow! I've gone back out to the longer lines and I did bump off what felt like a big skimmer but the wind was making it almost impossible to get decent presentation. Apart from the odd small fish and a couple of small carp I was now really struggling. To make matters worse Nigel had three good skimmers in quick succession and there wasn't much between us.
With over half the match gone I hadn't added any more decent fish and was getting increasingly frustrated with the wind. Things hadn't improved much for Rob either, his beloved Man United were 3-0 down to Liverpool and down to ten men! Glynn was walking about and while he was with Nigel I've hooked a fish which turned out to be a foulhooked skimmer of a pound and a half and I managed another not long after. Rob then caught a cracking perch which had to be 2lb, on pellet! He was also getting the odd good skimmer and I reckoned it was tight between him, me and Nigel.
With two hours to go I still wasn't adding much to my nets, apart from the odd small carp, when out of the blue I've had three good skimmers and a blade in as many chucks from the long line straight out in front, the right hand line was a bit of a non starter and I'd only had the one good skimmer off it right at the start. With half an hour to go the wind dropped and I could actually keep the pole and the rig still and I started getting bites and added three more good skimmers, a crucian and a carp in a hectic finale. My final tally was 27 silvers (11 good skimmers, a tench, a crucian plus blades) and five carp.
Glynn had packed up so at least I'd won a pound and Nigel chucked his fish back too, I packed up and took my kit back to the car before having a quick chat with Heardy who said he'd struggled with the wind as well but had caught twelve small carp. As I walked back, the scales had already weighed the first few pegs and Bruce Hunt was leading the silvers with 10lb 10oz from peg 2 and was actually in the overall lead with 15lb 10oz! This all changed when the scales reached Jim Jenner on peg 10 who had 13lb 2oz of carp and then plonked a brilliant 17lb 12oz of silvers on the scales.
Next up was Alvin who had 11lb 4oz of carp and then pulled his silvers net out to reveal a brilliant 36lb 10oz of silvers which included some cracking skimmers and tench. Rob on 12 and peg 13 didn't weigh before Ray Wickham had a total of 17lb 15oz. Rob Birch had 7lb 8oz of silvers and along with the perch, he had a lovely golden tench. My carp went 11lb 4oz and my silvers weighed a level 13lb and I went into third place in the silvers. The trouble was that the bankside grapevine was suggesting Adie Bishop had done a big weight of silvers as well so I was hoping a couple of the big silvers weights would frame.
Heardy had 26lb 1oz and then Steve Jackson just pipped him with 26lb 7oz before Martin Addicot had 31lb 9oz to go into second place. The scales reached Adie and he had a few carp plus another fantastic silvers weight of 31lb 6oz to go in front of Martin with 35lb 2oz. Adam in peg 36 had 28lb 11oz and was looking like he would frame with that.
Back at the results and Alvin had won with Adie second and Martin Addicot third, Jim Jenner was fourth but picked up the silvers by default as it was worth more, meaning I finished second in the silvers and picked up £33. Bruce finished third in the silvers and Adam and Steve Jackson completed the overall frame.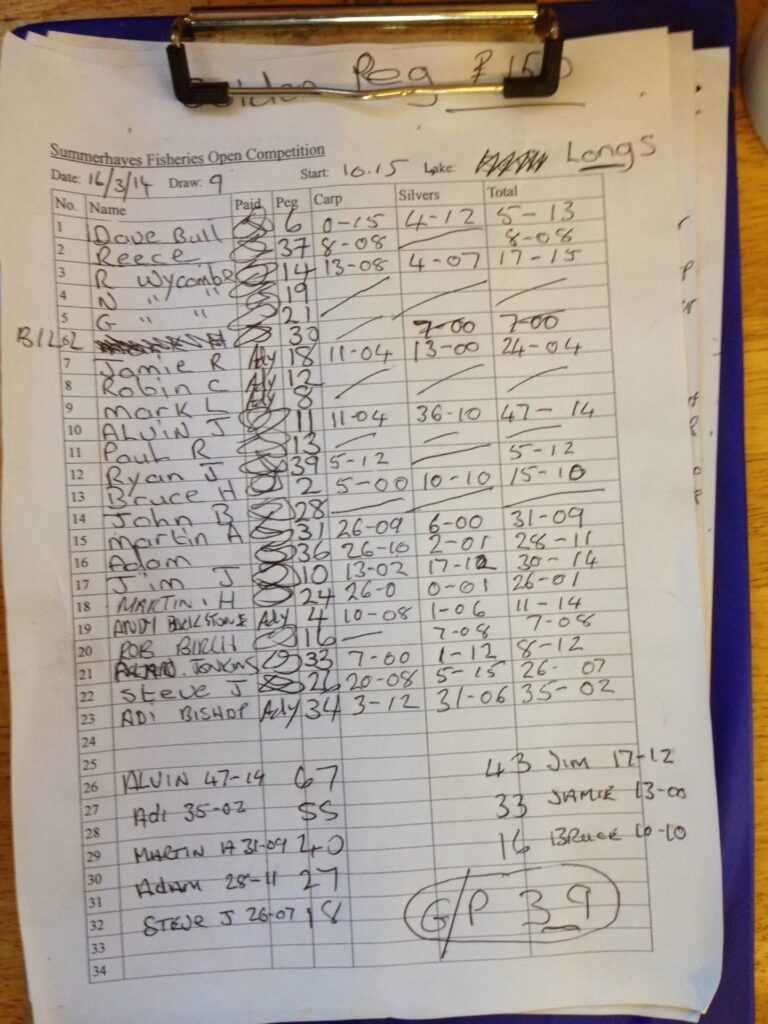 Some great silvers weights today
1 – Alvin Jones (Summerhayes) – 47lb 14oz
2 – Adie Bishop (Summerhayes) – 35lb 2oz
3 – Martin Addicot (Taunton) – 31lb 9oz
4 – Adam (Summerhayes) – 28lb 11oz
5 – Steve Jackson (Summerhayes) – 26lb 7oz
Silvers
1 – Jim Jenner (Summerhayes) – 17lb 12oz
2 – Jamie Rich (Against Men and Fish/Burt Baits) – 13lb
3 – Bruce Hunt (Tiverton) – 10lb 10oz
So some good weights which I'm sure would have been even higher if it hadn't been for the wind, it was great to see some fantastic silvers weights, especially as the top two weights were made up mainly of silvers – lovely fishing. Although Rob didn't weigh in, he said he'd enjoyed it (apart from the wind!) and would be back for another go.
Me and Janders are back again next week and it's on Longs again so hopefully the weather will be kinder and it would be nice if I could draw peg 11!
Next up – Summerhayes
What's new – Lots of page updates
Check Out – My latest ramblings (below)
Blog of the week – Tony had a nice day's fishing today – Tony's Blog