The weather was back to being wet and windy for this one, I picked Janders up and met Rob before heading to Bridgy. There was a good turnout of twenty anglers including Scotty who was just back from two weeks at Whiteacres. After collecting nets, paying pools, drinking coffee and saying hello to everyone it was time to draw. When Pete announced the draw I hung back and there were only a couple of pegs left in the bucket and I pulled out peg 34 which is one of the most consistent silvers pegs (along with peg 11) and has been doing 20-30lb silvers weights every week. I couldn't wait, maybe this week I would smash my best Summerhayes silvers weight!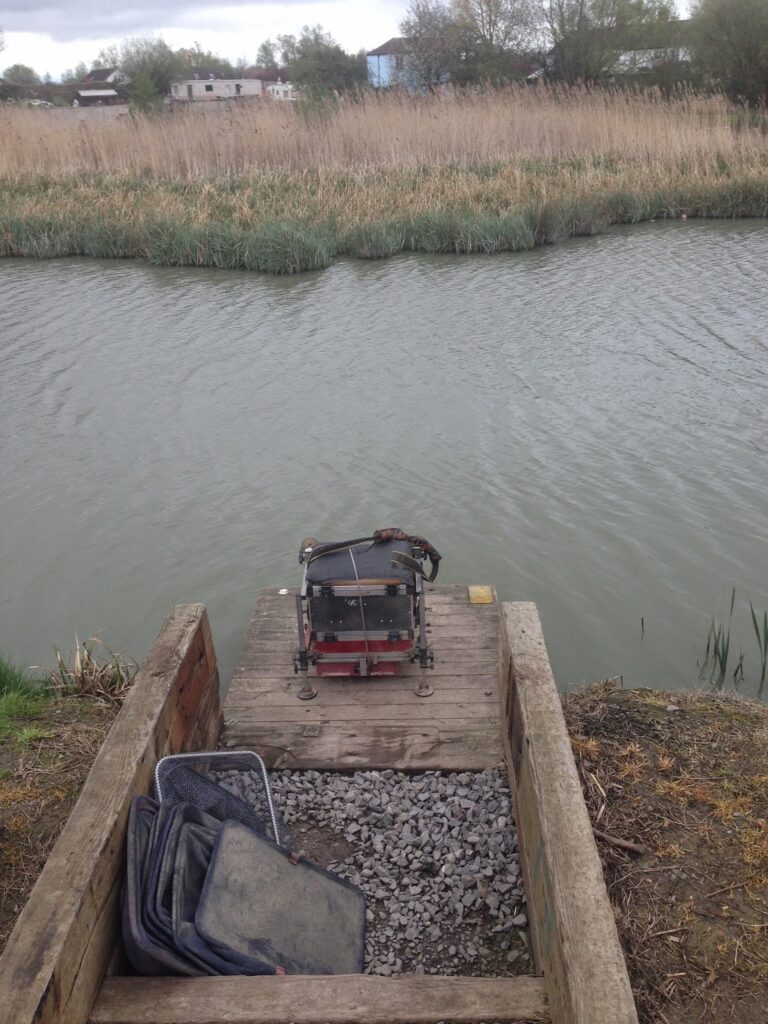 Peg 34, a proper flier and I couldn't wait
Everybody was saying I'd win the silvers at a canter and Heardy said I'd probably win it overall, not too much pressure then! Everybody and his wife wanted a side bet, alongside my usual silvers bets with Janders, Rob and Glynn, Reece wanted a quid on overall weight as did my neighbour Rob K, this could be an expensive day! The wind was quite strong and would hamper presentation yet again but I still felt a good day was on the cards. I set up two MW F1 Slims, a 10 x 11 and a 14 x 11, both with size 18 808's to 0.10mm hooklengths. Bait was the usual micros I had dampened down plus some 4mm and 6mm Bait Tech expanders for the hook.
As I said earlier, I had Rob K on my left and then Heardy was on peg 32, I could see Janders on peg 39 (a peg I've never got on with) and Rob across on peg 11, so I would be able to gauge how a few of the side bets were getting on. I planned to feed three lines at 10 metres and catch a couple of fish off each one before moving to the next one and on the whistle fed half a pot of micros on each line before starting on the right hand line with a 4mm expander on the hook. I had a couple of knocks but after ten minutes I had moved to the middle line and ten minutes later I was on the left hand line and still no positive bites!
Martin had netted a decent skimmer and pulled out of a couple but from what I could see nobody was catching much, finally my float went under and I netted a good skimmer, here we go I thought, now I can start putting some fish in the net. But that fish proved to be a false dawn and apart from a small carp from the middle line and a missed bite, that was it. The second hour was slightly better and I added a couple more skimmers and a small tench and thought a good weight was still possible although I was sure I wouldn't be breaking any records today.
Mark Hanham in peg 37 seemed to be doing better than most but his swim seemed fairly sheltered and he could fish the far bank. I was getting the odd small skimmer and roach but going nowhere fast, Rob K was getting the odd carp and Heardy was catching some good skimmers but kept trying his inside line for carp without much success. I gave up on the right hand line but to be honest the other two lines weren't much better and I knew my good run would come to an end today and off a great peg too! I felt I had cocked up peg 11 the other week and today was going the same way and I just didn't know what to do next.
I did try going further over at 11.5 metres but never had a bite and was resigned to getting my bum spanked by Martin who was still getting the odd good skimmer and I reckoned he would win the silvers today. We reached the last hour and the match seemed to have flown by without me putting much in my nets at all. It was still quite close between me and Rob K though and I stuck at it because from what I could see, most people were struggling. The wind had dropped a little and then out of the blue the float went under and I had a good skimmer and then next chuck hooked another that flew out of the water and shed the hook.
I started to think I could still finish with a flourish but then my next fish was a carp followed by small roach and blades, where were the big skimbobs? I did manage another good one of 1.5lb and another small carp but wasn't too upset when the all out was called. I packed my kit away and let Martin have my left over micros before taking my kit back to the car. Mark Hanham weighed 34lb something and that would be a good weight today, Janders didn't bother weighing so I was a pound to the good. Scotty weighed 43lb odd and had done really well off that peg.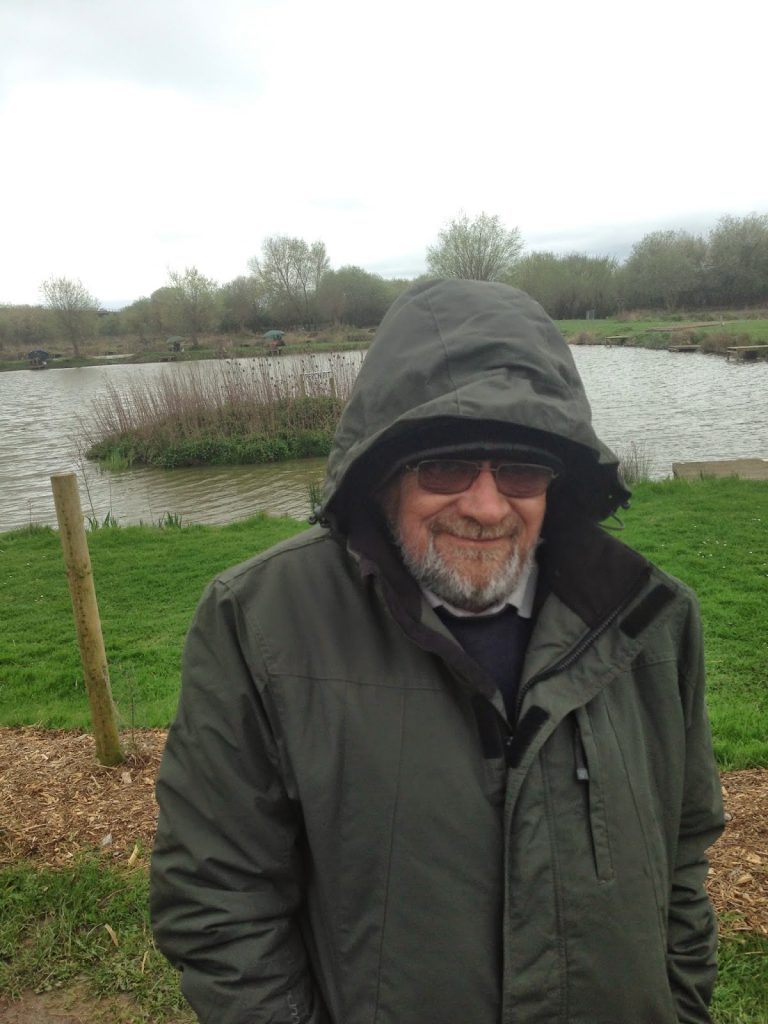 Janders didn't weigh in today
I loaded up the car and caught up with the scales as they started to weigh our bank, Glynn was leading the silvers with 14lb 2oz so I gave him a pound (2-1 to me now), Reece had weighed 10lb 13oz and Roger had 9lb 8oz and I knew Ray Wickham and Heardy had also done well so no envelope for me today. Ray showed his boy how it was done when he weighed 16lb of silvers to go into the lead but it was short lived as Martin had 17lb 11oz before it was my turn. My five carp weighed 8lb 9oz and my silvers went 8lb 8oz to give me a total of 17lb 1oz, Rob K weighed 14lb something so I was another pound better off. I also had pounds off Reece and Rob Cox although Reece hasn't paid up yet!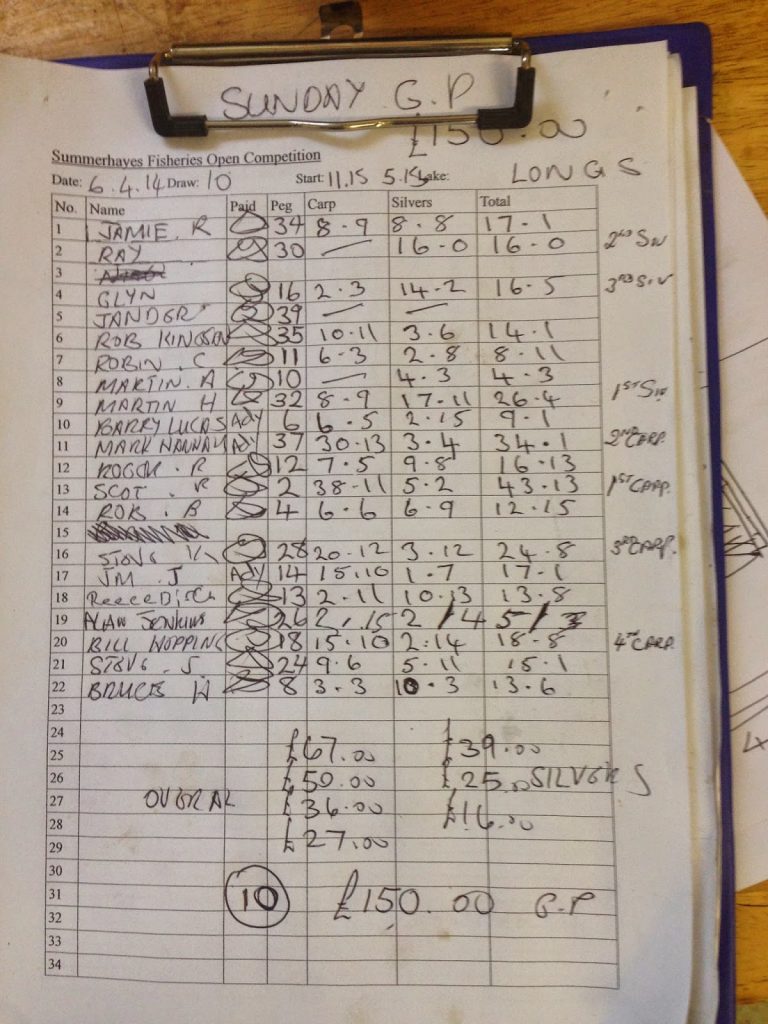 1 – Scott Russell (Tackleuk) – 43lb 13oz
2 – Mark Hanham (Summerhayes) – 34lb 1oz
3 – Steve Kedge (Somerset Angling) – 24lb 8oz
4 – Bill Hopping (Summerhayes) – 18lb 8oz
Silvers
1 – Martin Heard (Tiverton) – 17lb 11oz
2 – Ray Wickham (Summerhayes) – 16lb
3 – Glynn Wickham (Summerhayes) – 14lb 2oz
So it had fished quite hard and I wasn't far off fourth place in the end but I was really disappointed I hadn't caught more silvers. We're back again next week so make sure you come back to see if I cock up another flier!
Next up – Summerhayes
What's new – Lots of page updates
Check Out – My last match (below)
Blog of the week – Another big weight affair at Emerald Pool – Tony's Blog