As per usual Pete runs a two day mini festival over the Bank Holiday weekend and my partner was Ray Wickham once again, in the last one we both did well on the first day but blew out on day two when we drew good carp pegs! Also the texting from the Torquay Tart started last week as he advised me to get a big tube of Savlon for the spanking he was going to give me, I was just amazed he could find someone to fish with him!
We were all on Longs for the first day and after paying my pools the first job was to draw for which section we'd be in and I ended up in section A which was pegs 3 to 20 so at least I couldn't end up on 39 which is my least favourite peg. I ended up on peg 3 which is on what used to be known as 'Suicide Straight' but after those big bream went in, it's been doing some good weights. Ray pulled out peg 24 which isn't in the best of areas for silvers and he would be up against it with Glynn on peg 30. Glynn paid me the £2 he owed from last week and I felt there was a good chance he'd get one back today. The Tart wanted a pound on overall weight which I agreed to and was possibly a tad rash as I would be fishing for silvers!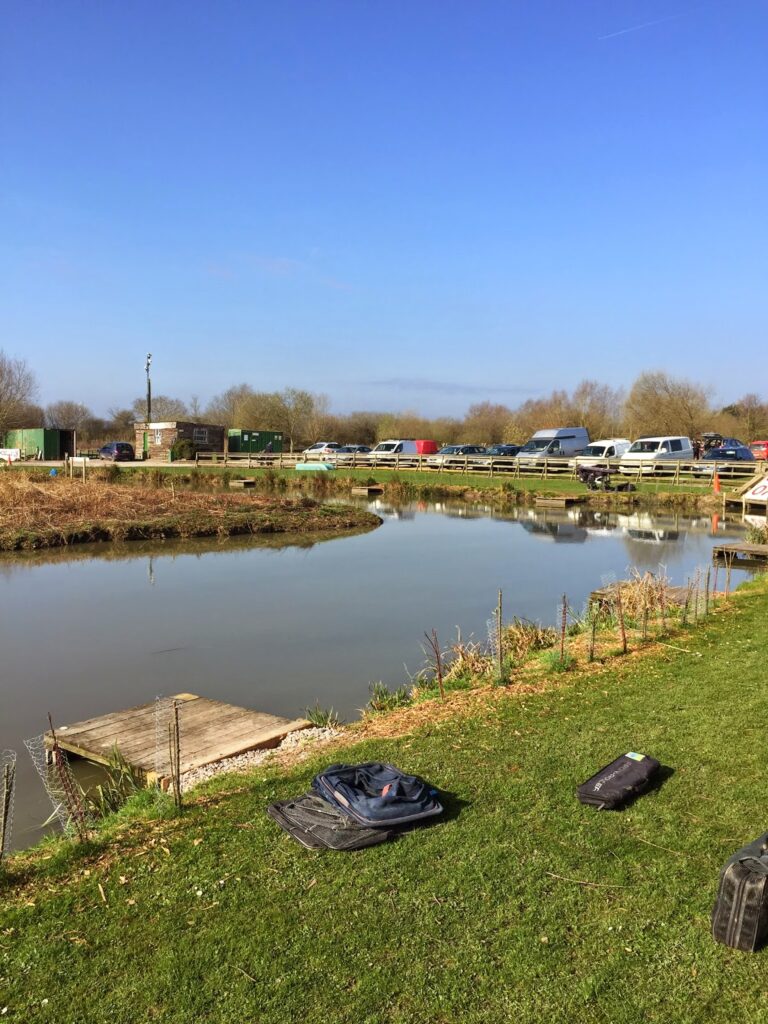 Peg 3 looking back to the car park and you can see what a lovely day it was
I took my kit to the peg and we all had loads of room and my nearest neighbours were Martin Addicott on 39 although he was in the other section and the Tarts partner Darren on peg 7, we had a natter and he seems like a really nice bloke so God knows what he's doing with Brendon (or Brandon as it said on the board!, I think it suits him). I set up a 10 x 11 MW F1 Slim and plumbed up three lines at 10 metres and a NG 0.2 gram Gimp for 5 metres where it was a few inches deeper. Both rigs had 0.10mm bottoms and size 16 Tubertini 808's with both top kits having Daiwa Blue Hydro running through them. I mixed up some of the new Bait Tech F1 which is packed full of ground expanders and should be ideal for this kind of fishing with some good catches of bream being recorded using it already. It's quite a heavy groundbait and you can tell it has loads of expanders and pellets in it and I added a handful of micros as well.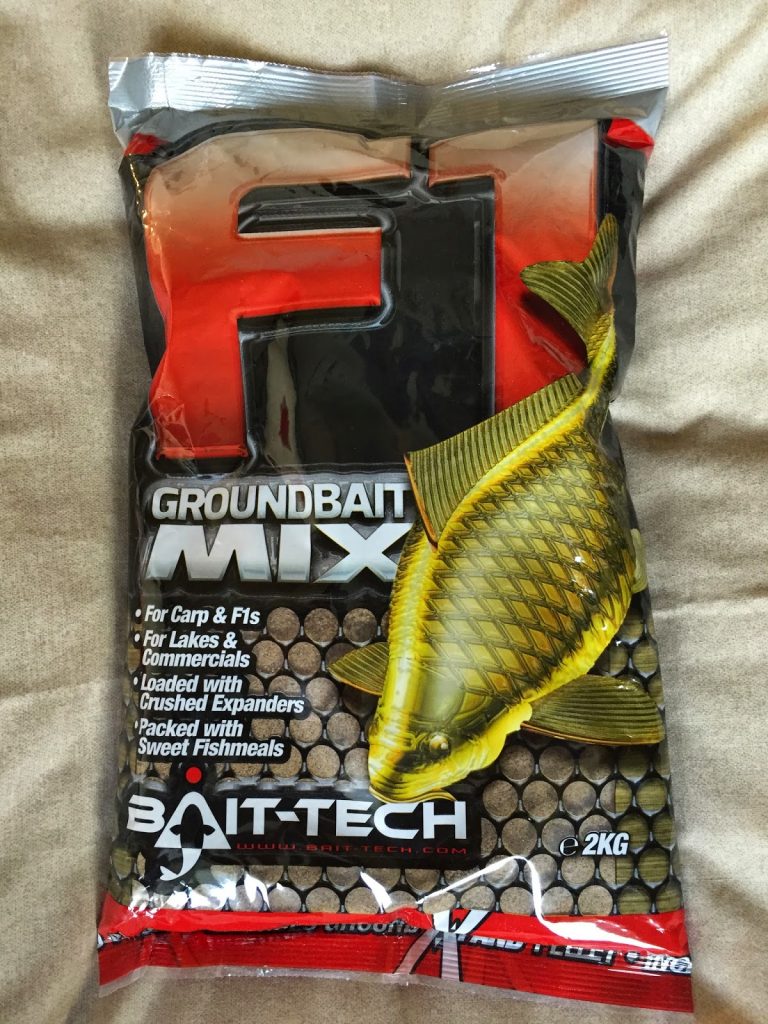 One of the latest products from Bait Tech
In a complete contrast to last week there was hardly any wind and the sun was shining and it looked set to be a gorgeous day and I really fancied it would fish it's head off today. On the whistle I potted in half a cup of dampened micros on the right hand and middle lines at 10 metres before cupping in two balls of groundbait on the left hand line, finally I put in the same amount of micros at 5 metres. I started with a 4mm expander on the right hand line, I was expecting to catch quite quickly but that didn't happen and it was a good ten minutes before my first bite. It felt like a decent skimmer and I was disappointed when a 2lb carp popped up! Next chuck I had a skimmer around 8oz which was more like it and I switched to the middle line, my next fish was a flying 1lb skimmer and I thought I'd sack right up but then I couldn't buy a bite.
I tried over the groundbait line and missed a few bites before rotating round the other two lines again but after a fairly promising start it had just died. I hadn't seen Martin or Darren catch much yet and when Adie came for a walk round he said everybody was struggling but it was early days yet. I'd been dripping some micros in on the 5 metre line but wanted to leave it as long as possible before trying it. As the second hour started I was on the middle 10 metre line when the float buried and a much better fish was on and I shipped back gently before slipping the net under a lovely 3-4lb bream. My next fish was a much more modest version of 2oz from the groundbait line so with 90 minutes gone, I fed the three longer lines again before trying 5 metres for the first time.
I missed a sail away bite then my next fish was another big slab, the next bite resulted in the elastic come jagging out of the pole tip and I just knew it would be a tench and sure enough a lovely tinca of 1.5lb was soon netted, my first for ages. I added a carp which was foulhooked under the wing which I would have sworn was a bream and then added a another blade and a better skimmer of a pound or so. Martin was starting to get the odd carp and had also added a skimmer plus a couple of small tench and his partner Dave Bull was catching on peg 11 as well. Darren was hooking carp but they were beating him up in the reeds and apparently Charlie Barnes was catching bream and skimmers in peg 14.
I had another carp and a foulhooked 2lb bream from the short line so fed some micros before resting it and fishing the longer lines but it was like they were devoid of fish now and all I could catch was the odd small roach over the groundbait line. After half an hour of not adding very much to my nets I was back on the 5 metre line and a good bite resulted in solid resistance and eventually a proper big old slab that had to be pushing 5lb boosted my weight. Next chuck I hooked another but it somehow turned into a poxy carp when I netted it! Much like the last match it seemed like you could get a couple of bites before having to feed again and try somewhere else. I felt like I was going through the motions a little bit on the longer lines and in hindsight perhaps I should have started a new line at 11.5 metres. Then out of the blue I've hooked another good bream from the middle line which I netted safely and there was still three quarters of an hour to go.
I decided to concentrate on the 5 metre line for the last 45 mins as that was where I'd had most of my fish and added another big bream, a small carp and just before the whistle another blade. I ended up with 16 fish on the clicker (5 or 6 good bream, 5 decent skimmers, that tench and a few blades) plus a few small roach which I didn't count and 5 carp. I thought I possibly had 20lb of silvers but as you all know by now, I'm not the best at estimating weights!
I packed up and took my kit to the car, Brandon arrived and although he wasn't admitting it, Martin said he'd seen him catch quite well and I reckon there was a good chance I'd be saying goodbye to a nugget today. The scales started with me and my five accidental carp went 9lb 6oz before I pulled my silvers net out, Adie called it at 26lb 7oz and I was well chuffed as it's my best silvers weight here yet. Darren had struggled a bit and had lost the battle with the reeds, Dave Bull had 24lb 13oz of carp from peg 11 before owner Pete had 4lb 13oz of carp and 9lb 12oz of silvers. Then it was Charlie's turn and he had a lovely net of skimmers and bream weighing 28lb 5oz to push me down to second. Nigel Wickham had struggled for silvers but had done well for carp, weighing 18lb 13oz of them. Mark Leahy was the final peg in our section and he had 20lb 9oz of carp and 6lb 2oz of silvers.
Ray was first to weigh in the other section and had 4lb 3oz of carp before his net of silvers weighed a level 9lb, the Tart was next and only had 1lb 4oz of silvers but when he pulled his carp net out (and showed us how not to weigh in!) I thought it might be close but Adie called it at 28lb 7oz and I wouldn't be needing that Savlon after all! Glynn had 12lb 6oz of silvers to push Ray down into second but still had to pay me another quid and then Charlie's partner John pipped Ray by 3oz to push him down another section place. Clive had struggled in peg 34 and then Rob Birch had 7lb of carp which incredibly put him second in the section with one to weigh but when he pulled his silvers out I thought he might cost us another point but it was called at 8lb 9oz and that just left Martin who had 5lb 1oz of silvers and his carp weighed 14lb 7oz for second in the section.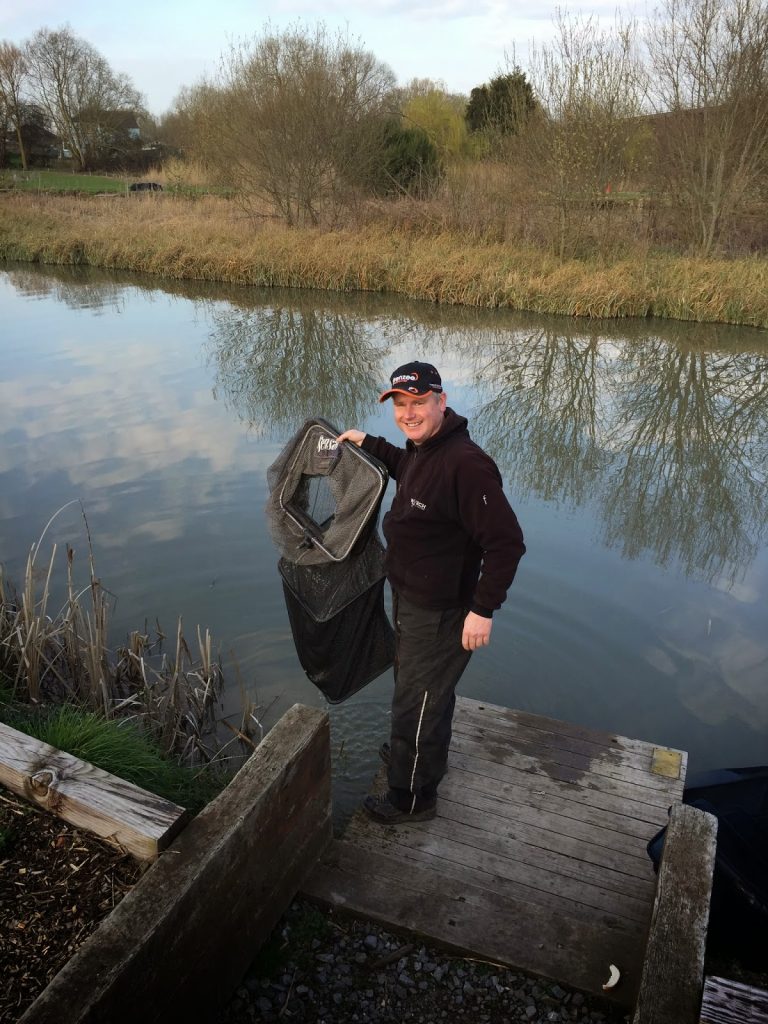 'Can I borrow your tube of Savlon?'
So at the half way point Charlie and John are leading the silvers with 3 points and Dave and Martin also have 3 points on the carp side of things.
Silvers
1 – Charlie Barnes and John – 3 points
2 – Jamie Rich and Ray Wickham – 5 points
3 – Glynn Wickham and Nigel Wickham – 6 points
Carp
1 – Martin Addicott and Dave Bull – 3 points
2 – Mark Leahy and Rob Birch – 5 points
3 – Brandon Ions and Darren – 7 points
The draw will be all important tomorrow, we're in a good position but two carp pegs like last time and that will be the end of that. Funniest quote of the day was when Darren had to pay Brandon a quid and said 'The trouble is the way he drives I'll have to listen to him go on about it for three hours!' (it's an hour's drive).
Next up – Day Two
What's new – Loads of page updates
Check Out – My last match (below)