It was another glorious, sunny day as I made my way to Bridgwater for day two, as I arrived most people were already there and all the silvers anglers were hoping to avoid the carp pegs today and vice versa. Pete announced the draw and the anglers who had been in the high numbers yesterday were in the low numbers todays so Ray had to draw first for us, he pulled out peg 3 which is a cracking silvers peg but he had Charlie's partner John on peg 5, another good silvers peg. Glynn was on 9 with the Torquay Tart in 7.
Then it was the turn of my section to draw and I really wanted to avoid pegs 14 and 15 as they are two of the best carp pegs on the pond. Adie drew for Charlie and when he pulled out peg 14 that was one of them gone, then Nigel pulled out peg 15 so I went to draw but Dave Bull got there just before me. I told him not to draw peg 21 (one of the best skimmer pegs) and of course he pulled it out. I stuck my hand in hoping for peg 20, 18 or 17 but 23 attached itself to my hand and I'd forgotten all about that peg! I've done some decent weights of silvers off it but it's a good carp peg as you've got the end bank to fish to but I would be avoiding it like the plague today.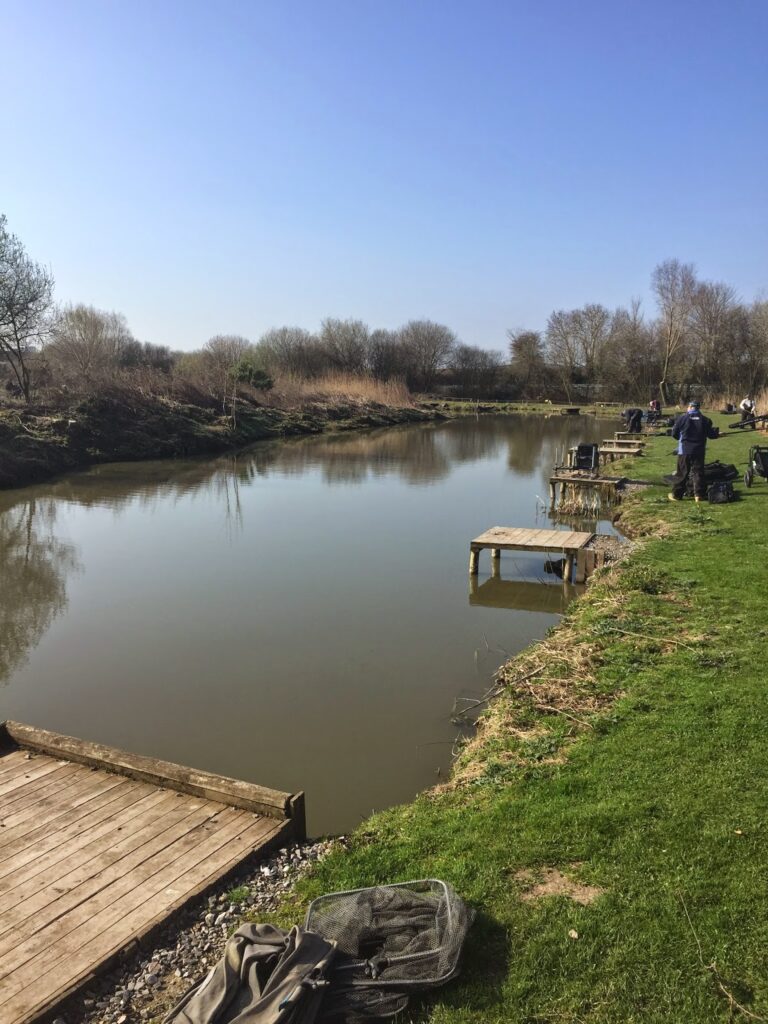 The view from peg 23 looking back up the pond
The pond was flat calm which probably wouldn't help the fishing, I set up two rigs, a 0.4 gram Malman Pencil to fish at 10 metres angled towards peg 22 (which wasn't in) and also at 5 metres to the right and a Drennan 0.6 gram G-Tip to fish at 8.5 metres and 5 metres straight out in front. Both rigs had 0.10mm bottoms with the lighter rig having an 18 808 and the other rig had a 16. For bait I had some Bait Tech F1 groundbait, expanders, micros, some 4mm's I'd dampened down last night and also some maggots and pinkies that Ray let me have as change baits.
If nothing else we should have a laugh today as Dave was on 21 with Pete next to him on 20, that was if I could hear anything over Jacko's chickens which were in fine voice today and making a right old racket! Adie finally shouted the all in and I put in half a pot of micros on the two right hand lines before cupping in two balls of groundbait containing some micros, maggots and pinkies on the 8.5 metre line and lastly some 4mm's on the left hand 5 metre line. I started on the right hand 10 metre line with a 4mm expander on the hook and expected to get indications quite quickly but this didn't happen which was a bit of a worry. I could see Ray on the other side and he was getting the odd fish but there wasn't a lot happening on our side.
I was lifting and dropping the rig and after 15 mins I had a bite and hooked what felt like a small carp but I'll never know for sure as it came off! I missed a good bite before foulhooking a carp which I had on for a while before the hook pulled and things weren't going to plan. Dave had a couple of carp fishing across and from all the swearing coming from the top of the pond, I guessed Charlie had already started hooking carp! With no more indications I tried the shorter line but nothing doing here either, I was just about to go back on the longer line, when the float buried and I hooked a decent skimmer, but as I shipped back, it came off! We were now an hour and a half into the match and I was still blanking and starting to panic a little bit.
No more bites on my two right hand lines so I cupped in a bit more feed on both before going to the left hand 8.5 metre line. This was slow going as well but after ten minutes the float buried and I shipped back very gently and was mightily relieved to slip the net under a 8oz skimmer. Things got even better when I had one about a pound a few minutes later but the action was short lived. Pete had landed a couple of silvers and I'd seen Nigel net a couple of fish too but it was hard work, Dave was still stuck on two carp but that was good on our side at this early stage. My next fish was a 4oz blade from the right hand 10 metre line and I could only get one or two bites from a line before I had to put in a little feed and move to another line.
I bumped a fish from the right hand 5 metre line before hooking a decent skimmer of 2lb or so that I safely netted and then had another 4oz fish from the 8.5 metre line and I was at least getting a few bites now. The only place I couldn't get bites was on the 5 metre line over the 4mm's. I kept rotating lines but with half the match gone I was still only on five fish, I missed a couple of bites and then couldn't buy a bite anywhere! Pete was still getting odd skimmers and was way ahead of me now, the bankside grapevine was saying that Ray was doing well and I needed to get a few more fish if we were to do any good but I couldn't buy a bite. Dave was in the same boat as his partner Martin was bagging up with carp on peg 12 so in a bid to try and make something happen he started to feed in front of the empty pallet between us. This worked a treat and he had several carp including a couple of munters and he was now doing his partner proud (and I can't believe Martin is going to drop him for someone else in the next festival!).
I then saw Brandon go to get a third keepnet and knew he was either getting it for someone else or winding me up as he could fish until next Monday and not need three keepnets! I tried double pinkie but still couldn't buy a bite, I did go to move the rig and foulhooked a carp which eventually broke the hooklength, the next fish I hooked felt like a good skimmer but turned out to be a small carp hooked in the wing! Pete was now bagging on skimmers and looking good to take the section.Time was running out and the next excitement was provided by Dave when he foulhooked a good carp, it ran through my swim and my float shot under and the strike saw me attached to Dave's line but luckily my rig came free and I could go back to catching nothing.
With 15 mins left I managed another good skimmer from the right hand 5 metre line and that was the last of the action. I packed up and went round to see Ray who said he thought he'd done well on that side. It had been a scorching hot day and I knew I'd burnt my arms and as we waited for the scales there were quite a few panda faces about! Clive was first to weigh and had 16lb odd of carp but only a few ounces of silvers and then Ray had 15lb 14oz which included a couple of lovely bream. John B had 6lb 14oz of silvers before we get to the Tarts peg and as suspected the third keepnet had never made it into the water. He did have a nice net of carp weighing 48lb 1oz and I paid him his pound back from yesterday, I then had to pay Glynn one as well when he weighed 11lb 2oz of silvers. Rob Birch had 22lb of carp and then Martin Addicott had 77lb 3oz from peg 12 to put him and Dave in a very good position.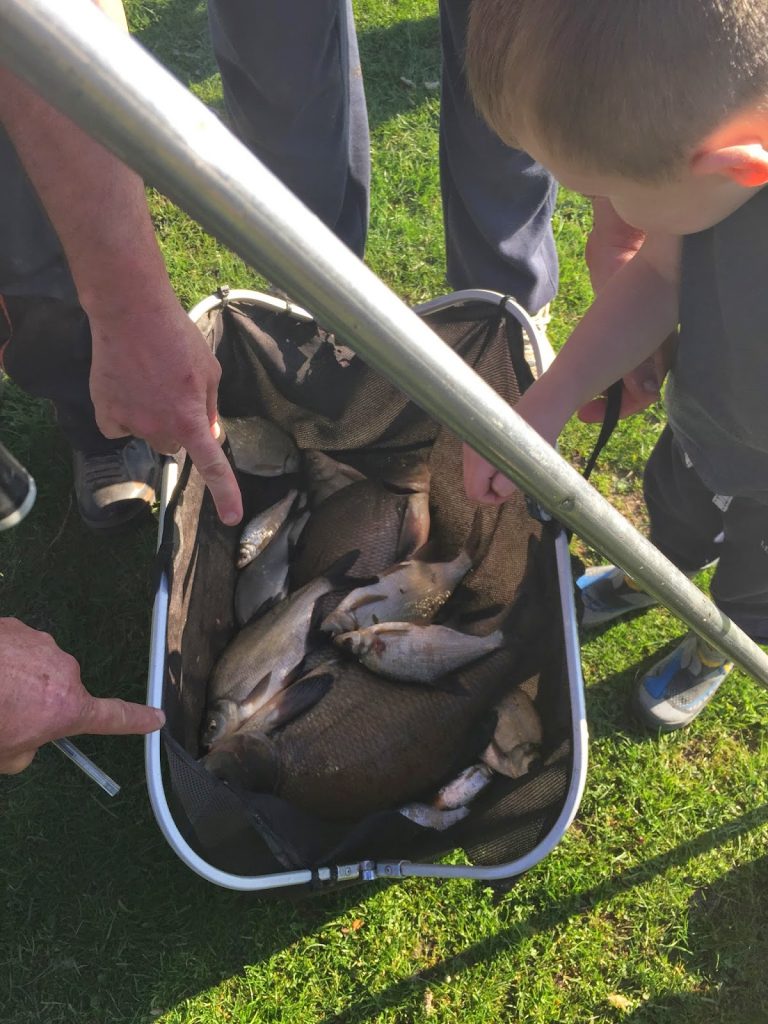 Ray had a couple of lovely big slabs
Charlie was first to weigh on our section and he had 4lb 7oz of silvers and had suffered a frustrating day playing carp after carp, Nigel had 5lb 12oz and it was all very tight on the silvers front. Brendon's partner Darren had a better day today and weighed 22lb 7oz of carp from peg 17 and they would probably frame. Mark Leahy had 14lb of carp and then Pete had a lovely net of skimmers weighing 19lb 7oz for the top silvers weight on the day. Dave Bull had done well and his 26lb 7oz of carp gave him one point, then it was my turn and I thought I might pip Charlie but I didn't think I had enough to beat Nigel but Adie called it at 6lb 11oz to put me second in the section – phew!
Dave Bull caught a load of carp (and the sun!)
Back at the results and our three points from today meant we'd won the silvers with eight points ahead of Charlie and John on ten and Glynn and Nigel on 11. We picked up £48 each to round off a nice couple of days. On the carp front Martin and Dave only dropped one point between them over the two days, a great result. Brendon and Darren finished second with 11 points with Mark and Rob a point behind them in third.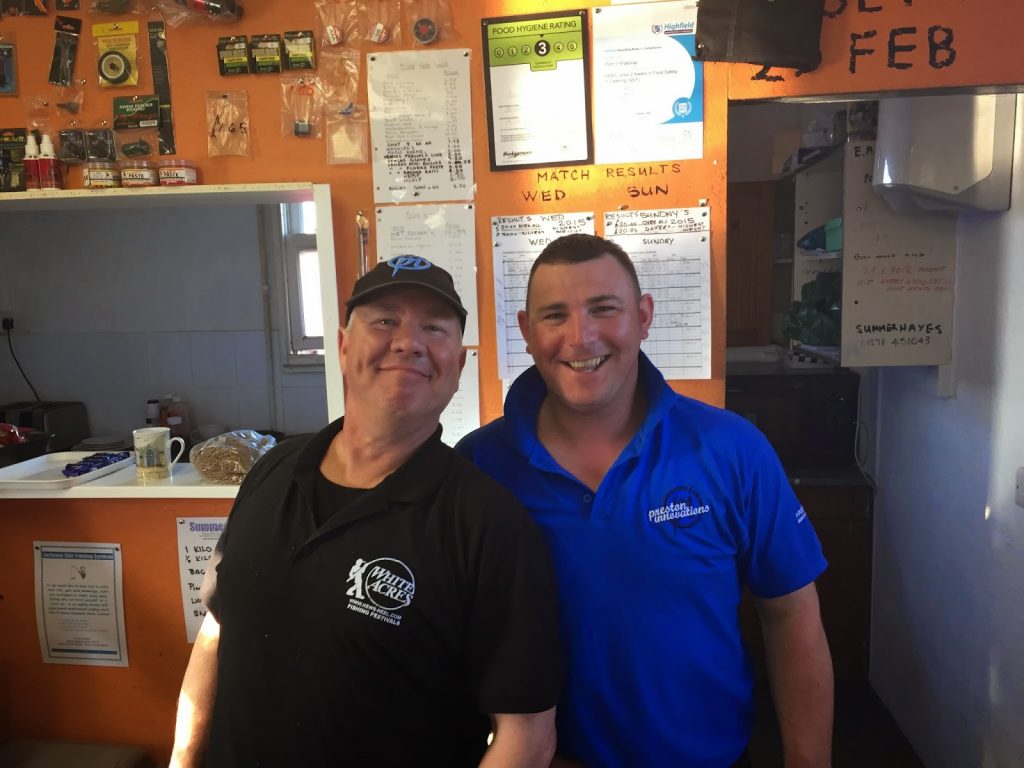 Carp Champions Martin Addicott and Dave Bull
Silvers
1 – Jamie Rich and Ray Wickham – 8 points
2 – Charlie Barnes and John B – 10 points
3 – Glynn Wickham and Nigel Wickham – 11 points
Carp
1 – Martin Addicott and Dave Bull – 5 points
2 – Brendon Ions and Darren – 11 points
3 – Mark Leahy and Rob Birch – 12 points
I've got the rest of the week off and I'm fishing five matches in eight days at Summerhayes, so the first two went pretty well, come back on Wednesday to see how I get on.
Next up – Summerhayes on Wednesday
What's new – Loads of page updates
Check Out – My last match (below)