Before I get onto this weeks report, I had the sad news yesterday that Ray Wickham had passed away on Friday, he'd been unwell for some time. Like me, Ray loved his silvers fishing and I partnered him a couple of times in two day pairs festivals at Summerhayes and we had a good record, winning one and finishing second in the other, here's the post from day two when we won – Silvers Festival Day Two. Rest in peace mate and I know you'll be bagging up with skimmers everyday now.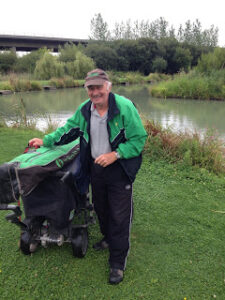 With nothing scheduled for this weekend, Harry was asked if we could have a charity match and he said that would be fine. As per usual if filled up in no time and I was really looking forward to it as it's normally a right laugh and we raise some money for a good cause too.
Terry The Toast (aka Mr Breakfast Organiser) booked us into the Airfield Tavern in Yeovil and it was nice to actually see the inside of it after being told there was no room at the inn last time! I have to say it was very nice, all you can eat for £8.99 and it set us up nicely for the day ahead. Then it was on to the Memorial Hall for the draw, after we'd all paid our pools, we were still waiting for someone and the decision was made to leave all the pegs in the bucket and he would have what's left.
As always Chris would do the draw and as always, everyone was hoping they'd be the lucky angler to get peg 4, I would be happy with any of the pegs on the near bank and really wanted to avoid peg 10 which looks lovely but I can never seem to get on with it. The Toast was first out and got peg 1, I was next and ended up on 12 which wouldn't have been my first choice but I wasn't too upset. Andy S had number 2, Parker was on 11, Chris N got 10, Nick P was on 3 and then Andy B and Rob got 6 and 7 respectively. That left pegs 4 and 5 and with the no show, there was only The Grand Wizard to go, Toastie drew for him and pulled out the wrong one for him but the right one for the rest of us in the shape of peg 5.
On reaching the pond, it looked lush with loads of carp cruising around and it was set to be a scorching day. I set up a 0.6 gram Drennan AS5 Pencil float to fish two lines at 11.5 metres, one with micros and corn and the other with groundbait and maggots and a Drennan Crystal Dibber for fishing shallow. As I'd caught really well on maggots last time I had a couple of pints of reds plus some deads, corn, micros, 6mm's and some Bait-Tech Special G Green and The Juice groundbait.
My peg had trees either side so although I could hear Terry and Steve P, I couldn't see them but I could see the rest with the exception of Chris N in corner peg 10. My peg was relatively shaded but I knew I'd get the sun at some point so made sure I put plenty of sun cream on as it can be lethal whilst fishing with the double whammy of it reflecting off the water, plaster it on people!
Chris got us underway and I potted in some micros on the long pole line straight out and then two balls of groundbait at 11.5 metres angled to the left. I started on the shallow rig with a 6mm pellet in the band, constantly pinging out a few pellets and lifting and dropping the rig, after a couple of minutes I was into my first fish, a nice carp around 3lb. I could hear plenty of splashing coming from Terry's direction and it sounded like everyone was catching a few.
My next fish was a small carp of 4oz or so and there are loads in the pond, one of the very few places I know where carp breed successfully and thrive, all the fish are in really good condition too, but then it only gets fished a few times a year. I was getting loads of indications but missing lots which I put down to the fact there are loads of rudd in the pond as well, I did have one about 2oz and a fair few smaller ones drop off.
It can be really difficult to gauge how you're doing here and in the last match I did ok, coming third but I didn't see the winner (in peg 4) or the runner up catch much. I was catching lots of little 'Ginsters' between 1oz and a pound although I wasn't counting the really small ones and every now and again, I'd get a better one of 3lb or so.
After an hour, I fed the two pole lines again and carried on catching shallow, the banter was in full flow and it really is just a joy to be sat round a pond with this lot, having a laugh and catching plenty of fish. Bites started becoming a bit more sporadic which I thought might have been down to the pond being flat calm so I decided to have a look on the deck with two dead reds on the hook, first chuck I had a 2oz roach but then couldn't get the bait to the bottom as it was being ragged by tiny rudd.
I tried a grain of corn and had a small carp first chuck followed shortly by a decent one but then lost one, I did manage a couple more small carp but it wasn't really happening and with dark shapes cruising about I went back out shallow and had a quick flurry of fish and then went to 13 metres and had a three pounder first chuck. During the day, I also managed to skilfully stalk (mug) three nice carp and lost a couple as well.
There were still loads of ripples coming from the direction of Terry's peg and Nick was catching well on peg 3, Andy S was getting odd fish on the pellet waggler and Steve 'The Pole' was catching lots of small carp. Occasionally there would be a bit of ripple and I'd catch well while it was there, I did notice my maggots were wriggling like crazy in the heat so I put them in my cool bag but it was too late and most of them died!
It definitely helped resting the shallow line every now and again so I went back over the groundbait line with corn and had some more little carp and a skimmer. Back shallow I had another good spell and going into the last hour, as the temperature dropped a little, the pond seemed to really switch on and I've caught a couple more decent ones plus pasties and was playing a fish on the whistle.
I ended up with 10 decent carp, 45 smaller ones between 4oz and a pound (plus some tiny ones I didn't count), a skimmer, 2 roach and 2 rudd. After packing up I met the scales at peg 1 as they prepared to weigh in Terry, I knew he'd done well but wasn't expecting him to have four nets in! His silvers net only contained a skimmer and a few bits for 11oz, his first carp net contained a few decent carp for 11lb 15oz, his pasties went 11lb 1oz and then his big net weighed 45lb 15oz to give him a total of 69lb 10oz, a brilliant weight. Then the Grand Wizard said that him and Andy B had also bagged up and all of a sudden I wasn't sure I'd done as well as I'd first thought!
Next up was Andy S who weighed 29lb 11oz and then Nick P on peg 3 had 37lb 14oz, we walked past peg 4 which would have been solid today and onto Chris, I hadn't seen him catch much all day and his first carp net went 41lb 5oz! He added a further 11lb 2oz of small carp plus a few bits for a total of 52lb 13oz to go into second place. Andy B had four nice skimmers for 2lb 7oz to go into the silvers lead and added 40lb 12oz of carp for a total of 43lb 3oz.
Rob C on peg 7 had some nice carp for 29lb 5oz and then Chris N weighed 33lb 3oz from peg 10, Steve P had loads of small carp for 12lb 5oz and last put not least was me, my silvers went a magnificent 11oz, my small carp weighed 23lb 8oz and then my bigger carp registered 31lb 10oz to give me a total of 55lb 10oz for second spot.
The day had an 80's and 90's musical feel to it, we had Bez from The Happy Mondays, George Michael from Wham and Dexy's Midnight Runners, can you tell who was who from the photos? Answers on a postcard please. Along with my envelope for second spot, I picked up nuggets off Steve, Andy and Nick (although he escaped without paying) and lost one to Terry.
1 – Terry Morgan (Stoke AA) – 69lb 10oz
2 – Jamie Rich (Stoke AA/Against Men and Fish) – 55lb 13oz
3 – Chris White (Stoke AA) – 52lb 13oz
Sections
A – Nick Payne (Stoke AA) – 37lb 14oz
B – Chris Norton (Stoke AA) – 33lb 3oz
Silvers
Andy Burns (Stoke AA) – 2lb 7oz
I'd just like to say a massive thanks to the Hebditch family for letting us fish the pond and to all the anglers for making it such an enjoyable day, it's days like this that fishing should be all about, a great laugh, plenty of banter, lots a fish, a stunning location and no egos or nastiness and of course another tidy sum was raised for charity, Terry very generously donated £20 of his winnings and the day added another £100 to the pot which I believe is now over £1000, brilliant stuff.
I've also updated one of my reviews which can be found here – Hybrid Pole Elastic Review.
Don't forget it's Father's Day on Sunday and you can still use the exclusive discount code AgainstMenandFish10 to get 10% off when you shop online at Somerset Angling or how about a copy of Billy Makin's excellent new book – The Golden Years, it's a great read so drop me a message if you'd like a copy.
Next up – River Parrett
Coming soon – Another review
Check Out – My last match (below)