Be careful what you wish for. On my latest visit to France l was sitting in a bar (nothing new there then) overlooking the lake in the small town of Quintin in the Cotes d'Amour. While enjoying a coffee l noticed an advertisement for a fishing match a few days later on the lake. I have fished here on a couple of occasions and liked the venue so was immediately very interested however the date clashed with a number of vide greniers which Lady Morgan buys from to run her business and as she insists that l must chauffeur her ladyship, there was an immediate conflict of interests. No hope of winning that one, as she rightly points out we are here to work so why don't you go another day? Well it's not the UK and there isn't a match every day of the week.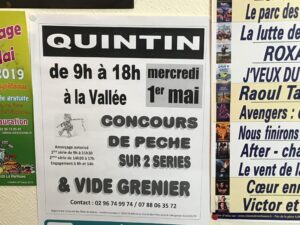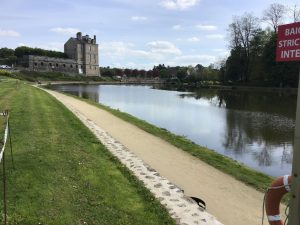 Sorely tempted but l knew she was right, l wouldn't be able to fish and have a happy wife and business is the main object of the visit. However l managed to wangle the day so l could be at the draw and the weigh in to see what happened. l asked at the bar how many competitors were there likely to be. The landlord informed me that last year there were at least 50 and expected a similar amount this year. I arrived as the draw was about to take place and as l already understood from the advert the match would be fished in two stages and there would be a break at lunchtime for food and 'refreshments'. The entrants then drew two numbers one they would fish in the morning and the other in the afternoon.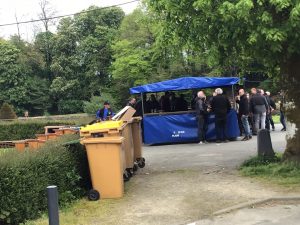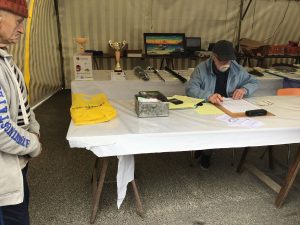 Now the track around the lake is fairly narrow in places and l had already noticed several anglers with huge trolley loads of kit mostly in the green of Sensas (boy, Mr Sensas must be worth a dollar or two!). Surely there would be fun and games as they tried to pass one another or maybe a one way system would need to be introduced as they moved to their afternoon swims. I was sorry to miss how that worked but couldn't be there at lunch time.
The next thing l noticed was just how many roach were topping, overcast skies and a gentle westerly putting a lovely ripple on the water. My frustration at not taking part was growing but l couldn't quite make out what species the more active larger fish that were topping were, it looked like trout and they were all over the place! I asked one of the competitors and sure enough the lake had been stocked with trout especially for the contest and yes they counted and his opinion was that trout would win it! A bag of trout! The thing that really surprised me was the huge difference in the anglers kit, some superbly equipped, others with next to nothing carrying all they had to fish with in a carrier bag, it just didn't seem right to me. Check out this lovely little family all bright eyed and bushy tailed but what were their chances realistically. Who wouldn't wish them the best of luck?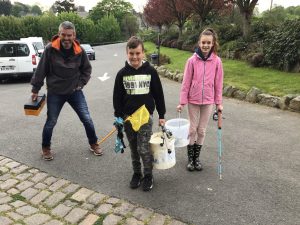 My next surprise was the entry, 68! I can't remember the last time l fished an open with that many there. Well that was it until we returned for the weigh in. Sadly this was when things began to turn just a little sour, other than trout it seemed no one had caught an awful lot and the best weight not including trout seemed to be one chap with a tench and a few roach for about 2 kilos. What was so disgraceful was the way they treated the fish while weighing in, they started by rolling the fish down the net then somehow forcing them into an inadequate weigh sling, dropping them on the concrete twice before then throwing them back one by one and of course not all survived which her Ladyship found very upsetting.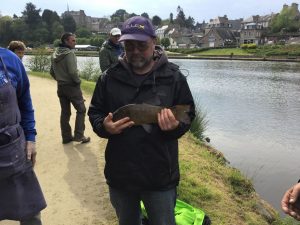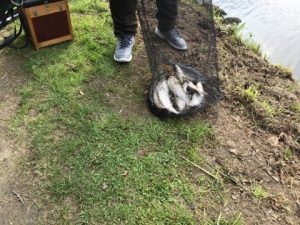 l must point out that not all French matches are weighed in like this, l have fished about a dozen and they were weighed in properly. Here is a picture of the winner, Mr Michel Malarge who had some 6 kilos plus, not much gear, but caught on what we used to call leather jackets when l was a kid (l know what you're thinking, not much commercial bait in the 18th century!). Please don't let this put anyone off fishing matches in France as l have said earlier the others l have fished were fine except l have only won two which is a pretty poor strike rate.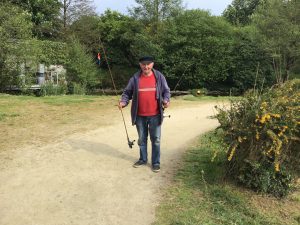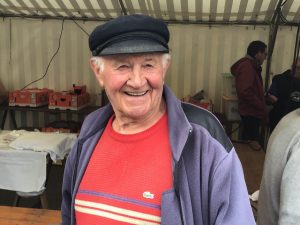 The entry fee was 5 euros for each round or 8 euros for the whole thing, looking at the match as a social event and maybe to catch some supper doesn't really interest me although I am very envious of their choice of venues.
PS – l fished one match on a canal when all 22 competitors were presented with an identical packet of posh biscuits whether you came first or last, it's just a bit different at times.
Tight lines Baz