It's not very often I fish a double header at the weekend but when the Tart said there was a match at Goodiford on the Saturday, I thought I'd give it a go and was really looking forward to it, especially when a match in the week was won with over 200lb! Then on the Sunday I was fishing my first match with Stoke AA at Hebditch's pond, a venue I always enjoy fishing.
As Shane was also fishing he agreed to pick me up on the way although due to a navigational error on my part we ended up not going to my original choice for breakfast so we met the Tart and Paul H at a place called Cafe Alexandria and I have to say it was bloody lovely, one of the best breakfasts I've ever had! After a short drive we arrived at the fishery and said hello to the organiser Barry before having a quick walk around the lake which looked good.
At the draw I pulled out peg 8 which meant nothing to me but apparently it was an end peg which is always a bonus, the Tart drew peg 30 which for once wasn't a corner and Paul drew 34, Shane was on 39 with Sam Powell on fancied peg 42 and Barry said we might as well give him the money before we start! My peg looked nice with an island which screamed method feeder and pellet waggler which was handy as I don't own either!
It was already a gorgeous day and as I was setting up, I could see a few dark shapes starting to appear and I thought I'd be in for a good day, especially when a pleasure angler a few pegs along on my left had a nice carp just after I got there. I set up my favourite little inline dibber to fish shallow, a Drennan 0.4 gram Carp 1 for the top two plus two line and a little handmade float for down the edge to my left. The side tray couldn't have been simpler today, 6mm and 8mm Bait-Tech Carp and Coarse pellets plus some corn.
On the whistle I went straight out with the shallow rig at 13 metres and started pinging out pellets on a regular basis (6mm and 8mm) and was also feeding the other two lines by hand. I expected to catch carp straight away but apart from a couple of clonking roach around 8oz apiece which I threw back, I still hadn't caught after twenty minutes and I was just thinking I would have to try something else when the float buried and loads of grey hydro streamed from the pole tip before carp number one around 3-4lb was safely in the net. A few more followed but it was steady rather than ballistic and after an hour I had five carp for around 20lb.
Dermot next door was getting the odd fish as was Mark Saunders on peg 4 but I couldn't see anybody else, at the start of the second hour I hooked a lump which wasn't giving me too many problems until Mike Hosgood (who lives nearby I believe) turned up and the fish didn't like the look of him. He took a few photos and the fish carried on giving me the runaround for another ten minutes before I slipped the net under a lovely mirror that had to be 10lb! I went straight back out and had a smaller one of around 2lb which prompted Mike to say I was bagging.
Of course that jinxed it and I didn't have a fish for half an hour! He left me to it and I carried on catching in spells over the next couple of hours, averaging about 5-6 fish an hour. Dermot was catching well on the pellet waggler but was having real problems with that horrible white fluff that is always a pain in the bum at this time of year. I didn't think there was much between us but couldn't really tell how I was doing as the bankside grapevine was a bit on the quiet side (I couldn't even hear the Tart!).
In the fourth hour I had a few more fish but also lost several that I just couldn't stop, I also chucked back a couple more decent roach. Going into the fifth hour I couldn't get a bite shallow and with Dermot still getting odd fish, I tried my top two plus two line but only had one bite which I missed and the inside line was a waste of time. Back out on the shallow line and the rest had done it some good as I had a really good spell catching 8 or 9 carp in quick succession, Dermot also enjoyed a frantic end to the match catching some lumps from the margins.
Just before the end a lovely grass snake swam past which made my day and then Barry signalled the end of the match, my clicker was saying 29 carp which I thought would go 100-120lb if they averaged 3-4lb apiece. Dermot walked up and said he thought he had around 120lb and that Mark on the next peg would be close to that as well. While I was packing up, the snake came up on the bank, took one look at me and went straight back in the lake (maybe he'd heard about the squirrel!).
Barry arrived with the scales and after my three nets had been weighed, my total was 37kg 950g (around 83lb in old money) which I was a bit disappointed with, Dermot had 40kg 550g and Mark had 40kg 850g so it had been close. I took my kit back to the van and as the others started arriving back, Sam Powell had won the match comfortably with 96kg 450g (around 212lb), young Freddie Holding was second on the day and won his section with 51kg 400g just beating the Tart by 100g. Shane won his section by default with 41kg 600g and Mark Saunders won our section.
1 – Sam Powell (Spotted Fin) – 96kg 450g
Sections
A – Mark Saunders – 40kg 850g
B – Freddie Holding  – 51kg 400g
C – Shane Jeffrey (Chard) – 41kg 600g
So an enjoyable day with loads of bites and it was nice to go somewhere a bit different, there are some more of these matches coming up over the next few months at different venues and I'm hoping to fish a couple of them.
The score on the Nuggetometer now reads 4-4 as the Tart draws level, who will go into the lead at Perry St next Sunday?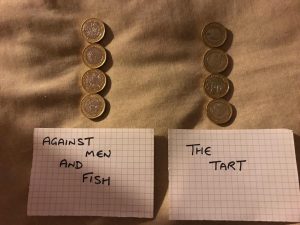 Next up – Hebditch's Pond
Coming soon – Another great interview
Check Out – My latest guest post below