My first visit for a while and when I phoned Pete to book in, he said it was on Longs which was the lake I was on last time when I finished second in the silvers with 11lb 9oz behind Jeff Sparkes with 21lb odd. Of course it didn't take him long to get wind I was fishing and he was soon messaging to remind me to bring on a pound and to be fair it's been so long since I last took one off him, they were pound notes back then rather than coins!
Steve 'The Pole' Parker also fancied giving it a go and very kindly agreed to pick up some maggots for me, we met at the Toby for breakfast and it wasn't bad although I think they had the slowest toaster in the world, I even checked to make sure it was plugged in at one point! We arrived in good time and with a match on Sellicks as well, the car park was pretty busy and it was nice to finally meet Nigel Coram who fishes with HLS as we've spoken on Facebook several times.
After getting a couple of nets, we went into the hut to pay our pools and have a coffee, several of the regulars were in attendance including, Jeff, Roy Hughes, Mark Leahy, Jack, John and Martin Billett and even Exeter Mike had his passport stamped as crossed the border from Devon into Somerset! Pete announced the draw and got Steve to pull out a golden ball which turned out to be number 17, a decent peg for carp or silvers. Steve then had another go to decide his home for the day and was on 29 which hasn't been a bad area for silvers. With the hot weather, the pond is down a couple of feet and I really wanted to draw in the 30's where there's a bit more depth so hung back a bit to see where others drew before making my move.
Mike from near Exeter drew peg 11 and venue silvers expert Jeff was next door on 12, both good silvers pegs when the pond's at normal level but they wouldn't have a lot of depth at the moment, Roy drew the golden peg and with nobody admitting to the area I fancied yet, I decided to go for it and when I looked I was on 31, spot on and the same peg as the last time I was here!
I set up a 0.3 gram NG Mini Gimp to fish top two on the left, straight out and to the right plus at top two plus one in front and a 10 x 11 MW F1 Slim for a line at 10 metres. On the menu today I had Bait-Tech 4mm Xpands for the hook, dead reds, micros plus some Special G Green and The Juice groundbait I'd mixed the night before. I was ready in plenty of time so went for another coffee in the hut.
Pete got us underway and I cupped in a ball of groundbait containing a few dead reds and micros on all of my lines with the exception on the short right hand swim where I potted in some micros. I started on the left with an expander on the hook and it was a little while before my first indication, I struck and it didn't tear off and I had high hopes it might be a skimmer but it turned out to be a little lazy carp around the pound mark, not the ideal start! I missed a couple of decent bites before catching a second carp and I hoped this wasn't setting the scene for the rest of the day!
I switched to the right hand line by the reeds and had a couple of indications which may have been liners but it wasn't really happening there either and with half an hour gone, things weren't going to plan! Toby on peg 33 was catching carp well and I'd seen Jeff over on 12 net a couple of fish but I couldn't tell if they were carp or silvers. I was going to try the middle of my three top two lines next but decided to have a go on the left one more time first and I was glad I did when the float sailed away and a 6-8oz skimbob leapt out of the water. This signalled the start of a really good spell and I added another five skimmers between 8oz and 1.5lb over the next thirty minutes to put me on 3.5lb as the first hour came to a close.
At the start of the second hour I had one about 4oz come off at the net and bites slowed right up so I moved to the middle line and although it wasn't fast and furious, I added three more skimmers (interspersed with the odd carp) for around 3lb. So with two hours gone I was up to 6.5lb and as 15-20lb is normally there or thereabouts, I was on target at this early stage although I was sure I would suffer some quiet spells and carp trouble at some point!
Roger K turned up for a walk round and while he was with me I had another great spell, swapping between the two short lines and added five more decent skimmers for another 5.5lb to put me on around 12lb at the halfway point. I did bump a couple and missed a few bites and of course had several carp as well. I could see Steve P was catching quite well although he was suffering some carp trouble if the all the elastic coming out of his pole was anything to go by! Roger Russell then turned up and Roger K went to see how the others were doing.
Bites slowed up going into the fourth hour and I started thinking about trying the two longer lines which I'd kept topped up with a ball of groundbait on a regular basis, I had three smaller skimmers for around a pound so my catch rate was still ticking over but with more carp starting to put in an appearance, it was time to change. On to the top two plus one line but several missed bites on expanders made me suspect small fish were ragging the bait so I switched to three dead reds which would hopefully give me several bites at the cherry so I wouldn't have to keep re-baiting.
First put in the float buried and a decent skimmer of 8oz or so came to the net, next chuck the float went and as soon as I hit it, a mass of bubbles came up and I said to Roger that it wasn't a carp and lovely crucian around 12oz popped up, foulhooked in the side of the head! The next fish was another skimmer but foulhooked under the chin! No more indications so I cupped in another ball of groundbait and tried both the short lines with dead reds on the hook, the left hand swim was now dead as a dodo but I did miss several bites on the other line.
Roger K came back from his walk and said Jeff was catching a few but not bagging and nobody else was getting much in the way of silvers but I wasn't counting any chickens yet. I did try the 10 metre line but it was a waste of time with just a small carp to show for my efforts. With an hour to go I was up to around 14.5lb and could do with a couple more decent skimmers in the final sixty minutes. Back on the short line and I had a big leaper around 1.5lb on soft pellet but that was it so for the final half an hour I went back on the top two plus one line. My next fish was another decent flying skimmer and then one around 8oz next chuck had me thinking I was going to finish strongly but then I didn't add anymore in the remaining fifteen minutes.
I ended up with 23 skimmers and that crucian which thought would go around 18lb, maybe a bit more and I also had about a dozen carp but I wouldn't be troubling the main frame with them! I actually felt I'd fished a tidy match, I bumped a couple and had one small skimmer come off but I hadn't lost any leapers and had only lost one carp all match. Steve P said he'd had 36 silvers but they were only small but I'd seen him net some decent skimmers so I'm not sure he was telling me the whole story!
After packing up I walked up to watch the weigh in and get some photos, Martin Billett on peg 37 had 33lb 10oz of carp and a nice net of silvers weighing 9lb 2oz, Jason King on peg 7 was next and had 77lb 6oz of mainly carp, Jeff had 33lb 13oz of carp and 10lb 11oz of silvers so I would hopefully be taking one of his gold doubloons home with me. Exeter Mike had 6lb of silvers and 40lb 15oz of carp so I pocketed some Devon gold and then Mark Leahy didn't weigh after a frustrating day on peg 15.
Roy was next and after several weighs his total was a brilliant 159lb 12oz which put him in the driving seat for a bumper payday, Jack Billett had also done really well on peg 19 to weigh 126lb 10oz and it sounded like they'd enjoyed a good old next peg battle during the day. Ben Baron on 24 had a nice net of fish including a gorgeous koi carp for 77lb 11oz. Steve P was next and he had 24lb 1oz of carp and then when he pulled his silvers net out, it was going to be close between him and Jeff, Pete called it at 10lb 4oz, unlucky mate but a great result on your first match here (and thanks for the nugget!).
Then it was my turn and my carp went 38lb 7oz and my silvers weighed 17lb 11oz which was a little less than I thought but still a lovely days fishing, also my total was 56lb 1oz so once again I was one fish shy of beating my best ever weight here. Toby on peg 33 had caught steadily all match and went into second place with 131lb 2oz and then last but definitely not least was John Billett who also had a lovely days fishing to weigh 108lb 6oz on peg 35.
1 – Roy Hughes (Summerhayes) – 159lb 12oz
2 – Toby Burrell (Summerhayes) – 131lb 2oz
3 – Jack Billett (Summerhayes) – 126lb 10oz
Silvers
1 – Jamie Rich (Against Men and Fish) – 17lb 11oz
2 – Jeff Sparkes (Summerhayes) – 10lb 11oz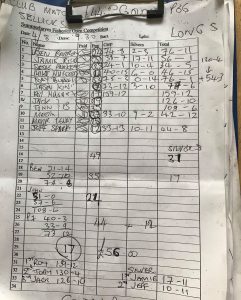 I picked up £31 for winning the silvers, a clean sweep of all three side bets plus I've qualified for the Champion of Champions final for the third time and it's a match I'd love to win. I have to say I really enjoy fishing Summerhayes, the fishing is great without needing crazy weights to win and the guys that fish it are great fun, I can't wait for the next one. Next week I'm at Dillington for the first time in ages, the levels have been right down due to the farmer irrigating his spuds, they're getting back to normal now so hopefully the fish will be on the feed!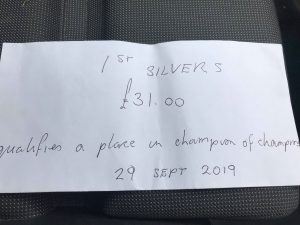 Next up – Dillington
Coming soon – Another great review
Check Out – My latest match below