My latest interview is a really interesting one with Trevor Harrop from the Avon Roach Project,
Hi Trevor, I know you're an incredibly busy man so thank you so much for agreeing to do an interview;
For those readers that aren't familiar with the Avon Roach Project, could you briefly explain how and why you started it?
There was growing concern that the roach were in serious decline in the Avon which became increasingly evident through anglers catching fewer and fewer as the remnants got bigger, until even they were gone.
The Avon was once one of the most famous roach rivers in the country with an angling history unmatched anywhere; so, to be witnessing the decline of such an iconic species in such an iconic river deeply disturbed us.
It was confirmed in the 2005 EA fish stock survey which not only confirmed the decline but also suggested that the remaining roach population in the middle reaches of the river was at a level below critical mass and unable to recover naturally.
We decided to try to arrest the decline and assist the remnant population to increase, and came up with some ground-breaking techniques for doing so. The plan was to collect spawn from the few remaining roach and grow them on in a protected environment to three years of age, then release them back into the river – simply interrupting the natural process in as pure and holistic way as possible. It was hoped that we could grow a significantly greater number than Mother Nature would allow to survive in the wild, therefore allowing the recovery of the species to a level of self-sustainability.
It was a huge leap of faith, but our belief was always – If we try and fail, at least we'll have had a go; but if we don't try, we'll always wonder how we'd have gotten on… And, they are not going to recover unassisted anyway.
When the project first got off the ground back in 2007?, did you ever envisage it would grow into the massive operation it is today?
Absolutely not… Our first plan was to try to grow some fish in a bathtub, then things just escalated with expansion being fuelled by our achievements and gathering support and encouragement.
We still regard ourselves, and the project, as 'lucky' as we never suffered any significant losses and failures in the early stages. If we had, we might have reconsidered the scale of our efforts and rate of expansion… All the time you're winning the more you're likely to continue playing…
You and Budgie were spurred into action after seeing a graph in a 2005 EA fish survey report, have you seen more recent reports showing the fruits of your labour making a difference?
There were two further surveys in 2008 and 2011 (one year after our first stocking) which also showed the roach in an equally sorry state. We haven't seen any comparable surveys since then (there haven't been any due to EA funding cuts) but anglers roach catches have increased beyond belief with fish now being caught throughout the river and in good numbers from tiddlers to three pounders. Our first stocked will be twelve years old, coming up thirteen, so could well be some of the bigguns.
More significantly, roach are showing that are too young to be ours, which we stock at three years of age. Fry sampling surveys are now returning good numbers of tiny roach signifying that ours are reproducing and naturally adding to the health of the roach population in the river.
The first signs we were making a difference were the increasing numbers attending our spawning boards each year; to such an extent that we ended up having to place twice as many at each location so the roach could 'spread their load.'
At one of the first sites we found roach spawning, when we started, we estimated the entire local population at just a couple of dozen individuals. We were able to establish this through the roach showing an unbelievable attraction to our spawning boards and a preference over all other spawning substrate, meaning we got a clear view. We've now ended up with literally hundreds and hundreds and hundreds of adult spawning roach each year of multiple ages.
Did either of you have any fish rearing experience beforehand?
Absolutely none; not even a goldfish in a bowl, which was quite scary and why we tested the system for the first year with a few hundred fry from a pool before taking it on for real; learning from every minute and every action and reaction to anything we did, which is why we regard it as such a huge leap of faith. We were really out on a limb, but determined to succeed in some way. It was the only chance the Avon Roach were going to get, and we learnt an enormous amount in that first trial year.
One of the scariest things was the risk element in taking spawn from as few as two dozen remaining roach in some areas. If we failed, the impact on the tiny surviving population would be huge in relative terms. However, as we now know, success has an equally huge impact, but a positive one, which we have been lucky enough to build on each year.
Have you got any advice for people reading this who might be inspired to do something similar?
Yes… Go for it. Work out what it is you want to achieve. Don't think it always has to be done by someone else, and don't wait for someone else to do it. However, make sure what you are doing can only have a positive impact and seek advice. Look at what we have done, do some homework, work out how much effort you can afford to give and look into perhaps doing things such as improving spawning substrate or habitat or both.
There are many elements to our project so anyone considering doing something can cherry pick from what we have done. It certainly isn't an all or nothing initiative and can be done on a far more localised scale.
And, as they say, every little helps. We have shown that the fish will respond to every ounce of help given to them.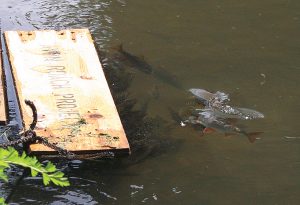 Could it be feasible for other river species like dace or chub?
Absolutely. However, the collection of spawn would be far more difficult with gravel spawners like chub, but not impossible with the eggbox technique tried with salmon.
We are spearheading a project in partnership with our EA fisheries guys to improve the gravel spawning substrate for barbel in the Avon by looking at how we can either rake, jet or add flow deflectors to flush water across to improve and enhance. Species like barbel and chub have demonstrated here on the Avon that they will respond to improved gravel that was desilted by the floods of 2012 which generated significantly greater egg and fry survival. The Avon is now full of dinky barbel, which our efforts will allow to continue.
With all the work involved with the project, do you ever actually get chance to go fishing now?
We get a little more time now, but Roach Project duties still suck up their unfair share. And that doesn't stop when we get home as the internet has its own added demands, like people asking me to answer loads of questions for an online Q&A blog – Just kidding…(Ed – Sorry!)
One of the things that has always kept us going is taking a break and going fishing, which gives us time to reflect and collect our thoughts, and sometimes plan the next stage, especially in the early years when we needed to think very carefully about every step and not just blunder on.
Can you tell the readers a little bit about how you first got into fishing?
Like many folks, I guess; it was through my father sorting out some cheap tackle for my brother and me then getting us all squeezed into the Austin Cambridge every Sunday and off to the banks of the Medway in Kent.
Mum and Nan would sit in the field behind us with their Mills and Boons and sorting the picnic while we snatched tiddlers attracted by Dad's homemade groundbait.
This was where the roach bug got me. Between catching pope and gudgeon and little perch, I suddenly caught the biggest roach in the world (to me, at the time). It was the first fish Dad needed to use the landing net on. It was about eight ounces and it blew my mind and left me shaking and speechless.
We had our little keepnets and at the end of the day we'd release our fish one by one – smallest first, of course. I can remember getting to the huge roach and laying on the bank with the fish in my hands in the water, but not releasing it and Dad shouting 'come on, let it go for goodness sake, or we're going home without you.' I remember feeling, for a moment, like the only things that existed in the whole world were me and this amazing creature. Then I remember opening my hands and seeing it slowly disappear into the murky depths. I once wrote in an article describing the moment… ' where her life will continue unchanged but mine will never be the same again…' How true.
And was your first fish a roach?
No. First fish was a gudgeon, then pope and perch then dace and a single chublet (I might not have them in exactly the right order)… then roach and insanity.
Can you tell us what constitutes a typical day, if there is such a thing?
There isn't really as typical day in the life of a Roach Project nut…
In the busiest time when eggs are hatching in the tanks there will be the brine shrimp feed in the morning for a couple of hours, then all the washing of jugs, bottles and bucket, then resetting the next batch of eggs. Later in the day we might visit the stews to feed the older roach and take care of any maintenance, then back in the evening for the second brine shrimp feed… then beer for me.
Later in the summer there will be the same two feeds but easier with the crumb feed and maybe an afternoon of filter cleaning in addition to the maintenance at the stews – grass cutting scything and mending any leaks.
Winter is much easier.
The most frantic days are placing the spawning boards in the river, then when the roach have spawned removing them and transporting the full boards back to the tanks, which have been scrubbed clean, dried and filled a month earlier, then primed with a drop of baby bio to trigger an algal bloom and seeded with daphnia, the live young of which will feed our hatchling roach. These days are really full on, and utterly exhausting.
The stockings each March to three different locations each year can also be pretty full-on.
We have become far better at managing the project over the years… I guess, we had to really.
Looking at your website (Avon Roach Project) and blog (Link), which is fascinating reading and testament to the vast amount of work you've put into the project over a long time, you've got some fantastic partners on board as well, how did these partnerships come about and would you like to thank anyone?
We've been very lucky from the start. As the project gathered pace and began to show results, we were lucky to have folks join in and help; some have come and gone for various reasons, but the main partner is the EA Fisheries guys at Blandford who have been absolutely fantastic, not only in terms of rolling sleeves up and getting cold and wet with us, but also with water supply licensing, fish movement permits, health checks and more.
We also have widespread support of the local fishing clubs, tackle shops and estates along the river – Christchurch Angling Club, Ringwood and District Anglers Association, Southern Fisheries, Longford Estate, Bisterne Estate and the list goes on. Some of the land owners who simply love what we are doing, even come along to see the roach released when they can.
I must admit that when we started, we never imagined we'd attract the attention we have… We love it, though.
What's next for the Avon Roach Project?
We are slowing down now. We have two more years of roach in the system which we will release next March and the March after that, then we will simply continue to maintain the fry bays we have excavated along the river. Essentially, we are reaching the conclusion of the project as our mission has been accomplished on a scale even we never imagined we'd achieve. We will also continue to advise on other rivers, and give talks and presentations when invited at conferences and forums. The Avon Roach Project will live on.
I did hear there might be a book linked to the project coming out, any idea when?
Yes, there is going to be a book of the project. I feel partly obliged to do one, but immensely honoured that the project has become worthy of one. I am regularly asked if I'd write a scientific paper on the project (which I'm not smart enough to do) but feel a book will do the project more justice. We can tell of the voyage of discovery and include all the nuts and bolts, the creativity, inventiveness and all the fun, as well as the amazing scientific discoveries.
The first rough draft is written and the intention is to spend the winter honing it and getting it in shape (probably to secondary school standard) before committing to paper. We have provisionally booked the hotel we have our annual fundraiser do at for the same first Saturday in October next year for the book launch… So, no pressure.
Have you any angling heroes or anyone who has inspired you?
Yes. Now, most folks would be expecting me to say someone like Dick Walker or Chris Yates, who is a good friend of mine, but my actual angling hero is a man called Wilf Polkinghorne. Unfortunately quite unwell now, I have spent many a day in his company on the river bank where he gets from a days fishing what we all think we do and we all say we do, but to see Wilf, now 80, as excited as a child and convinced that the next cast will catch the biggun, having dozens of 'last casts' as the day ends and getting such huge enjoyment from every moment, regardless of the fishing and the conditions, is simply one of the most enriching experiences I am privileged to have enjoyed. He is a true legend.
I think we might even be dedicating the Avon Roach Project book to him.
What's your biggest fish in the UK? And abroad?
I haven't really fished abroad. They don't do roach like we do, and being a roach nut, I'm not really a 'big fish' kind of bloke. My biggest fish here is a modest twenty something pound carp and the same size pike, neither of which really floated my boat.
However, my most memorable fish is the eight ounce roach I mentioned earlier. My personal best fish is an Avon roach of two pounds fifteen and seven eighths. I've actually had two, but never cracked the three pound mark.
A lot of people say commercial fisheries have been the saviour of fishing, especially with the decline of the rivers but more recently there seems to have been a swing away from carp back towards silver fish matches and rivers, where do you think the future of fishing lies?
Commercial fisheries have played their part, but have also lowered the standard in some cases. Angling has moved on over the years and not always for the better, in my view. Controversially, I have issues with vastly overstocked commercials and the treatment of fish in some of them. We are all guilty of getting caught in the accelerating progress and few stop to consider the implications of some of the things we do. High protein baits being heaved at fish in high volume has shown to have a significant impact on growth of species like carp, tench, bream and now in the rivers, barbel and chub. Some folks see this as a good thing, enabling them to catch bigger and bigger fish. I have my concerns.
I'm not smart enough to know the long-term effects, either good or bad, but I can only relate it to when we were feeding our roach on trout food in the very early days of the project and we were advised to change it following the first health checks which revealed fatty internal organs. Is it like putting your Labrador on a diet of chocolate cake?
I think there will always be a place for the 'heave it in and haul 'em out' fisheries, but I do believe there is an increasing trend towards different Stillwater fishing with the most popular and, I think, set to grow further is the crucian and tench waters (This is another area we are getting involved through our roach project techniques regarding the fish movement and management of some of these waters, as crucians and tench will also use our spawning boards). I do think there is going to be a growth in 'non-carp' stillwaters and I hope it happens.
I feel that the future of angling is spread across all areas and can honestly say that I believe the future of river fishing is looking as bright as it has done for a long time, regardless of the doom and gloom merchants telling us it will all end at the hands of predators. You only need to look at the Hampshire Avon to see what I mean.
Well thank you for giving up your time but before I let you go, here's a few more quick-fire questions,
What's your favourite drink?
Elder flower cordial in sparkling water (actually, that's second behind Fosters)
Favourite meal?
Curry, all the way.
Do you support a football team?
Not really, but I like to keep an eye of Bournemouth, who have enjoyed a remarkable rise to the top flight. I also keep another eye on Southampton (Mr Yates' team so I know what he's talking about).
Favourite film?
The first two and fourth Alien films with the lovely Sigourney Weaver and the latest two, Prometheus and Covenant.
I also like Team America and Django… And, the new animated films like Jungle Book blow my mind. The computer animation is awesome.
TV show?
Not a big telly fan, especially the modern reality garbage.
I like the wildlife documentaries if they are not too sanitised.
What music do you listen to?
A real mixture of mainly oldish stuff like Queen, Phil Collins, Eagles…
What's your idea of a perfect day?
Fishing for roach on the Hampshire Avon, now it's full of 'em again (maybe with my angling hero, Wilf Polkinghorne), coming home having caught a two pounder (in my dreams), having a quick shower, sitting watching an alien film with a few tins of Fosters followed by a big fat curry.
Many thanks again Trevor, from Against Men and Fish
*All images courtesy of Trevor Harrop/Avon Roach Project