I was really looking forward to this one, I'd only ever fished the fabled 'Fast Stretch' once and that was a short pleasure session after grayling a few years back. Match weights regularly top 30lb of chub but like any small river you need to draw the right areas. It's also nearly all stick float fishing and I haven't wielded one of those in anger for a very long time! I popped into Somerset Angling on my lunch break in the week and Riverfest qualifier Simon Garbutt gave me loads of good advice and sorted me out with some floats, cheers mate. I also messaged several people to try and get as much info as possible so a big thanks to Dan Baldwin, Tim Ford and Steve Maynard among others for letting me annoy you with all my questions!
Karl was fishing today and asked if he could follow me as he wasn't sure where the draw was and I had a rough idea! With breakfast from 7:30, I arranged to meet him half an hour earlier at Horton Cross and set my alarm for 6:00, which should give me plenty of time. Of course, as it's me, things rarely go to plan, my Dad wasn't too good in the morning and at one stage I wasn't sure I'd even be able to fish. His brother was coming round later in the morning so I contacted him and said to just phone me and I would have to pack up early if needs be. So with lots of faffing about I was a bit late meeting Karl and then couldn't find the draw venue, after several u turns, a trip round the one way system and stopping to ask some random strangers, I phoned Hurf and he guided us in. Poor Karl, I think he was regretting asking to follow me and said he'd started the day with a full tank of petrol and was now down to half!
The 68 Club was already busy as there were 29 anglers booked in for this one, after breakfast we paid our pools and I randomly picked eight Taunton anglers to fish against our eight, a much fairer way of doing it than using the top eight weights from the team with more anglers. Dan announced the draw and Les Braunton went in early and pulled out peg 4 which is a good one, then Chilly drew next door, I actually managed to get in the draw bag fairly early for once and was very happy with peg 7, as when I'd asked Dan what the hot pegs were, 7 was on his list!
After a short drive to the river, my peg was the first one above the flyover so not very far to walk and I had loads of room with Dave P the next peg below the bridge. Gappy pulled up and asked which pegs we'd drawn and gave us lots of info which was nice of him and sums up why these inter club matches have been so enjoyable. When I got to my peg I realised it was one of the ones I'd fished with Scotty and Roger Russell when we were after grayling, the river looked nice but it was still up a bit and pushing through.
I set up two float rods, a 13ft Preston Carbonactive Sentient with a Drake 9 no 6 brass stem stick and a 13 ft Daiwa Tom Pickering Whisker Kevlar with a 5AAA Drennan Crystal Avon, both were shotted with a bulk and a single dropper and had Kamasan B560 size 16's to 0.12mm at the business end. On the side tray I had two pints of red and bronze maggots, a pint of casters and some Bait-Tech Superseed hemp.
The five hour contest got underway at 10:00 and I started with the lighter float with double bronze maggot on the hook, feeding maggot and hemp, several people had told me to just run the float down the peg at the speed of the current, after running it through three or four times, the float buried and the strike was met with solid resistance before whatever I'd hooked, kicked in the strong flow. I slowly eased the fish upstream with the rod bent right round, the float appeared and then I could see a decent size chub below it, I got it to the top and positioned the net downstream of it before letting the flow push the fish into the net rather than trying to land it by dragging it against the flow.
It was a nice fish as well, probably 1.5lb, I had another about 2lb quite quickly but from further down the peg and then a third of a similar size and with less than half an hour gone, I started to think a big weight was on the cards. Big Frank was above me and said he hadn't had a bite yet, my float then buried a long way down the swim and this time I was sure I'd hooked bottom but then something moved on the end and this felt like a big fish. Frank shouted down he was into his first fish and landed a smaller chub of around 12oz, I'd brought mine all the way up the peg, only for the hook to pull out as the float came into view!
My next fish was a smaller chub of 10oz or so and with an hour gone I probably had 6lb+ in the net and was really enjoying it. My only concern was that Steve 'Moses' Maynard had said at the draw that on his way up from Cornwall he'd passed through a fair bit of rain that he was sure we were going to get later on and as the first drops started to fall, it was looking like his prophecy was proving correct!
Over the next hour or so I had two more decent chub and was still ticking along nicely, Frank had added a couple more and I'd seen Chilly up on peg 5 net a nice chub. It was now raining quite hard and despite my best efforts at keeping them dry, I was suffering from frothy maggots and I was also getting loads of problems with line spin even if I wound in really slowly, I tried hooking the maggots different ways, single maggot and burying the hook in a caster all to no avail. I'd tied up a packet of hooks the night before and was running out rapidly, with hindsight I should have incorporated a little swivel in the set up which may have helped.
Dave walked up from peg 8 and said he hadn't caught yet although he had missed a bite on the feeder, I also had a phone call from Hurf who was down on peg 23 and said he was doing well, he'd had a decent chub plus some smaller ones and a grayling although he'd lost a big chub as well, he also reported that Paul Adams had walked up from the next section down and they were all struggling. The river had come up a few inches and was now pacier so I picked up my heavy rig and although I had a bit more control, it just didn't really feel right and I couldn't see me adding to my tally.
Frank wandered down and said he couldn't get a bite now and I said the same but with that the float buried and I hooked a decent fish which tried getting under the far bank, I changed the angle of the rod and slowly but surely I started winning the battle, I played it carefully, wanting to make it count and netted my best fish of the day, a chub of around 2.5lb. That ended up being the last fish of the day and I thought I might have 8 or 9lb, maybe a little more.
I packed up and walked up to watch the weigh in, Frank had finished up with four chub, Chilly had three and a perch, Les was admitting to 8lb but thought Bish had more than him and James Hall on peg 2 said he had seven chub so it was sounding like it could all be quite tight. Paul Purchase was first to weigh on peg 1 and had three fish for 1kg 325g, James had some good chub and weighed 5kg 575g, Bish was next and had 4kg 450g before Les pipped him with 4kg 875g, Chilly had 2kg 750g and Frank's four chub went 1kg 225g. I wasn't sure I had 5kg but my fish went 5kg 800g so I was in with a chance of a section win.
Back at the results and as the other sections started arriving back, it sounded like the river had fished quite hard and the talk was that I might actually win it! Dan announced the results starting with the section winners, Hurf won the bottom section with 3kg 500g from peg 23, Simon Garbutt won the middle section with 4kg 675g from peg 20 and Bish won our section, Les was then called up in third place, James was second and I'd won it and picked up a very handy £151 with the super pools. Thanks to Steve Hurford* and Simon Garbutt** for the photos.
1 – Jamie Rich (Ilminster) – 5kg 800g
2 – James Hall (Taunton) – 5kg 575g
3 – Les Braunton (Taunton) – 4kg 875g
Sections
A – Steve Bishop (Taunton) – 4kg 450g
B – Simon Garbutt (Taunton) – 4kg 675g
C – Steve Hurford (Ilminster) – 3kg 500g
In the team stakes Taunton did the double over us with 20kg 175g to our 15kg 375g but we didn't disgrace ourselves. I have to say a massive thanks to Taunton AA and Dan Baldwin for hosting us and a brilliantly organised match, also big thanks to Hurf, Frank, Dave P, Karl, Steve P, Paul A and Hoffy for fishing for Ilminster.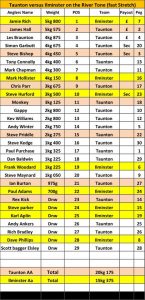 Another really enjoyable inter club match and I'd love to have another go in more favourable conditions as it's a cracking bit of water and exhilarating fishing catching chub on the stick in fast water. I've loved fishing with and against other clubs as it gives you a chance to go to new waters, use different methods and of course meet new people and fish some decent size matches, hopefully there will be more of the same this year and who knows, maybe we can get some other clubs on board too!
Next up – River Isle
Coming soon – Another trip down memory lane
Check Out – My last match (below)