As it's Bob's match next week, I thought I'd fish the last match in the Summer League to give me an idea of how to approach it, Paul Homewood was second in the last match with some skimmers on the pole and feeder for 13lb odd so I was hoping I might get a few on my new feeder rod. I had a Drennan Stillwater Feeder rod for years and it was a brilliant bit of kit but the reel fitting came apart and although I could get the reel on the rod, it was hell of a job getting it off again! After much swearing and the for the sake of my blood pressure, it was time to invest in a new rod.
Now I don't do a huge amount of feeder fishing, maybe half a dozen times a year, so wanted something that wasn't going to break the bank and the new Guru N-Gauge rods looked nice for the money so I went for the 11ft feeder. It's a lovely rod and I can't believe how thin it is, three tips are supplied 1oz, 1.5oz and 2oz although one small gripe, I can't believe the tips don't come in a protective tube rather than the cheap little plastic sleeves they are supplied with.
We met at the bowling club and once again I was one of the first there, a cracking breakfast set me up for the day and as more people started turning up, the banter was in full flow. With everybody fed and pools paid, it was time for Rob to draw for everyone. I wasn't too fussed where I drew as long it was a peg I could use the feeder on and when it was my turn, he pulled out 21 for me, that'll do.
In the Summer League, it was going to the wire with Baz and Fieldy jointly leading with 4 points although Graham had a slight advantage due to his dropper being a two pointer while Baz's worst result was a four. They were in different sections today (Baz on peg 4 with Fieldy on 19) and if it came down to weight, Baz had a 4lb advantage.
I got halfway to the pond before I realised I'd forgotten my feeder arm so had to pop back home to get it but we had plenty of time to get ready. My peg looked nice and I could get my box in the water. Along with my new rod I was also using my new Guru keepnet which hadn't been out of the bag since I bought it on Friday, would I suffer 'The curse of the new keepnet' today?
For my feeder rigs, I normally use a simple paternoster but a lot of the top feeder anglers use a twizzled loop boom and after watching a Lee Kerry video on YouTube decided to give it a go, very simple and virtually tangle free. I only set up one pole rig, a 4 x 16 Preston Chianti to fish 11.5 metres angled to my left. On the side tray I had a pint and a half of casters, half a pint of red maggots, dead reds, hemp, corn plus some Bait-Tech Pro Natural Dark and Omen I'd mixed up 50:50.
On the whistle I had ten quick casts without a hooklength to put some feed in before cupping in three balls on the pole line followed by a pot of casters, hemp and corn. I started on the feeder with three dead reds on the hook, there were already quite a few bubbles coming up and despite the bright sunshine I thought I might get a few today. From what I could see it was a slow start for everyone with just the odd small fish being caught.
I had a few little knocks which I put down to small fish so switched to corn and that solved the problem as I now wasn't getting any indications at all! Back to dead reds and with the first hour coming to a close, it was looking like the 'New keepnet curse' had struck again! Then a positive pull resulted in a fish on, it wasn't big but a 4-6oz skimmer was welcome to get me off the mark (and hopefully break the curse!).
Two better skimmers around 10-12oz followed in quick succession and I was getting a few indications but then I lost one on the way in. I did add a couple more so with two hours gone I had five skimmers and as far as I could tell, I was doing okay. Every hour I kept the pole line topped up but would leave it for at least three hours before trying it.
The third hour was similar and I had another four skimmers from 4-12oz but annoyingly bumped one as well. It was starting to get really hot and bites slowed up in hour four and I only added a small roach. I was just thinking about trying the pole line when I hooked another small skimmer but it came off at the net. After that it took an age to get a bite so when I had skimmer number ten, I decided to rest the feeder line and have a go on the pole.
Corn was a waste of time and dead reds just resulted in a small greedy perch so I fed it again and went back out on the feeder, a quick skimmer proved to be a false dawn and I'd gone from doing well to struggling. Fieldy shouted up that he wasn't catching and I hadn't seen much happen around the pond but then John Dursley over on peg 2 had two chub and an eel in a flurry of action.
I had another roach on the pole but it just wasn't happening, Scotty Russell turned up to see how it was fishing and I went back on the feeder for the remaining 45 mins. I missed a couple of bites before catching a 4oz skimbob but then was getting loads of indications which I think may have been small fish but also missed a couple of decent pulls and one wrap round (liner?). John started to catch well under the tree to his right and had three more chub which would probably see him win on the day. I finished up with 12 skimmers, 2 roach and a perch which I thought would go 3-4lb if the skimmers averaged three to the pound.
As I packed up, I still thought I'd done alright until I heard Baz say he had 171 fish and Neil Purchase replied he had over 130! The Toast on peg 23 was admitting to 3lb or so and Fieldy said he might have 4lb. I took my kit back to the car and went to catch up with the scales, Rob had already weighed in John who had a brilliant 13lb 6oz, Baz had loads of small fish for 8lb 10oz, Neil just pipped him with 9lb and Dave P on peg 8 had 1lb 12oz.
The scales had just reached Ian 'Bagger' Burton when I arrived and I thought he'd really struggled but he had a nice net of roach weighing 10lb 1oz to go into second place. Rob had a nice bream and some roach for 4lb 10oz from peg 13 and then Nick 'The Gudgeon Slayer' had chucked back although he had caught one of his favourite gonks!
Frank on peg 17 had 1lb 7oz and then Steve 'The Pole' weighed 1lb 8oz next door, Fieldy was next and when he pulled his net out, he had a nice chub, a couple of skimmers plus roach for 6lb 8oz and I thought he'd win the section with that. Then it was my turn and my fish went 7lb 9oz (so the skimmers had actually averaged 10oz apiece), The Toast was last to weigh and had a nice net of fish for a level 7lb.
Back at the results and John had won with Ian second and Neil third, I won my section and picked up £20 (plus a hat trick of nuggets off Steve, Terry and Nick), and Baz won the other section by triple default!
1 – John Dursley (Enterprise Angling) – 13lb 6oz
2 – Ian Burton (Taunton) – 10lb 1oz
3 – Neil Purchase (Ilminster) – 9lb
Sections
A – Jamie Rich (Against Men and Fish) – 7lb 9oz
B – Baz Morgan (Somerset Angling) – 8lb 10oz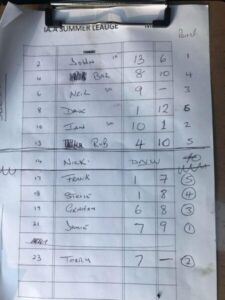 After Rob worked out the final league results Fieldy won it with 6 points, Baz was second with 8 points beating Ian on weight.
Final Summer League Positions
1 – Graham Field  – 6 pts
2 – Baz Morgan  – 8 pts (on weight)
3 – Ian Burton – 8 pts
I must say I'm well impressed with my new rod and keepnet but I was less happy with the Guru feeder links I'd bought and used for the first time today, I went to unclip the feeder at the end of the match and the snap swivel broke! Not cheap at £3.99 for three and I won't be buying them again.
Next week will be interesting, I don't think it's going to be as hot and I reckon 10-12lb will be needed to win, there are quite a few smaller skimbobs showing but the bigger skimmers and bream seem to be conspicuous by their absence.
This Sunday's Mortimer & Whitehouse Gone Fishing was poignant, heart warming and funny, Bob's joy at catching a trout had me grinning like a Cheshire cat whilst when they were talking about saying their goodbyes to parents I was on the verge of tears.
Next up – Bob's Memorial Match
Coming soon – Another trip down memory lane
Check Out – My last match (below)