I'd really enjoyed this match last year, it was nice to fish the feeder for the first time in ages and I actually managed to finish second with 12lb 10oz of bream and skimmers behind Andy 'Calamity' Saunders who won it with 13lb 3oz from peg 2 but broke his toe when he fell over in the morning! With the whip dominating this summer I fished the match last week to see if I could catch on the feeder and had a few pulls to win my section with twelve skimmers for 7lb 9oz. I did lose three and missed a few bites so I thought 10-12lb was feasible and probably would be there or thereabouts today.
The three most consistent anglers in the Summer League were Fieldy, Baz and Ian Burton and they all fished the whip with winning weights to 15lb and talking after the last match it sounded like they would all be fishing the waggler to hand for this rod only contest so it would be interesting to see how they got on fishing the 'whippler'!
I've used the same photo for the header of this post as last year and I make no apology for that as I think its a lovely picture of Bob, Steve and me at Dillington (photo credit – Steve Hurford). Mine and Bob's paths first crossed in 2009 when I was fishing the first Barney's Pairs Open on the Isle, I'd drawn 37 below the Green Hut and while Bob was watching me I caught a decent chub and went on to have the top individual weight on the day with 12lb 15oz. Bob fished loads of Ilminster and Chard matches on the Isle and the resi among other venues but he loved Dillington and had some cracking bream fishing the swing tip.
We all met at the bowling club for breakfast before the draw and along with the regulars it was nice to see Dan Baldwin from Taunton fishing today. After everybody had arrived and fuelled up for the day ahead, it was time for Rob to decide our destiny, mine was the first name on the list and I really fancied peg 14 but was well happy when he pulled out 19 for me. Baz was on peg 2, Andy S was on 20 and I had Hurf on the other side of me so the customary side bets were agreed and I also had my usual nugget with Steve P who was over on peg 10.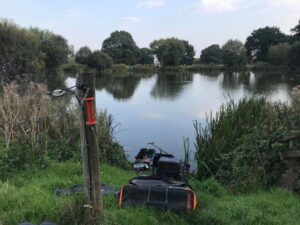 I just set up the one rod, my 11ft Guru N-Gauge Feeder with a twizzled boom although after the last match I'd tied up some longer hooklengths with size 14 barbless B611's. On the side tray I had casters, red maggots (wriggling and non-wriggling) plus a few worms and groundbait was Bait-Tech Omen and Pro Nat Bream Dark. Although a bright and sunny day, the wind was blowing straight into our bank and conditions were much better for skimmers this week so hopefully the tip would go round a few times.
Rob got us underway I had ten casts to put some feed in before starting with three dead reds on the hook, I was getting indications straight away and missed a bite before a decent pull saw me net a skimmer second chuck. Baz over on peg 2 was catching small fish and from all the 'whooshing' coming from my left, I guessed Ian 'Bagger' Burton was also fishing the whippler! I was getting regular bites and as the first hour was coming to a close I had four skimmers and three roach, then the tip has gone right round and I've hooked a better fish which turned out to be a proper skimmer of 2lb or so, what a great first hour!
Hurf and Andy both had a couple of skimmers and it felt like we could be in for a good day, I thought if I could get two or three fish an hour for the remainder of the match I would hit my target. Well you can probably guess what happened next, from lots of knocks, taps and indications, my tip was now motionless! I wasn't too concerned at this early stage and when I missed several decent bites after twenty minutes, I thought it would only be a matter of time before I caught a few more. The second hour passed and all I'd added to my net was a small roach!, I wasn't panicking yet as from what I could see nobody was really bagging.
I tried putting just neat groundbait through the feeder and started getting a few indications which resulted in the odd roach and a skimmer but it wasn't really happening, Andy and Hurf both said they were struggling as well while the 'whippler' boys were still catching lots of small fish. It also looked like Dan over on peg 6 had switched from the feeder to the whippler. We were now into the fourth hour and I finally hooked what felt like a decent skimmer but it came off on the way in. Andy shouted up that things would need to improve drastically if my estimate of 10-12lb was going to win today!
Nick P over on peg 9 had landed a couple of decent skimmers but the only people I could see catching regularly were Baz, Dan, Fieldy and Ian 'Whoosher' Burton who were all catching small roach although I still thought they'd do well to catch 6-8lb. Baz then hooked a decent fish and landed a chub which I thought probably edged him into the lead. The penultimate hour saw me add just a few small fish so as we headed into 'The Golden Last Hour', I unclipped and peeled some more line off to go past my feed.
I had a nice roach and then with thirty minutes to go, I had a decent skimmer and then not long after a smaller one, any thoughts of finishing with a flourish soon disappeared and I didn't have any more, Baz landed a second chub which I thought would clinch the win for him. I was admitting to 4lb but thought I might have 5-6lb, Andy said he had 2.5lb but I was sure he had more than that. After packing up I headed round to get some photos and as I passed Baz I asked what he'd had, thinking he was going to say 8-9lb, and was surprised when he said between 15-20lb! He'd caught those two chub plus over 230 roach!
Rob started the weigh in with Fieldy who weighed a level 7lb which I thought would easily win our section, Steve P had 1lb 14oz from peg 10 although he had done a fair bit of squirrel hunting during the day, Nick had 6lb 4oz which included two nice skimmers and then Neil Purchase went into the lead with 8lb 3oz of mainly roach (and I thought he'd been struggling!).
Rob had 4lb 4oz before Dan plonked an excellent waggler caught 13lb 1oz of roach on the scales after spending the first hour on the feeder for very little! Cannonball Dave had 1lb 11oz on peg 5 and then we got to Baz and he had a brilliant bag of fish weighing 19lb 4oz. Leighton had 4lb 6oz of skimmers on peg 22, then Whoosher Burton went into third place with 9lb of roach. Andy had 6lb 3oz and I thought it might be close but my fish went 8lb 5oz which surprised me, Hurf was last to weigh and had 2lb 9oz.
As we loaded the cars, Bob's family arrived and his daughter Eve brought along some lovely homemade sausage rolls which went down really well with the anglers. Rob did the results and I won my section and picked up £20 (plus a hat-trick of side bets!), Neil won the other section, Ian was third, Dan second and Baz was the second winner of the Bob Hammond Memorial Shield, which Eve presented to him.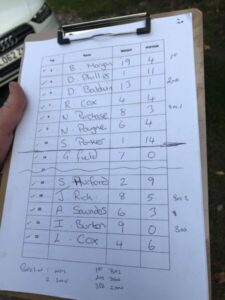 1 – Baz Morgan (Somerset Angling) – 19lb 4oz
2 – Dan Baldwin (Colmic) – 13lb 1oz
3 – Ian Burton (Taunton) – 9lb
Sections
A – Neil Purchase (Ilminster) – 8lb 3oz
B – Jamie Rich (Against Men and Fish) – 8lb 5oz
The anglers raised £65, Ilminster AA kindly added £35 and then Baz donated £20 from his winnings which was a fantastic gesture to make a total of £120 that went to a charity of Bob's family's choosing, this year it was Bristol Children's Hospital, a brilliant cause.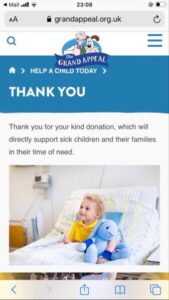 So the pond has fished really well with some good weights and fair play to Baz who has now won five out of the last seven matches at Dillington and whereas I thought people wouldn't be able to catch as quickly on the waggler compared to the whip, he's actually recorded the best weight of the summer!
I was a bit disappointed that after such a great start my match fizzled out and it's a little worrying that more decent skimmers aren't showing. There seem to be quite a few smaller ones which is hopefully a good sign for the future and the pond is certainly a fascinating venue that is changing all the time, I might even do a post on the evolution of Dillington Pond over the years which might be quite interesting.
Next up – Covey Fisheries
Coming soon – Another trip down memory lane
Check Out – My last match (below)