I've reviewed quite a few books on the blog over the years but as I hinted at when I read Steve Gardener's book (which was a cracking read) there are relatively few match fishing books out there so when I saw Tommy Pickering was publishing his story I ordered a copy from his Facebook store. It was £20 which seems to be around the going rate for hardback books and postage was £3.99.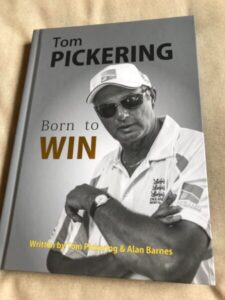 There were regular updates on FB including photos from the printers and Tommy even posted a photo of them all packaged up and ready to go out. It arrived and the first thing I noticed was how plush the book felt and on opening the front cover, there was a nice surprise in that Tommy had signed all the pre-orders.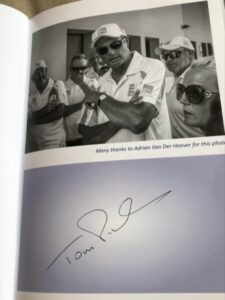 Basically the book is a collection of stories detailing his angling career and Tommy has done it all! I found it an easy book to read and finished it in no time (unlike the hefty Vietnam book I'm currently ploughing my way through!). There are some funny stories and some very poignant ones as well and it's always interesting reading about the 70's and 80's which relatively isn't that long ago and yet so much has changed in the angling world in thirty years. This was a time before commercials and the carp explosion and pole fishing was still in its infancy in this country. Some of the matches were huge with over 600 anglers fishing and the Nationals were the pinnacle of the match calendar.
If you wanted to catch big weights of fish you had to head to Ireland and a lot of the tackle back then would seem crude compared to todays gear, indeed, very often, if specialist kit was needed, the anglers had to make it themselves! The insights into the international scene are fascinating and it almost seems unbelievable that the England team would set up a couple of rods and only had one top kit for their poles, unthinkable nowadays. I wonder what match fishing will look like in another 30 years!
Reading through the book, what an angling career Tommy has had (and is still having!) from international glory both individually and team wise to breaking records and domestically there isn't much he hasn't won. Tommy is from that era where anglers used to travel all round the country, fishing lots of different natural venues and to compete at the highest level he had to be able to fish every method. Yet he seemed to make the transition to commercials without breaking stride, many didn't and the sport is now quite fragmented with specialists in methods, disciplines or even venues and there are relatively few successful all rounders in this day and age.
It's a brilliant read although personally I would have preferred all the stories in chronological order so it was more of a biography than a collection of angling stories and I did find the 'Ha ha's after every few paragraphs quite annoying and unnecessary!