2005
I first became aware of Dillington pond way back in 2005, it used to be a small irrigation pond but was dug out, made larger and stocked with a variety of species but no carp which was like a breath of fresh air! (although a few did find their way in from Long Ponds upstream). My first visit in March was a pleasure (and I use the term loosely!) session when I cupped in some chopped worm and had a decent chublet first put in and that was the only indication I had!
Things didn't improve when we had a match a few weeks later and everyone blanked apart from Leighton Cox on the end peg who had 8-9lb of chublets. A few more fish started to show in May and Janders won one with 7lb of chublets, roach and perch on the waggler although I only needed a 1lb for second place! Neil Dring had an excellent 11lb to win the next match and the back up weights were much improved too.
It was nearly all waggler fishing with the winning weights being made up of chublets, roach and perch but then in June, Barney had the top weight with 9lb 12oz which included a nice bream, I had one and lost another and Janders also had one, all caught shallow on the waggler.
Throughout the remainder of the year, the match weights continued to get better and better with Justin Charles enjoying a rich vein of form, winning three matches on the trot including some cracking weights of 19lb and 16lb. The pond is fed by several streams so after heavy rain it used to colour up and we arrived for a match in December to find it chocolate coloured but with lots of fish topping, we thought we would be in for a good day. How wrong we were, Martin Heard needed just 7oz for victory and as for me, I managed a solitary perch of half an ounce!
2006
I finally won my first match on the pond on the 7th May 2006 with 12lb 14oz of chub, bream, roach and perch, the waggler was still the main method although the pole, feeder and whip were all starting to come into play. Over the next few months I had a great run of results winning seven consecutive matches on the pond with weights up to 20lb 7oz, a lovely day that included chub on the waggler and bream and eels on the pole.
Other highlights from 2006 included finishing second on the lake in the first Chris Patten Memorial Match with 7lb 3oz and winning the pairs open with Mark Hollister where I also had the top weight with 8lb 1oz. Chub, quality roach, perch and eels were featuring in catches along with the odd decent bream.
2007
Going into 2007, the waggler was becoming less effective and the pole and whip were winning more than their fair share. Lots of eels were being caught along with some lovely big perch, Frank Woodard won one match with 17lb 13oz which included three bream and a little tench and Scotty Russell had the top weight in another fixture with 13lb 12oz of mainly big eels.
The pond was starting to mature with reeds growing in the margins, particularly on the field side. I managed a win in June with 11lb 4oz including a lovely perch of 2lb 5oz and Barney Crockett had one of 2lb 8oz a few weeks later. Towards the end of the year, the whip started to dominate with Justin Charles and Fieldy winning or featuring in the frame every week.
2008
The following year we didn't actually fish the pond until May when it was quite hard going and Steve Parker won with 5lb 9oz of perch and eels, it was also a notable day as it was the first time Terry 'The Toast' joined us. The next outing in June saw Scott Russell set a new match record with 16 chub for 27lb 8oz from the bush peg (now peg 1) although the back up weights weren't great with Neil Dring needing just 4lb 15oz for second place. Some big perch were still featuring in catches with Alvin Jones landing one of 3lb.
Although there were some good weights during the summer that year, most winning weights didn't break double figures unless somebody caught chub, Roger Russell had 6 for 12lb 2oz, Dave Lawrence won from the bush peg with 23lb 14oz and Martin Heard had 9 for 16lb 6oz. Roger was also second in one match with three perch and a few small fish for 10lb 9oz with one of the perch weighing 3lb 4oz.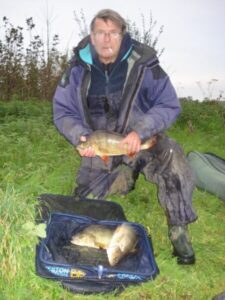 Pete Lonton won the Xmas Fayre on 14th Dec with just 8oz as once again the pond was rock hard due to freezing cold weather and being chocolate coloured.
2009
For most of 2009, the pond fished hard and there was talk of whether cormorants had decimated the roach stocks, there was also an explosion of Canadian pond weed which made fishing some of the swims difficult. People fishing the whip were dominating with Martin Heard, Bruce Hunt and Fieldy winning the majority of the matches between them.
Double figure weights were rare and the first one that year wasn't recorded until July when Martin won with 12lb 9oz, his weight was boosted somewhat by a carp of 8lb 10oz! (and to my knowledge that is the only one ever caught in a match, although pleasure anglers have landed a few). Heardy went on to win four on the trot with modest weights around 10lb of small fish on the whip.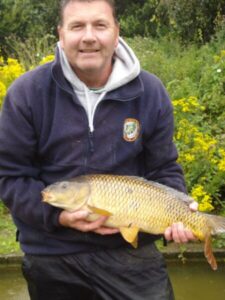 2010
Throughout 2010 the fishing continued to be challenging with 10lb plus weights the exception rather than the rule. Martin Heard supplied the only really decent weight of the year with 23lb 8oz of chub from the bush peg in May. I only managed a single win on the pond that year with 8lb 10oz on a day when there were lots of very close weights and I had several eels fishing worm over chopped worm and caster after fishing the whip for the first half of the match.
Summary
For the first three years the fishing steadily got better and better with weights of chub and quality roach along with odd big perch and bream until 2008 when the winning weights started to drop off. The whip and catches of small roach dominated for the next few years with double figures rare unless the chub showed (usually in peg 1!). The big roach had done a disappearing act and people were suggesting predation was the reason.