With only one league on the river this year, I've got plenty of gaps in my match diary so when I saw Stoke had arranged another charity match at Hebditch's pond, I booked in and it filled up in just seven minutes after being posted on Facebook! I always enjoy fishing these matches, although the only downside is the Stoke lads do like their early starts! With the draw at 7:30, we needed to find somewhere for breakfast that would be open at 6:30, thankfully Kirsty at The Ranch came to our rescue and would accommodate us. So I had to set my alarm for the ungodly time of 5:00am which was a bit of a shock to the system.
The Breakfast Boys saddled up and when we arrived at Parrett Works, it was great to see Harry, Andy and the Grand Wizard already there. As we fuelled up for the day it looked like Steve 'The Pole' was after a name change to Steve 'The Toast'!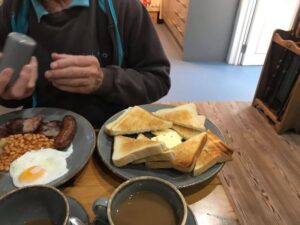 Full up and raring to go, we then headed to the Memorial Hall in Stoke for the draw, James W relieved us of our pools and then proceeded to decide our homes for the day. With the pipe swim flier left out, people were hoping to draw the swims either side which were numbered 3 and 4. Baz and young Sam Hinton (who was fishing only his third match) were the lucky recipients of those. I was just hoping I wouldn't end up on the far bank as those pegs rarely feature in the frame but of course James pulled out number 8 for me, thanks mate!
Harry ended up next door on 7 which was the same peg he had in the last match and he didn't look impressed, Steve P was in the corner (peg 9) with Andy B and Terry 'The Toast' on the end bank (pegs 7 and 8). Elsewhere, Chris N was on peg 1 with Dennis on 2 and then James was on 5 and Nick P on 6.
Bait was nice and simple this week with just a pint of reds, some dead maggots, corn plus Bait-Tech Carp & Coarse micros. I set up a 0.6 gram Drennan AS5 Pencil float to fish two lines at 11.5 metres but was still plumbing up when the whistle went at 9:00! The line straight out received some micros and I potted in maggots on the other line angled to the right. I started straight out with corn on the hook, toss potting in a few micros and two grains of corn.
When Harry had a small carp nearly straight away, I thought we'd get a few but it was nearly half an hour before I had my first bite, which of course I missed! By that stage Baz had landed several carp on the feeder and I'd seen Andy and Terry both net fish too. Then a positive bite resulted in my first carp of around 3lb and I was starting to get a few indications, I had a small carp but then couldn't get a bite again. I tried the maggot line but no indications there either and it was looking like it was going to be hard going at our end.
Nobody I could see was really catching apart from Baz who getting odd fish on both the pole and the feeder, The Toast was now fishing the whip and catching roach quite well, Steve P was really struggling and the wind was being a real pain blowing straight into the corner at him. With nearly two hours gone, I only had two carp and was going nowhere fast, I tried double maggot on the micros line and started catching chunky 1-2oz roach along with some tiny rudd.
I scaled down from 0.12mm to a 0.10mm hooklength with a size 16 Guru F1 Pellet hook and toss potting in maggots, it was a bite a chuck and I was really starting to enjoy myself. Then I hooked a better fish and it didn't feel like a carp so I played it really carefully and a lovely chub around a pound and half was the result! More roach followed and I was starting to get quite a few three ouncers among them.
I hooked another decent fish just as Harry came up to see how I was doing, he said he'd had a really good first hour but was now struggling, my fish turned out to be another chub, this one around a pound. Harry said young Sam was catching well but it was just odd fish for everybody else. We had some rain and the wind certainly wasn't doing us any favours on our bank but I was still catching roach really well and then had a nice skimmer of 6-8oz.
I was getting the odd small carp and then had two fish around 3lb each in quick succession and started to think I might actually get in the frame, I had three more skimmers in amongst the roach and I'm pretty sure I pulled out of a couple as well. Terry was still catching roach well on the whip and with Baz still netting the odd carp, it sounded like it was going to be between him and Sam for top spot.
With around an hour to go, Harry wandered up for another chat and while he was with me I had another small carp and a skimmer, he said Nick had caught quite well including a couple of skimmers and when I told him I had five, he said he'd only stocked a dozen! I reckon they must have bred which is a great sign for the future.
After struggling for the first two hours, I can honestly say it was a bite a chuck for the rest of the match, I ended up with 8 carp (3 decent ones and some pasties), 2 chub, 5 skimmers plus loads of roach and rudd. I didn't really have a clue what weight of silvers I had, maybe 8-9lb. I packed up and as I took some of my kit back I asked how Steve had done and he said he'd struggled, Terry said he might have 10lb of roach and I hadn't realised he'd caught that well and said I didn't have that.
The scales started with Chris on peg 1 and he had 6lb 13oz, Dennis weighed 4lb 10oz and then Baz went into the lead with 30lb 15oz. Sam was next and his fish went 33lb 7oz, he'd caught on corn over micros, James W on peg 5 had 14lb 15oz before Nick had done well catching 4lb 3oz of silvers and 23lb 3oz of carp to go into third position with 27lb 6oz. Harry had 21lb 4oz and then it was my turn, my carp went 11lb before my silvers weighed 10lb 15oz which I was well chuffed with.
Steve P had chucked back, Andy B weighed 10lb 5oz before The Toast had 8lb 9oz of carp and then had a nice net of roach and rudd weighing 7lb 10oz to give him a total of 16lb 3oz. So Sam had won on the day, well done young man, Baz was second and Nick was third. I won the silvers and picked up £30 plus nuggets off Harry and Steve. The day raised £110 for the charity and the pot now stands at £801 for this year, a brilliant effort especially after the earlier lockdown as we now face another month of it, will it ever end!
1 – Sam Hinton (Tackleuk) – 33lb 7oz
2 – Baz Morgan (Somerset Angling) – 30lb 15oz
3 – Nick Payne (Ilminster) – 27lb 6oz
Silvers
Jamie Rich (Against Men and Fish) – 10lb 15oz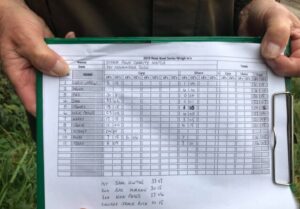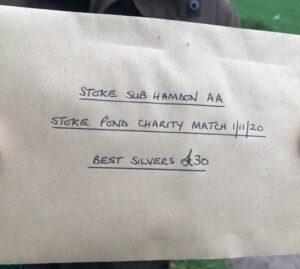 I think it works really well leaving the pipe swim flier out, okay the two adjacent swims then become the favoured areas but the weights are a lot closer, I was also a little surprised at the silvers weights, Terry had a lot of fish and I reckon there are more skimmers there than we think, it would be interesting to have a silvers only match to see how it fishes.
I always enjoy these matches and for me, days like this sum up why I love match fishing so much, from the banter at breakfast, the anticipation of the draw and the day itself with all the highs and lows and plenty of laughs along the way, I'm really going to miss it over the next four weeks (or however long it lasts!). It's looking like pleasure fishing may be allowed and I might pop out somewhere to have a go with the method or maybe a piking session but it's not the same for me.
It all just seems bonkers to me, the schools and universities are still going to be open as are supermarkets and other essential shops but we can't go and sit around a pond or on a river in the fresh air. It could all be done safely as we've already demonstrated with the draw the night before and even the money collected and paid out using Paypal.
It hit me hard last time (if you didn't read my post on Fishing and your mental health, you can find it here) and my circumstances have changed since. My dad has been in various hospitals for six weeks (not the best places to be at the moment) and living on my own and working from home, my fishing on Sundays was the only thing I had to look forward to (sad I know!). I'm not angling (pun intended) for sympathy here, just trying to get across that when people say things like 'It's only a month', 'It's only fishing, it's not life or death' or 'There's bigger things to worry about', for some people who haven't got families, match fishing can take on a bigger significance due to the human interaction, the social side of it, the laughs and the banter (and let's not forget the breakfasts!).
Before I go, I have to say a massive thanks to the Hebditch family for allowing us to use the pond for these events, also to Chris White who wasn't even fishing but pegged it out and helped to organise it and lastly to all the anglers who make it such an enjoyable day, see you on the other side of lockdown!
Next up – Who knows!
Coming soon – Who knows!
Check Out – My latest review (below)