2011
Double figure weights were still hard to come by and the majority of the matches were won by anglers fishing the whip. Top weight of the year (in the matches I fished) was Martin Heard with 13lb 10oz, I only managed a single win with 9lb 2oz in May when I fished the whip for half the match before catching some eels and a decent perch on chopped worm.
2012
I didn't actually fish that many matches on the pond in 2012 but the whip continued to dominate with Fieldy and Martin taking it in turns to win with low double figure weights. I did win twice towards the end of the year, once with just 1lb 5oz when the pond was very coloured in Nov and then the last match on 30th Dec, conditions were much the same and I thought it was going to be hard again but I had a lovely day catching quality roach and rudd for 15lb 6oz.
2013
Weights were similar the following year with the exception of an brilliant 20lb 1oz caught by Bruce Hunt which comprised of 435 fish on the whip. One interesting development was that some skimmers were starting to feature in catches, up until this point only odd 3-4lb bream had shown occasionally. I finished second in one match with 7lb 5oz which included five skimmers for 2.5lb.
2014
Over the last nine years the average winning weights were between 9-11lb but things were changing, the whip was still doing well but all of a sudden loads of quality roach and rudd were being caught as well. I had a nice little run of wins in Jan and Feb with weights to just shy of 15lb on the pole and caster and then in the next match had 17lb 10oz but only finished second behind Bruce who had 18lb 9oz on the whip which included two big chub and roach to a pound.
Through the summer, the good weights continued, I weighed 22lb 8oz for a win from the pumphouse swim which again was quality roach, rudd and two chub, Bruce had 18lb 10oz which included two bream for 11lb to win another match and in August, Ashley Tomkins had the top weight in one fixture with 21lb 10oz of quality roach caught shallow.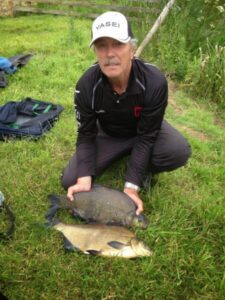 2015
If the previous year had seen the pond fish its head off, 2015 was another level! It got off to a decent start with 12-14lb needed to win with catches including quality roach and some nice skimmers. Then in May, Ashley drew peg 2 and caught quality roach shallow, putting around 15lb in the net before sport slowed, he then fished on the deck and had six big bream and a 3lb chub to smash the match record with 48lb 2oz!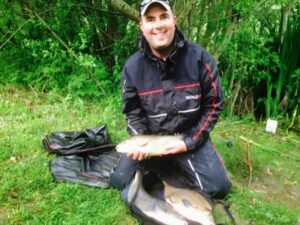 For the rest of the Summer League, the fishing was superb with 30lb plus needed to win most weeks, Hurf had 31lb 5oz from peg 1, Scotty had 33lb 15oz (peg 1), Leighton Cox had 31lb 10oz on the feeder from peg 9 and Stu Alford weighed 36lb 12oz from peg 6.
People were catching bream, skimmers and chub on the pole and feeder but some cracking weights of quality roach were still being caught shallow and even through the winter winning weights were between 15-25lb on a variety of methods, brilliant fishing.
2016
The following year, the fishing was still really good but never quite hit the heights of 2015. The feeder was winning lots of matches with weights to just shy of 30lb although the two most consistent anglers on the pond were Fieldy who was fishing the short pole and catching lots of small fish but was also getting quite a few bonus bream and Ash who was fishing shallow and catching some lovely nets of quality roach.
2017
When Ash broke the match record a few years previous, I couldn't see it ever being bettered but Bill Hopping did just that in the first match of the summer league with an incredible 58lb 12oz of big bream, skimmers and chub from peg 1. Adie Bishop then drew the same peg twice in consecutive league matches and won both times with 41lb 4oz and 44lb 9oz before Ash pulled out peg 2 in the next match and had 3 big bream and 47 skimmers for a quite frankly staggering 69lb 3oz to reclaim the match record!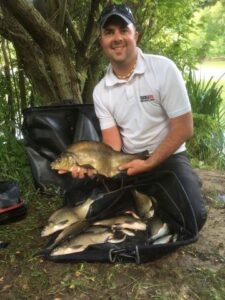 John Dursley had 45lb 7oz from peg 24 but then the rest of the year was a bit of an anti-climax after that with the winning weights around a much more modest 10-15lb.
2018
Bream and skimmers on the pole and feeder won virtually every match during 2018, Jake Woodard had the best weight of the year with 32lb 10oz on the feeder in September closely followed by his dad, Frank, who won in November with a pole caught 31lb 8oz. What was starting to become noticeable was the lack of quality roach featuring in catches.
2019
During the Summer League, some nice weights of bream and skimmers were caught on the pole with Fieldy recording a brilliant 41lb 1oz from peg 14 in the last round. The average winning weights were starting to drop though, from a high of 27lb in 2017 to 20lb in 2018 and then 16lb in 2019.
2020
It was all change again in 2020 as the whip started to dominate once more with lots of small roach featuring in winning nets while the bream and skimmers were conspicuous by their absence. Odd decent skimmers were still being caught but in nowhere near the numbers of the last few years. Quite a few smaller skimbobs were showing between 4-8oz which is hopefully a good sign for the future but more worryingly, all of a sudden people were catching small carp and somebody had obviously stocked them which was very irresponsible and could have far reaching implications for the pond.
I only managed a single win with 5lb 1oz of small roach in March and Baz Morgan was the most consistent angler winning five matches with weights to 19lb 4oz but the average winning weight had fallen to 11lb.
Summary
The whip continued to dominate until 2015 when loads of skimmers started to show and the weights were brilliant for the next few years with the match record being broken three times. Then although there were still some really good weights in 2019, the average was starting to come down and predation was once again cited as a possible cause. This downward trend continued in 2020 although it was a rather extraordinary year due to coronavirus and two lockdowns which meant not as much fishing and less matches.
The pond is a very intriguing venue as it continues to change and evolve every year, what next for Dillington? Will the average winning weights stay around 10-12lb for a few years again until the current crop of hand size skimmers pack on weight or will we start to see some quality roach again. Quite often it can be a cyclical thing, I remember the Isle being awful for a few years before it bounced back and similarly the resi went off the boil for a bit but then was better than ever.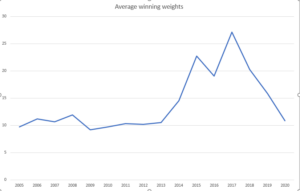 Average winning weights
2005 – 9.71
2006 – 11.21
2007 – 10.67
2008 – 11.9
2009 – 9.15
2010 – 9.7
2011 – 10.33
2012 – 10.2
2013 – 10.5
2014 – 14.5
2015 – 22.71
2016 – 19.06
2017 – 27.13
2018 – 20.25
2019 – 15.82
2020 – 10.82