If you regularly read this blog, you can't have failed to notice how much I've enjoyed my first two visits to Revels. It's lovely silvers fishing with quality roach, perch and skimmers, the weights are normally really close and I haven't had too much carp trouble so far. Steve 'The Pole' said he fancied coming along this week as well. After breakfast at the Airfield Tavern, which as always was really good, we headed to the fishery.
We booked in at the shop and picked up some bait before having a quick walk round the lakes, Dead Tree was really coloured whereas Main Lake was still very clear. Talking to John B in the car park, he said after all the cold rain going in, it might fish hard and in last weeks match, 9lb was the top silvers weight. 9:30 arrived and we all gathered by the shop for Dean to do the draw, John was near the top of the list and got peg 6 on Main, I also ended up on the same lake but peg 14 and didn't get the impression from John that it was one of the noted silvers pegs. He did offer me a glimmer of hope when he said some better skimmers do reside there and show occasionally. Steve got 52 on Dead Tree which is one of the best pegs for silvers but would it perform with all the extra colour?
I was round the far side and it was a fairly narrow peg with an island that looked very carpy although there was some open water to the right. There were quite a few roach topping and I really fancied it. I set up two 0.3 gram Guru AR floats, one with spread shot and the other with a bulk and two droppers, I also set up a 0.3 gram NG Mini Gimp to fish the inside. Size 20 Guru Match Specials to 0.08mm completed all three rigs. It was quite shallow at around 3 ft and was pretty much the same depth all over the peg.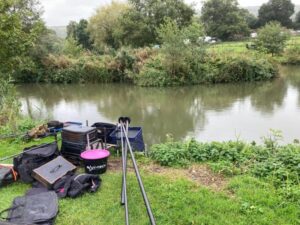 On the side tray I had casters, red maggots (dead and alive) plus Bait-Tech Special G Dark and the Juice groundbait. On the whistle I cupped in a single ball of groundbait at 10 metres angled to my right and one at top two plus two slightly to my left before starting on the top two and flicking in a few maggots. After 10 minutes with no bites I was itching to go on the longer line so shipped out with single red maggot on the hook. I was fully expecting the rig to settle and go straight under but that didn't happen and a further 10 minutes elapsed with no indications and it was looking like John was right about it fishing hard.
A few more minutes passed and then finally the float slid away and the strike saw a pleasing amount of yellow hydro exit the pole tip, I shipped back carefully and netted a 4oz perch to get off the mark, next chuck I had a 2oz skimbob and thought I'd get a few now but then went a further five minutes without a bite before bumping one which I knew wouldn't help matters. There was also a horrible gusty wind that was being a pain and we had a few showers as well, it was definitely quite chilly and winter is on the way.
Then a tentative bite saw me strike into solid resistance and I knew straight away I'd hooked into something rather lumpy. It wasn't charging about but I didn't expect it to be on long with such a light hooklength. After 10-15 minutes I was down to the top kit and it still wasn't really doing much, I got a glimpse of it and it was huge! More time passed and it was stirring up the bottom all over the place and I just couldn't do anything with it. I had visions of me wasting all this time only to lose it and I wasn't even sure it would fit in my landing net.
Finally after around 40 minutes, it surfaced and I managed to chip pan it in the net, it was a bit of a unit, probably 15lb but not my intended target and with over an hour gone, I had 6oz in my silvers net! I started catching some small roach and perch on the longer line so tried double maggot and my next fish was a tiny gudgeon. Slipping a caster on, the next chuck resulted in a positive bite and I had a nice perch, but no more bites and I was back on the maggot catching the odd small fish.
I was loose feeding casters short and toss potting maggots on the longer line along with small amounts of loose groundbait and pinging a few shells over the top as well. Talking to John after the last two matches, he'd caught some quality fish on caster but I was struggling to get bites on it. I was still getting odd small roach, perch and gudgeon but the lack of skimmers was worrying and I'd also hooked several more carp, losing a couple and landing one about 3lb.
A quick look on the short line only resulted in a gudgeon and bites were now few and far between on the longer line. In the last match, when bites tailed off, I had a really good spell catching to the left and right of my feed and also past it. Laying the rig in to the left, it settled, the float buried and I landed a nice perch, then I bumped a small fish before it was back to no bites again.
I kept trying caster as I felt I needed some quality silvers if I was going to do any good but two more carp smashed me up and I landed one of 5lb. The score now stood at 4-3 to the carp and I was running out of hooklengths! A bank walker turned up and said it was a struggle for everyone and I started to think perhaps it wouldn't take too much to frame in the silvers.
I tried being patient and just waiting for bites and when I had nice skimmer of 6oz followed by a chunky roach, I thought I'd cracked it but I could only seem to get a couple of bites from one place before having to do something different. In hindsight I should have fed another long line and alternated between the two, or even started up more lines. The short swim was a complete flop and I only had a couple of gudgeon and a small roach from there.
A few missed bites on caster before hooking another big carp and I thought I had a chance with that one as well but it did me up the inside (ouch!). I did manage a few more roach and landed two more carp (3lb and 5lb) to even the score at 5-5. Despite it being hard going, getting carped out somewhat and that annoying bloody wind, I'd still really enjoyed it although I was sure my 28 silvers for 2-3lb wouldn't be any good today.
I took my kit back to the car and Steve was there loading his van, he said it had been a struggle and he'd weighed 4lb 4oz, I gave him a nugget (three on the trot now) as I knew I didn't have that. He said top silvers on Dead Tree was 5lb 14oz so it had been tough there. We walked back to my peg just as the scales reached Steve Crowford on peg 12, he had 14lb 14oz of carp.
Then it was my turn, the five carp weighed 29lb 10oz and somebody asked if I had any silvers as I needed to beat 11oz to go into the overall lead! My silvers went 3lb 11oz to give me a total of 33lb 5oz but as there were three pegs left to weigh, I felt sure somebody would beat it. As I walked back Rich Butler on 16 had weighed 28lb 13oz, Bob Crisp had a nice net of silvers on peg 20 for 10lb 4oz and then Adrian Hayes on 21 had 15lb 6oz of carp.
So I'd actually won it and gone from thinking I'd struggled on the silvers front to winning the match with my accidental carp! I picked up £40 but was a bit gutted I didn't manage to get a photo of my carp and I wished I'd weighed the big fish separately. Once again the weights were really close with just one carp separating the overall frame and ounces between the top silvers weights.
Overall
1 – Jamie Rich (Against Men and Fish) – 33lb 5oz
2 – Ken Roper (Revels) – 30lb 5oz
3 – Rich Butler (Revels) – 28lb 13oz
Silvers
1 – Bob Crisp (Revels) – 10lb 4oz
2 – John Barker (Revels) – 9lb 14oz
3 – Andy Miller (Revels) – 8lb 2oz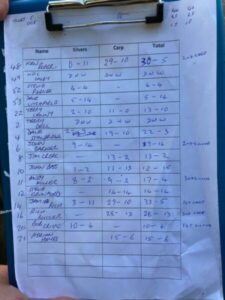 Another cracking day and I can't wait to have another go, I'm loving fishing the different swims and lakes and getting to know the venue. I followed Steve back and it was really nice route, coming out near Crewkerne.
Don't forget you can still bag yourself a bargain by using the exclusive discount code AgainstMenandFish10 to get 10% off when you shop online at Somerset Angling
Lastly if you haven't checked out my book yet, I still have copies available or you can get them from eBay here or Amazon here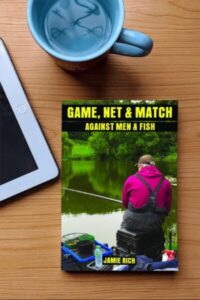 And if you could spare five minutes to leave a review on Amazon, it would be very much appreciated.
Next up – Summerhayes
Coming soon – Lots more match reports
Check Out – My last match (below)