Summerhayes was the destination for this Sunday's match and it was on Sellicks lake which I haven't fished for ages. We met at the bowling club for breakfast and it was busy with anglers heading to Avalon for a Stoke match. I sat with The Grand Wizard and Mr Burns who were fresh back from France where they'd caught loads of big carp to 50lb+ although they would have to lower their expectations a bit for today!
Then myself, Parker The Pole and Hitman senior (Dave Hilton) headed to Bridgy. There was a great turnout of 18 anglers and after one of Pete's lovely cups of coffee (not Columbian floor sweepings as the Tart would have you believe), it was time for the draw. When my name was called, peg 6 would be my home for the day (which was the same peg I had in Clive's match when I had a magnificent 11oz of silvers and hooked 22 carp!). The Pole was on peg 2 and Dave got number 15, my neighbours for the day were Chris W from Torquay and Rich S, so we would have a laugh if nothing else.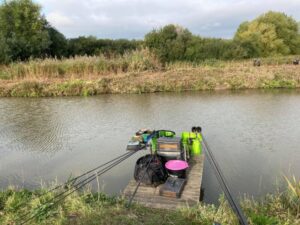 I set up a 0.4 gram Malman Pencil to fish 5 metres and two lines at 10 metres angled left and right and then a 0.3 gram NG Mini Gimp to fish the top two on the insides, both with Guru F1 Pellet hooks to 0.10mm. On the side tray, I had 4mm Bait-Tech Xpands, red maggots (breathing and non-breathing), micros, Special G Dark and The Juice groundbait.
On the whistle I fed a ball of groundbait on the short lines, 5 metres and on the longer right hand line, the other 10 metre line received half a pot of micros. I had a quick look on the top two lines either side but no bites after ten minutes saw me go out on the longer gb line with double dead red maggot. No indications here either and apart from Rich who had a small skimmer fishing tight to the far bank, it was a slow start for everyone as far as I could see.
My first bite after about 20 minutes resulted in a 2lb carp which didn't pose me too many problems and when I had a second not long after, I was hoping it wasn't going to be another day of carp carnage. The next indication was from a 3oz roach to get me up and running before I hooked a fish that tore off and I had a little moan about it being another carp when a foulhooked 1.5lb skimmer came to the top and was gratefully netted.
Glynn up on peg 9 was getting some nice skimmers but there still didn't seem to be a lot else happening on our side. I had my third carp and then landed another decent skimmer to finish a fairly busy first hour. Going into the second sixty minutes a few more fish started to show with Chris and Rich both catching carp. Trying expander on the hook I had a pound skimmer and a couple more carp but was already well behind Glynn who had five or six skimmers.
I was feeding casters on the top two plus two line but wanted to leave it until the last couple of hours, I kept trying dead reds and soft pellet on the longer micros line but I didn't have a bite with everything coming from the groundbait line. The carp kept coming but they weren't going crazy and I landed the first seven I hooked without too much trouble.
Swapping between soft pellet and dead reds, I was getting the odd smaller skimmer in amongst the carp but as the match went on, more and more carp were being hooked by Rich, Chris and me although we all lost a few foul hookers. I did manage a nice bonus 1.5lb crucian but with two hours to go, things would need to improve on the silvers front if I was going to do any good today.
Two 8oz skimmers in quick succession got my hopes up but then it was back to hooking carp and by this stage I think I'd landed thirteen and lost five and it was quite close between my neighbours and me. Then the float sailed away and on the strike a decent skimmer flew vertically out of the water about four foot in the air before landing and the hook pulled out!
With sixty minutes to go, I came in on the top two plus two line with caster on the hook, it wasn't particularly hectic although I did miss a couple of bites and then had a carp on for ages before the hook pulled out. Back on expander and a missed bite just before the end had me thinking that was my lot but then the floats gone and I was into another carp that I landed after the whistle. I ended up with ten silvers (one crucian, seven skimmers and two roach) plus fourteen carp. I think both Rich and Chris had similar numbers of carp and we'd all lost quite a few (I lost six).
The scales started with Steve P and he'd had a bit of a nightmare, losing loads of carp and weighed 17lb 8oz (including 2lb 5oz of silvers), Roger C on peg 4 had 35lb 11oz and then Chris weighed 53lb 10oz of carp. My silvers went 6lb 13oz and then my carp added 51lb 2oz to give me a total of 57lb 15oz.
Rich had a solitary skimmer of 9oz and then after two weighs, his carp went 57lb 10oz and I thought I'd just pipped him but forgot his skimmer which gave him a total of 58lb 3oz to go into the lead by 4oz! Glynn weighed 10lb 11oz of skimmers and Paul H on 10 had 11lb 4oz of carp but had lost loads of foul hookers.
Bill 'The Paste' was next on peg 12 and had 32lb 7oz, Steve C on 13 weighed 30lb 2oz and then Roy Hughes said he'd struggled again for a couple of pounds and weighed 11lb 4oz of silvers to go into the lead (I wish I could struggle like that!). Hitman senior on 15 had 34lb 13oz and then Adie Bishop weighed 38lb 14oz.
John on peg 17 pulled his net out and it looked close, the digital display settled on 58lb 13oz and he went into the overall lead. Pegs 18 and 19 didn't weigh and then it was Jeff Sparkes on 21, he had 5lb 8oz of silvers so I claimed another nugget (two on the trot now!). Jim weighed 28lb 11oz and last but definitely not least was Jess 'Zooner' Jordan, he was admitting to 14lb and weighed 16lb 5oz of silvers so a pretty close estimate.
Overall
1 – John (Summerhayes) – 58lb 13oz
2 – Rich Studley (Summerhayes) – 58lb 3oz
3 – Jamie Rich (Against Men and Fish) – 57lb 15oz
Silvers
1 – Jess Jordan (Summerhayes) – 16lb 5oz
2 – Roy Hughes (Summerhayes) – 11lb 4oz
3 – Glynn Wickham (Summerhayes) – 10lb 11oz
I sneaked into third spot and picked up £20 (these accidental carp are coming in handy!) and the side bets ended up 2-2, losing to Jess and Glynn but taking home nuggets from Steve and Jeff (not sure if I mentioned that one yet!). Another really close match with just ounces separating the top three and also second and third in the silvers.
Don't forget you can still bag yourself a bargain by using the exclusive discount code AgainstMenandFish10 to get 10% off when you shop online at Somerset Angling
Lastly if you haven't checked out my book yet, I still have copies available or you can get them from eBay here or Amazon here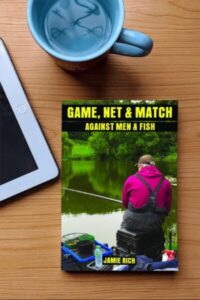 And if you could spare five minutes to leave a review on Amazon, it would be very much appreciated.
Next up – Ilminster v Stoke (River Isle)
Coming soon – Lots more match reports
Check Out – My last match (below)