For my third Xmas match on the trot, it was Stokes turn to provide the festive fun and hopefully some fish! Not only was it my first time fishing this event, it was also on a new venue for me, Ash Ponds. I initially thought it was the Ash Ponds I fished with Ilminster and Chard many years ago but that was Ashmead which is now a carp syndicate. These ponds are nearby but I've never seen or fished them so was looking forward to it. Apparently both the ponds we would be fishing were well stocked although Pond 3 was the one expected to produce the big weights. There were three sections on the day, one for each pond and another at Parrett Works.
Terry had been out in the week for a recce and started on Pond 2 but after two and a half hours, he'd only had a roach before moving to Pond 3 and bagging up with carp. The Grand Wiz went out to peg it and had a quick go with the bailiff's rod on Pond 3 and caught an 8oz roach first chuck and a 10lb carp next put in so that was where everyone wanted to draw.
The draw was at 8:00 which meant another rude 5:45 alarm as the Breakfast Club were meeting at 7:00 in the Airfield Tavern. The food was really good as always before we headed to the village hall in Ash. It was already busy and after paying our pools and having a fivers worth of raffle tickets, we had a coffee and waited for the draw.
The lads fishing the river drew first before heading off and then the pond draw took place, with around half the pegs gone, there were still quite a few left on Pond 3, including number 19 where Chris had fished. When it was my turn, I was willing that peg to come out of the bag, The Grand Wiz delved his hand in and pulled out……….. the number 5, not only the wrong number, it was on the wrong pond as well!
I was still really looking forward to it as I love fishing new venues, also as there were identical prizes for each sections, we were basically fishing our own little match. Parker 'The Pole' was on peg 6 with Chanter on 7, Kev Francis on 8, The Toast on 9 and Ady Morris on 10. On my right I had Rob Wylde on 3, Neil Dring (who I hadn't seen for ages) on 2 and Chris W on 1.
All the usual draw bags were on Pond 3 including Dan Squire, Dave White, Russ and Dave Hilton, Rob C, Wayne C, Derek G and Scott Cousins. There were a few no shows over the three sections which is always disappointing, why put your names down if you're not going to fish, especially as two of the empty pegs were on Pond 3!
The track to the ponds was a real bone shaker as we weaved our way down it, trying to avoid the pot holes and I'm sure I lost a few fillings on the way! I do remember it being rough from when we used to fish Ashmead all those years ago and it hasn't changed much. The three ponds were all quite close together and almost identical in size and shape (Pond 1 contains big carp I think). Parking was fairly tight and as Terry reversed up between ponds 2 and 3, his van got stuck at a rather alarming angle and would have to stay like that until after the match.
It was a bit of a rush to get ready and I only had time to set one rig up, a 0.3 gram Guru F1 Wire Slim to a size 18 F1 Pellet hook to 0.10mm as I just wanted to try and get a bite to start with. I had rather a lot of bait with me (in case I drew Pond 3!) with two pints of red maggots, another two pints of deads, a pint of casters, pinkies, micros and a loaf of bread on the side tray. Plumbing up I had about three foot off the end of my keepnets (I'd put three in, just in case!) and the depth didn't really vary going out to 13 metres.
The Grand Wizard wished us all a Merry Xmas and got the match underway with a rather musical toot of his whistle. I fed two lines at 11.5 metres, one angled to the left with a few dead reds and the other to the right with half a pot of micros. Starting over the negative line with double red maggot, I was expecting a bit of a wait. After 15 minutes or so, I hadn't had an indication and as far as I could tell, nor had anyone else on our pond and even the roach Terry had caught in the week would be very welcome!
Then I looked up and Chanter was into a fish on his tip rod and despite him trying to convince us it was a roach, the bend in his rod suggested it was something a bit lumpier! Sure enough, he netted a decent carp to get off to a great start and then added a second not long after. I still hadn't had a bite and was beginning to think putting three nets in might have been a tad optimistic! Then Chanter had his third carp, this time on the pole, followed by a nice silver fish.
I had a dig on the float but part of me thought I'd imagined it, I looked away for a second and when I looked back, elastic was streaming from the pole tip! Mindful of the light hooklength, I took my time as it might be the only fish I hooked all day. After a fairly lengthy battle I netted a cracking common that was probably 8lb plus. Before I went back out, I swapped over to a size 16 B911 to 0.12mm.
My next fish came over the micros which was another decent carp and then I added a third shortly after. Parker 'The Pole' also landed a nice carp and everybody seemed to be getting a few bites now. By swapping between the two lines I was catching carp along with the odd skimmer and roach, Chanter was also catching well and still ahead by those two or three early fish. The Toast was getting a few on paste but Steve P was stuck on three carp.
With two hours to go, I had eight carp and a few silvers but my bites slowed right up and it was the same for Chanter. I decided to start a new line at 13 metres and cupped in a few micros, a carp quite quickly had me thinking I might be able to make inroads into Chanters lead but then he was into one as well. Next chuck I hooked another and something wasn't right as it wasn't doing much and came straight to the top before the hook pulled out and I suspect it was foulhooked.
Carp number ten followed not long after and then I hooked a fish which didn't feel like a carp and a nice tench of 1.5lb was added to the silvers net. I really thought I was in for a good last hour but only added one more carp and some roach. Chanter finished up three or four fish ahead of me and was admitting to between 80-90lb.
The weigh in started with the Grand Wizard who had two nice carp and some silvers for 16lb 11oz, Neil had some nice carp for 52lb 10oz from peg 2 and then Rob W weighed 48lb 9oz which included nearly 7lb of silvers. My fish went 62lb 9oz and Steve P had 15lb 2oz before Chanter went into the lead with 81lb 2oz.
Kev had four nice carp for 24lb 4oz from peg 8, Terry 'The Toast' weighed 34lb 14oz and last but not least on our lake was Ady who had 39lb 2oz from peg 10.
As expected the other lake dominated with Dan Squire doing what he does best and bagged up with 159lb 15oz of carp on the pellet waggler, Dave White was second with 140lb 15oz of margin fish and Scott Cousins was third with 123lb 6oz from peg 20. Russ Hilton had 113lb, Wayne C had some lumps for 72lb 6oz, Rob Cox weighed 62lb 6oz, Dave Hilton had 57lb and Derek weighed 19lb 7oz from peg 18.
Then in a great display of team work (I even did some pushing!), we managed to get Terry 'Stuck in the mud' out of his predicament.
Back at the results, the river had been hard going and Dave Pope took top spot with a decent chub and a few bits for 2lb 7oz followed by Dennis H with 1lb 5oz, Chris N and Danny B both weighed 1lb 1oz, Mike G had 14oz and then Bob and Clifford didn't weigh although Cliff did pack up early to get all the prizes ready at the pub.
The Bell in Ash laid on an excellent buffet and then it was time for the prize giving, the three section winners all had meat vouchers and prizes and then we all had our pick of three prizes. I went for some lager, chocolates and then more chocolates.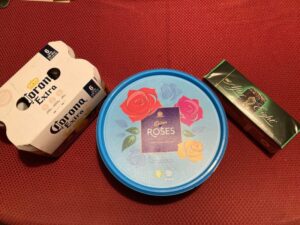 There were some fantastic raffle prizes donated by Kirsty at The Ranch, Somerset Rig Company, Dave White, M5 Angling and Tackleuk. The raffle raised £116 plus there were generous donations of £30 from Rob and Dennis to take the total for the clubs charity to an absolutely amazing £1718 which will be presented to the Oncology Unit at Yeovil Hospital before Xmas.
River
1 – Dave Pope (Stoke) – 2lb 7oz
2 – Dennis Hawkins (Stoke) – 1lb 5oz
3 – Chris Norton (Stoke) – 1lb 1oz
3 – Danny Blunn (Stoke) – 1lb 1oz
Pond 2
1 – Steve Chant (Somerset Rig Company/Stoke) – 81lb 2oz
2 – Jamie Rich (Against Men and Fish/Stoke) – 62lb 9oz
3 – Neil Dring (Stoke) – 52lb 10oz
Pond 3
1 – Dan Squire (Mosella UK/Stoke) – 159lb 15oz
2 – Dave White (Sensas/Stoke) – 140lb 15oz
3 – Scott Cousins (Stoke) – 123lb 6oz
I have to say, I enjoyed every minute of that today, a brilliantly organised match with a lovely bunch of lads, plenty of fish caught, great food and prizes along with lots of laughs, just how a Xmas match should be. That's three Festive fixtures I've fished in as many weeks and although I've had varying levels of success, they've all been well run and great fun. Merry Xmas!
I had nuggets off Steve P and Terry so the charity Nugget-O-Meter now stands at £5.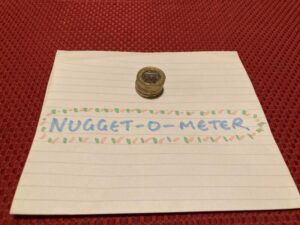 You lucky lot, Santa has come early here at Against Men and Fish, Somerset Angling are offering 15% off up until 31st December 2021when you shop online, just use the code AgainstMenandFish15 at the checkout.
Talking of stocking fillers, I still have copies of my book available or you can get them from eBay here or Amazon here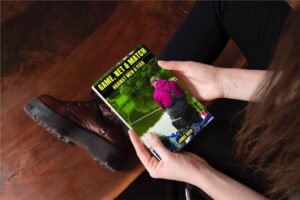 And if you could spare five minutes to leave a nice review on Amazon, it would be very much appreciated.
Next up – Pete Lonton Pairs
Coming soon – Lots more match reports
Check Out – My last match (below)