As it was a Bank Holiday, I booked into the open at Revels. After the usual breakfast stop in Yeovil, I headed to the fishery. The car park was already pretty full as there was a great turnout of 20 anglers fishing this one. Three lakes were being used for todays match, Main, Canal and Woodlanders. The draw got underway and John Barker was on peg 8 which he didn't look too impressed with, Alan Winsper got fancied peg 6 and when my name came out, I was back on Canal lake, peg 68.
My swim looked nice although the lake was quite clear. I set up the usual 0.3 gram Guru AR floats and after my last match on Canal, also a 0.3 gram Drennan Crystal Margin for dobbing. The side tray contained red and white maggots, disco pinkies (dead and alive), bread and Bait-Tech Special G Dark and the Juice groundbait.
On the whistle I fed a small amount of loose groundbait with a few dead pinkies at 8.5 metres angled to my right, a decent sized ball at the same distance but straight out and then a bigger ball down the middle at 10 metres to the left. Starting on the negative line with double pinkie, a bite first put in resulted in a gudgeon, a couple of small perch followed and much like last week when I was on 63, I just couldn't seem to catch any quality.
The two guys on my right were dobbing bread across but it wasn't really happening and Steve Blunden and Wayne Cooper behind me on Woodlanders were struggling and it sounded like it was fishing rock hard. Swapping between the three lines down the middle, I only added a few more small fish over the next sixty minutes. I was also feeding some maggots on the inside by some reeds to my left and with two hours gone, I tried it for the first time and missed a bite first chuck before catching a tiny perch and I was going nowhere fast.
With half the match gone and less than a pound of silvers in my net, I did toy with the idea of fishing across with bread. What put me off was that the two dobbers down from me only had a fish apiece and kept getting snagged on underwater brambles and trailing vegetation and as my far bank looked like a rig graveyard, I didn't fancy it.
I was going through the motions somewhat and didn't really know what to do next, but then with two hours to go, I've struck at a bite and straight away could see it was a skimmer in the clear water. It wasn't a big fish but at 2-3oz, it was my best fish of the day and I netted it to be sure. I was toss potting in a few pinkies and small amounts of loose groundbait on both the 8.5 metre lines and started to put a few fish together. Most of the bites were coming just as the rig settled and I would get a couple of fish off each line before having to rest it.
I was getting small skimmers, roach, perch and even had a chunky little rudd on the drop and was starting to really enjoy myself. A quick go on the 10 metre line to my left which I'd kept topped up resulted in a skimbob but I had to wait ages for the bite. With around an hour to go, one of the anglers on the lake behind me packed up and had an early bath.
I was still getting odd fish down the middle and then with thirty minutes left I added a section and went further across, first put in the float buried and I had a nice hybrid around 6oz, next chuck I had a decent perch around the same size and then a small one. It slowed then so I started another line to the right and by swapping between these two lines, I carried on catching well and didn't want the match end.
I finished up with 35 fish which I thought would go around 4lb (averaging 2oz apiece). When the scales reached our lake, 3lb 10oz was leading the silvers from peg 20 on Main, Neil Saxby on 63 didn't weigh, Terry Lenny on 65 had 5lb 10oz of carp, the angler on 66 didn't weigh and then my silvers went 4lb 13oz (why couldn't those fish have switched on an hour earlier!). Andy Miller on peg 70 weighed 3lb 3oz before the scales headed to Woodlanders.
Dave Litchfield on 71 had 3lb 5oz of silvers, the next peg had gone, Stephen Blunden had 10oz of silvers and Wayne C weighed 1lb 10oz from peg 75. Back to Main lake and Dean Green on peg 2 had 4lb 6oz of silvers, Bob Crisp on 4 had 4lb 4oz and then Barry Robson on 11 pipped me with 4lb 14oz. Alan Winsper went into the overall lead with a brilliant 61lb 7oz from peg 6 and then it was that silvers maestro, John Barker, on peg 8 who off course winkled out 6lb 3oz to take pole position in the silvers. Thanks to Dean Hodder for the photo*.
Steve Crowford on peg 12 weighed 9lb 15oz of carp which put him in second place overall and then Dean Hodder on 16 had done really well to catch 5lb 1oz of silvers on the waggler.
1 – Alan Winsper (Revels) – 61lb 7oz
2 – Steve Crowford (Revels) – 9lb 15oz
3 – Adrian Hayes (Revels) – 8lb 1oz
Silvers
John Barker (Revels) – 6lb 3oz
Alan won by a country mile but with just 9lb 15oz enough for second, a carp or two would have been enough so maybe I should have picked up my dobbing rig! Once again the silvers was really tight with just 1lb 6oz between first and fourth and that man Barker once again proved how hard he is to beat. I know I keep banging on about it but I love the place, I'm still enjoying drawing different pegs and lakes and although the fishing can be challenging at times, you can never really predict where the winners will come from (maybe with the exception of peg 6 today!).
If you have the post Xmas blues, why not treat yourself to some new fishing gear using the exclusive discount code AgainstMenandFish10 to get 10% off when you shop online at Somerset Angling
If you didn't get a copy of my book for Xmas, I still have copies of my book available or you can get them from eBay here or Amazon here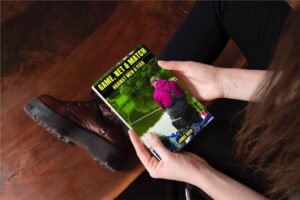 And if you could spare five minutes to leave a nice review on Amazon, it would be very much appreciated.
Next up – River Yeo
Coming soon – Lots more match reports
Check Out – My yearly review (below)