Stoke were going to have a winter league last year using some different stretches but Covid put paid to that. This time around, Russell Hilton was organising the five match series with the first round on the River Yeo at Long Load. Pleasure anglers had been reporting good catches of roach, chublets and odd bream so we could be in for a good match. Looking back through the blog, I haven't fished the Yeo since 2008 and that was a different stretch, I have fished Long Load before but that was even further back in the annals of time!
Typically, the river had been nigh on perfect but then heavy rain on Saturday made it touch or go whether the match would take place. I kept checking the levels online and they were steadily rising, with not much rain forecast overnight, I was hoping the river would drop. Waking up Sunday morning bright and early, I checked again and was dismayed to see the graphs were still rising. It was decided to meet at Long Load for a final pitch inspection but I think everybody knew we wouldn't be fishing the river today.
The Breakfast Club assembled at the Airfield Tavern for what could be the best bite of the day. When we got to the river, it was indeed raging through and it was decided that we'd go to Thorney Lakes for a match. I was looking forward to it after having a really nice day the last time we fished it. On arriving I was a little disappointed to see we were pegged on the right which is very shallow as opposed to the left hand side where we were previously.
Prior to the draw I quite fancied pegs 13-15 which had produced some 7lb weights in that match but of course the 'Wheels of Doom' lived up to their name when I got peg 10, opposite a carpy looking island with some carpy looking reeds which wasn't ideal in a silvers only match! The pegging was also rather, shall we say cosy and I had Nick P on my left and Rob on my right, both had the points of the island to go at and I was hemmed in somewhat (is that enough excuses yet!). Still, if I got bored at least I could poke Nick in the ear with my cupping kit.
I set up a couple of Guru 0.3 gram AR floats and on the side tray I had disco pinkies, maggots (dead and alive) plus casters and loads of Bait-Tech Pro Nat Dark and Extra I'd mixed up for the river. It was as shallow as I remembered at around 18 inches all across the swim and I was expecting it to be hard going.
On the whistle, I cupped in a small amount of loose groundbait with a few pinkies at 11.5 metres straight out and fed another line more positively at the same distance, angled to the left. I started with single pinkie on the hook to just try and get a bite. No early indications for me and it was the same for Nick, Rob and Dennis on peg 12. Dave Hilton down on peg 13 got off to a great start with a couple of nice roach on the waggler fished across to where some fish had been topping before the match got underway.
Then my float sunk from view and I struck into solid resistance, I was hoping it would be a bream but a sizeable carp came straight to the top and wallowed, thankfully the hook pulled out. A few carp began to get hooked but nobody was catching silvers apart from Dave who'd added another couple of fish. Derek G over on peg 5 landed a carp and then hooked another which he seemed to be playing very carefully before he slipped the net under a 2lb skimmer to put him firmly in pole position.
Then Dennis had a tiny foulhooked silver that was so small we weren't even sure what species it was, but with an hour gone, it was enough to put him in third place! Russ who was over on peg 3 came for a walk and said nobody over there had caught apart from the odd carp and at this stage it was still all to play for and a single fish would get you in the frame.
He then went back to his peg and promptly had three bream (although he was calling them skimmers) in quick succession. Then Ian 'Bagger' Burton next door to him started catching bream and pulled out of a couple as well, Derek had his second and then Mike and Jake B in the big open water bay started catching bream on the feeder casting towards some lilies.
Meanwhile in our section, Dave H hadn't added to those few early fish, Dennis was still on one tiny fish and Rob, me, Nick, Glen and Danny B were all still blanking. I tried fishing past my feed but no indications and even going across to the reeds at 14.5 metres didn't result in any bites (not even from a carp). Although we were having a laugh, it was looking more and more likely that most of us on our side weren't going to catch.
With around an hour or so to go, Glen, Danny and Aaron over on peg 1 packed up and headed off home. Rob had a couple of carp by fishing the waggler off the point of the island and then hooked a fish which turned out to be one of only three golden orfe in the lake, it was a good fish too, getting on for 3lb and he was now favourite to win the section.
As the light started to fail, there were a few tiny fish topping and as I laid the rig in, I did have a little dig on the float but I missed it and Nick thinks he had a bite too but that was it and those of us left on my side weren't too upset to hear the all out.
The weigh in didn't take very long for my section, Rob's big goldfish and a rudd went 2lb 15oz and Dave had two hybrids and a few roach for 1lb 12oz.
The anglers in 'Bream Bay' fared considerably better, Steve P found a few fish towards the end to weigh 1lb 10oz (but didn't claim a nugget as several of us put a pound in the pot, which Rob won), Russ had three skimmers!!! and a bream for 14lb 5oz, Bagger Burton had five nice bream on corn for 15lb 10oz, Derek had two for 4lb 2oz, Mike weighed 14lb 10oz with six fish and Jake's four went 10lb. Thanks to Russell Hilton for the photos*
1 – Ian Burton (Taunton) – 15lb 10oz
2 – Mike Goad (Stoke) – 14lb 10oz
3 – Russell Hilton (Stoke) – 14lb 5oz
Sections
A – Jake Berkley (Tackleuk) – 10lb
B – Rob Cox (Ilminster) – 2lb 15oz
A really disappointing day for me but that's winter fishing for you, it can be a case of feast or famine and today was definitely one of those, six out of seven in the other section had bream or skimmers and not one was caught from pegs 9-15.
So the year hasn't gotten off to a great start and I hope it's not a sign of things to come!
If you have the post Xmas blues, why not treat yourself to some new fishing gear using the exclusive discount code AgainstMenandFish10 to get 10% off when you shop online at Somerset Angling
If you didn't get a copy of my book for Xmas, I still have copies of my book available or you can get them from eBay here or Amazon here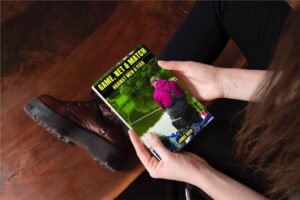 And if you could spare five minutes to leave a nice review on Amazon, it would be very much appreciated.
Next up – Trinity Waters
Coming soon – Lots more match reports
Check Out – My last match (below)