When I phoned Pete to book in for this one he said there were club bookings on both Longs and Sellicks so the match would be on Willow, not my favourite lake if I'm honest but it does hold some silvers. Once again the forecast was really grim and we were in for yet another wet and windy day. Things didn't start well when I turned my alarm off at 6:00 and again at 6:05, eventually waking up forty minutes later which wasn't ideal when I'd booked breakfast for 7:00 in Taunton!
After much rushing about, I got there half an hour late and although the food was really good I didn't have time to enjoy it before heading to Bridgwater. The car park was nearly full but after popping into the cabin to pay my pools, they were all fishing the club matches as there were only five booked in for our open/knock-up.
Pete did the draw and I ended up on peg 10, with Roger C the next peg along on 12 and the others were on the opposite bank, Geoff Young (9), Mark Leahy (7) and Chris W on peg 4. We were pretty exposed and the wind was howling across the lakes, I was afforded a little bit of cover due to a slightly raised bank on my left but poor Roger was getting it straight in the chops and was in for an uncomfortable day.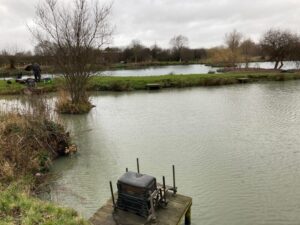 Once again it would be a case of minimal gear and battening down the hatches, I set up a Guru 0.3 gram AR float with 0.10mm and a size 18 Guru F1 Pellet. On the menu today, I had dead reds, micros, 2mm and 4mm Bait-Tech Xpands plus some Special G Green and The Juice groundbait. Plumbing up, I could just about hold the pole at 10 metres but it was deeper at 11.5 metres so I set up another rig in case the wind dropped later (unlikely).
Pete got us underway and I cupped in two balls of groundbait and some loose at 10 metres straight out and half a pot of micros at the same distance angled to the right. I started on the gb line with double dead red and had an indication quite quickly but the wind was already being a nightmare buffeting the pole and as I moved the rig, I bumped a fish. Next chuck, a positive bite resulted in a 2oz skimmer and it felt like there were a few fish there.
More small skimbobs followed but I was already bumping a few and had several come off shipping back. Along with the gusty wind it was raining quite hard and really not very nice at all, Chris over on peg 4 was fishing for carp but hadn't caught yet, Mark was catching little skimmers and Roger had a couple of small fish. The only one I couldn't see was Geoff but he normally fishes for carp.
I tried expanders on both lines and had a couple of fish but they weren't any bigger than on the maggot so I decided to just get my head down and catch small fish. There were quite a few carpers on the complex and just behind Chris on the Big 8 lake, three young lads had a shelter/bivvy type thing and after an hour or so, it took off in the wind, thankfully they weren't in it at the time!
Although I was catching quite well, I was still having too many fish come off so got another top kit out with pink Daiwa Hybridlastic which helped a little bit but didn't totally solve the problem. With around two hours gone, Chris was getting fed up with kit getting blown in the lake, so he secured as much as he could before going to see how his travelling partner was doing and then came round to me. He said Geoff had landed a 7lb carp which was winning the lake so far and would put him in the winners final as things stood.
Around the half way point, Pete and Sally brought us a hot drink which was very appreciated! He said Geoff had now added a second carp which meant poor Chris would have to stay for the duration even though he'd now packed up. I knew Mark was fishing for silvers but couldn't really tell how well he was catching so stuck at what I was doing.
After every couple of fish I was toss potting in some loose groundbait and the little skimbobs were all around 1-3oz, no roach or perch which surprised me as I know they're in the lake. With two hours to go, I noticed Mark playing a decent carp which he safely netted and not long after, he had his second which put him neck and neck with Geoff. Of course it also meant he wasn't now fishing for silvers which suited me!
The wind was getting worse and a few times it's nearly spun me round on my box and I even hooked the near bank on my right after one particularly powerful gust! Trying to fish at 10 metres was now nigh on impossible so I fed a line at top two plus two with a little nugget of groundbait. First put in, the float sailed away and I had a skimmer which made me think I might get a few in the last hour or so but that was the only bite there. I struggled on trying to fish long but caught very little in the last sixty minutes.
Mark had caught another carp which was enough for Geoff to wave the white flag and him and Chris headed off early, which just left the three of us to weigh in! I finished up with 36 little skimmers which I thought would go 3-4lb but had lost/bumped at least another 20! Pete arrived with the scales and Mark had 2lb 9oz of silvers and his three carp added 22lb 10oz to give him a total of 25lb 3oz and a comfortable victory.
My silvers went 4lb 1oz before Roger weighed 1lb 5oz and looked rather windswept after having the elements in his face for six hours! So back at the results and after another very welcome hot cuppa, Pete handed out the envelopes, Mark had a nice little bonus as his was also the golden peg and I picked up £25 for winning the silvers.
1 – Mark Leahy (Summerhayes) – 25lb 3oz
Silvers
Jamie Rich (Against Men and Fish) – 4lb 1oz
I must admit I'm getting really fed up with the wind and rain now, it feels like I've been soaking wet for weeks, at this rate I'll grow some gills! Hopefully I'll have dried out for next week and the weather will be a bit kinder.
There's still a great offer running if you fancy treating yourself to some new fishing gear, use the exclusive discount code AgainstMenandFish10 to get 10% off when you shop online at Somerset Angling
If you don't fancy getting out on the bank in this awful weather, you can still get your fishing fix with a copy of my book from eBay here or Amazon here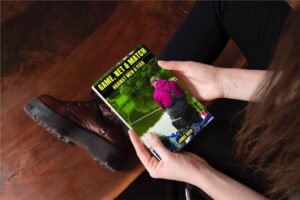 And if you could spare five minutes to leave a nice review on Amazon, it would be very much appreciated.
Next up – ?
Coming soon – Lots more match reports
Check Out – My last match (below)