After getting drawn a brilliant peg and having a lovely days silvers fishing last Tuesday, I was hoping for more of the same this week. The weather was a lot better too and I even saw some glimpses of that big orange thing in the sky. The obligatory pit stop in Yeovil for breakfast set me up nicely for the day and after the short drive I pulled into the fishery. The car park was already pretty busy as there were 17 anglers booked in for today, a great turnout for a Tuesday.
We were on Main lake and Trendles today, I've never fished the latter but apparently it holds lots of small carp. The draw got underway and John B got 30 on Trendles which he wasn't impressed with. Thankfully by the time my name was called out, most of the pegs on that lake had gone although I'd rather lost track of which pegs were left and was convinced I was ending up on one those carpy pegs (12-16). Peg 18 was pulled out for me and I was happy with that as Neil had a decent silvers weight there last week.
Plumbing up it was fairly shallow by the island and got deeper to the right. I set up the usual two Guru 0.3 gram AR's, one to fish at 11.5 metres in line with Steve Crowford on peg 8 and the other further to the right where it was deeper again, both had size 20 Guru Match Specials to 0.08mm. On the side tray I had maggots (dead and alive), casters, pinkies and some Bait-Tech Special G Dark and The Juice groundbait.
The whistle went and I cupped in a pot of loose groundbait straight out and two on the right hand line. Starting with single red maggot on the hook, I was soon into little perch, gudgeon and rudd. Double maggot saw me getting some chunky 2-3oz rudd and it was a bite a chuck. Steve C opposite went off like a steam train catching several carp and John Bass on 16 to my left had also landed a couple of lumps.
I had my first skimmer around 4oz after twenty minutes and I was really enjoying myself. Along with toss potting in a few maggots, I was pinging a few casters over the top and also making sure I kept dripping in some groundbait regularly on the right hand line. After an hour I had 17 fish for about 1.5lb. Trying caster on the hook resulted in a nice little run of fish, two perch, a rudd and a roach added a quickfire 12oz to my total.
Rich Butler on peg 6 was landing some nice skimmers and I could see Bob C swinging in fish on the whip in peg 21 but felt I was doing ok. Bites started to slow on my original 11.5 metre line so I added another section and went past my feed. I was having to wait a while for bites but added another skimmer and some fat perch.
With two and half hours gone, I decided to rest the swim and try the right hand line for the first time. It took an age for the float to go under and then elastic streamed from the pole tip as a carp headed off across the lake before snapping me, not the response I'd hoped for. Next put in I had a skimmer but I could only seem to get one before having to swap lines.
Going past the feed on the right hand line resulted in a few more fish and I could catch a couple on caster before going back to maggot to get bites. In between catching lots of gudgeon I was also netting some quality roach, rudd, perch, the odd skimmer and even had a lovely golden rudd. I did hook another fish that tore off but then after initially thinking it was a carp, I began to get the upper hand and a glimpse of it had me convinced it was a big perch. Of course it turned out to be a carp of 1.5lb!
By swapping between the four lines, I've caught steadily all match and the six hours flew by. I finished up with 80 fish (9 skimmers plus roach, rudd, perch and gudgeon), at an ounce apiece it would give me 5lb, 2oz would be 10lb but I thought it would be somewhere in between. Rich B had landed some better skimmers early but had slowed up in the second half and it looked like Bob had caught consistently.
I packed up and took my kit back to the car just as John was arriving back and said he'd had 4lb 8oz of silvers and there had been a 59lb 15oz and a 49lb 7oz of carp on Trendles. I caught up with the scales at peg 2 where Chris Burgess had weighed 6lb 15oz of silvers, then Tackleuk's Jake Berkley (fishing his first Revels match) had 3lb 1oz of silvers plus 36lb 14oz of carp which put him third with 39lb 15oz. Rich on peg 6 went into the silvers lead with 7lb 10oz of skimmers before Steve C had 34lb of mainly carp on peg 8.
Pegs 10 and 11 had 22lb 3oz and 31lb 15oz respectively, Alan on 12 and the lad on 14 didn't weigh before John Bass had 31lb 4oz. Then it was my turn and Dean called it at 9lb 4oz. Paul L on 20 had chucked back and then last but not least was Bob who weighed 6lb 5oz.
So I'd won the silvers again and had a nice pick up of £40, as per usual there were several close weights which is why I love it so much. I'm really enjoying fishing the different pegs and lakes and there are still several I've not been on, Middle lake looks lovely for silvers.
Overall
1 – Terry Dell (Revels) – 59lb 15oz
2 – Dave Stanbridge (Revels) – 49lb 7oz
3 – Jake Berkley (Tackleuk) – 39lb 15oz
Silvers
1 – Jamie Rich (Against Men and Fish) – 9lb 4oz
2 – Rich Butler (Revels) – 7lb 10oz
3 – Chris Burgess (Revels) – 6lb 15oz
I've got a double header coming up at the weekend, Landsend on Saturday which I've only ever fished once many, many years ago and then Summerhayes the following day.
There's still a great offer running if you fancy treating yourself to some new fishing gear, use the exclusive discount code AgainstMenandFish10 to get 10% off when you shop online at Somerset Angling
If you don't fancy getting out on the bank in this awful weather, you can still get your fishing fix with a copy of my book from eBay here or Amazon here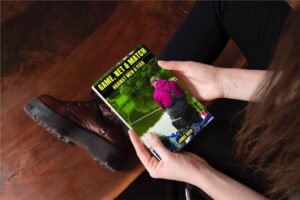 And if you could spare five minutes to leave a nice review on Amazon, it would be very much appreciated.
Next up – Landsend
Coming soon – Lots more match reports
Check Out – My last match (below)