With no Ilminster or Stoke matches this weekend, I booked into Summerhayes and Steve P, Nick and Jenny fancied it as well. Drew very kindly said he'd accommodate us for breakfast which was really nice of him. It was on Sellicks and the weather looked like being awful again, to make matters worse, the Tart had been in touch to say he was fishing and bringing his disciples to bash up the Ilminster crew!
There were 19 anglers fishing today so the majority of pegs were in, Pete announced the draw and I quite fancied 17-21 as they tend to be good silvers pegs and I was happy when I ended up on 18. Steve P was over on 10 and I had Nick and Jenny just along from me on 16 and 15. Roy Hughes was next door on 19 and Alvin had drawn 23 which was also the golden peg, The Tart was opposite on peg 5 and although I could see him, thankfully I couldn't hear him!
I set up a 0.6 gram Malman Pencil to fish top two plus two, a couple of lines at 10 metres straight out and angled to the left and then a 0.3 gram NG Mini Gimp to fish the top two on the inside, both with Guru F1 Pellet hooks to 0.10mm. On the side tray, I had 4mm Bait-Tech Xpands, dead red maggots, micros plus Special G Dark and The Juice groundbait.
Pete got us underway and I potted in some groundbait on three of my lines and micros on the long left hand line. I started short with double dead reds but five minutes without an indication saw me go on the longer groundbait line. The wind was an absolute nightmare and it was a job to even hold 10 metres. After ten minutes, a positive bite resulted in a nice 4oz roach to get me up and running.
No more bites so I went over the micros line and missed a bite before catching a small rudd, another nice roach from the other line and although I wasn't bagging, I was getting a few indications. Roy was fishing the waggler and had a decent skimmer followed by some roach but as far as I could tell nobody else had much at this early stage.
I had two more roach in the second hour but the lack of skimmers was a tad worrying, especially as Jess 'Zooner' Jordon and Jenny had both landed a couple. The next two hours passed without me adding anything to either of my nets! Roy was still catching quite well on the waggler and looking good for yet another silvers win. He actually wasn't fishing that much further over than me so I went to 11.5 metres and toss potted in a little groundbait, a further quarter of an hour passed and then the float buried and a decent fish was on. Shipping back carefully I netted a nice skimmer of a pound or so.
I was hoping I might get a few more but that was the only bite I had there, Glynn who was on 22 walked by and said he only had a pound and a half so it was close for the nugget. Jenny landed a nice crucian but it escaped through a mouse hole in her landing net!
With a couple of hours to go, the wind actually eased a little but then we had hailstones – lovely. Quite a few people packed up and headed off for an early bath. Roy went tight across on the pole with a little light rig and started catching some quality roach with the odd skimmer and I was getting a proper NPB (Next Peg Battering). I got off my box and got the 13 metre section out of my rod holdall, first put in I had another skimmer, followed by a missed bite and then a roach before I couldn't get a bite again.
With just 15 minutes to go, I got off my box again, this time to get the 14.5m section and went across, the float settled and went straight under resulting in a roach. Next chuck the float went and I hooked a fish which came straight to the top and I initially thought it was a decent skimmer but it was a big carp (8lb+) that gave me the run-around for ten minutes and just when I thought I was going to land it, the hook pulled out and that was the last of the action.
Steve P turned up and conceded his nugget before heading home. I packed up and went round to watch the weigh in, Roger on peg 2 had 4oz, Chris W on 3 had gone and then Dan P on 4 had some big skimmers for 9lb 2oz and 23lb 4oz of carp. The Tart was looking very pleased with himself and had done well catching 45lb 2oz of carp and then added 6lb 10oz of silvers to take a double nugget off me.
Pegs 6, 7, 9 and 10 had gone and then Duncan on 11 had 29lb 11oz of carp and 4lb 10oz of silvers, the next two pegs were also now empty before Jess had 6lb 8oz of silvers and I was another nugget down. Jenny had done well to weigh 3lb 12oz of silvers from 15 and then Nick had two carp for 4lb 15oz. My very modest silvers haul went 2lb 8oz and then Roy had a brilliant 10lb 1oz of silvers.
Martin on 20 DNW'd and then Glynn's silvers were even more modest than mine at 1lb 14oz so the side bet score finished 3-2 down. Alvin was last to weigh and he had 61lb 5oz of carp plus 3lb 15oz of silvers for a winning 65lb 4oz with the bonus of the golden peg as well.
Overall
1 – Alvin Jones (Summerhayes) – 65lb 4oz
2 – Brendon Ions (Tackle Trader) – 51lb 12oz
3 – Duncan Arnold (Summerhayes) – 34lb 5oz
Silvers
1 – Roy Hughes (Summerhayes) – 10lb 1oz
2 – Dan Pither (Summerhayes) – 9lb 2oz
3 – Jess Jordon (Summerhayes) – 6lb 8oz
A disappointing day and I'm so fed up with getting soaked and nearly blown off the bank! With the nuggets from Steve and Glynn (although he didn't have any change on him), the charity Nugget-O-Meter is now up to £25.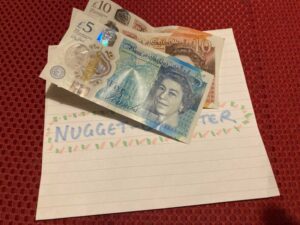 There's still a great offer running if you fancy treating yourself to some new fishing gear, use the exclusive discount code AgainstMenandFish10 to get 10% off when you shop online at Somerset Angling
If you don't fancy getting out on the bank in this awful weather, you can still get your fishing fix with a copy of my book from eBay here or Amazon here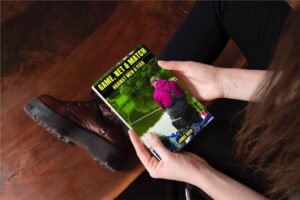 And if you could spare five minutes to leave a nice review on Amazon, it would be very much appreciated.
Next up – Revels
Coming soon – Lots more match reports
Check Out – My last match (below)