I was back at Revels for another Tuesday open and I could get used to fishing regular mid week matches, it's just a shame work gets in the way! The usual stop off for food in Yeovil which was really nice before heading to the fishery. I picked up some bait from the shop and the car park was pretty busy this week with 15 anglers booked in for the match including silvers supremo, John Barker.
The draw time arrived and we were on Main and Canal lakes today, I was just hoping to avoid the carpy pegs around the island in the corner, 12,14 and 16. John was first out and got 21 which is a decent area for silvers, a couple of the pegs I didn't want went but when my name came out, peg 16 was still in there and I was convinced I was getting it. Dean pulled a ball out and it had the number 20 on it, my dream swim and the best silvers peg on the lake! Had my lucky dinosaur worked its magic again?
Bob Crisp had drawn peg 2 which is another really good silvers peg and I had Neil Saxby on my left (peg 18) who was also fishing for silvers. I set up two Guru 0.3 gram AR's, one to fish a couple of lines at 11.5 metres and the other to fish at top two plus two, both had size 20 Guru Match Specials to 0.08mm. On the side tray I had maggots (dead and alive), casters, pinkies and some Bait-Tech Special G Dark and The Juice groundbait.
On the whistle I cupped in a pot of loose groundbait with some dead reds and pinkies at 11.5 metres straight out and then two pots at the same distance angled to the left. The short line also received a pot of loose groundbait. Starting straight out with double pinkie on the hook, I thought I might get bites quite quickly but it was slow going. Dave S over on peg 4 had a nice skimmer but it took me 15 minutes to get a bite which of course I missed, John hadn't had much at this early stage either. Neil landed a couple of skimmers on the waggler and Rich Butler on 16 was catching carp.
I missed the next bite as well while John had a nice skimmer, next chuck I finally got off the mark with a small perch. Then I had a nice skimmer followed by a little perch and was getting regular bites. I was loose feeding the short line with casters and toss potting in maggots and small amounts of groundbait on both the longer lines.
With an hour gone, I had two skimmers plus some smaller fish but was several skimmers behind John and Neil. In the second sixty minutes I had another two skimbobs plus perch and a gudgeon but both my neighbours were catching as well. The wind was being a pain again but I'm starting to expect nothing less when I go fishing although thankfully we hadn't had any rain yet.
Bites slowed up so I tried the other 11.5 metre swim but was struggling to see the float due to the light so didn't stay there long. I was still getting odd fish from my initial line but no more skimmers and I couldn't seem to gain any ground on Neil or John. Adding the 13 metre section I went past my feed and had a couple of chunky perch and then had three skimmers in quick succession to put me right back in contention. I also hooked and landed my first carp of around 3lb.
Every now and again, I dropped back in on the 11.5 metre line but never had another bite there but the rest helped the longer swim and I had several more skimmers plus perch and roach and was really enjoying myself. With about two hours to go, I had a dozen skimmers plus perch, roach and gudgeon but then I've hooked two carp in two chucks, the first one was foul hooked and led me a merry dance before I landed it. That killed my longer swim so I had my first look on the top two plus two line, I had a roach on maggot but couldn't get a bite on caster.
Neil hooked into a decent fish on the waggler which turned out to be a 2lb+ perch and I'd also seen Bob land a couple of better fish. John was getting some caster fish from his shorter line and he also landed a nice crucian from his longer line but they don't count. Back at 13 metres, I started to get bites again but was missing quite a few, I did land one more skimmer plus some roach. At the all out, I'd finished with 45 fish (13 skimmers, roach, perch and gudgeon) plus those three carp.
John was admitting to 6lb and said I had 10lb but I wasn't so sure, Neil said he had around 6lb but I thought he might have more with that perch. The weigh in started with Canal lake before heading along the far bank and then getting to us last. Looking at the weigh board, John Bass on Canal 66 was leading with 32lb 9oz which also included the best silvers weight so far of 6lb 8oz. Bob Crisp was the next best silvers with 6lb 1oz on peg 2.
Rich Butler had caught steadily all day and went into the overall lead with 62lb 8oz, then Neil had 5lb 13oz including that perch which went 2lb 3oz, a cracking fish. My three carp weighed 10lb 9oz and my silvers went 10lb 6oz but I still wasn't sure I'd beaten John. His silvers weighed 6lb 4oz so his estimation of both his and my catches was spot on! Photo credit – Rich Butler*
Overall
1 – Rich Butler (Revels) – 62lb 8oz
2 – John Bass (Revels) – 32lb 9oz
Silvers
1 – Jamie Rich (Against Men and Fish) – 10lb 6oz
2 – John Barker (Revels) – 6lb 4oz
What a lovely day, my first silvers win at Revels and a nice pick up of £45, I absolutely love the fishing, it's always a close match, today there were four silvers weights between 6lb 8oz and 5lb 13oz, that's just one skimmer.
There's still a great offer running if you fancy treating yourself to some new fishing gear, use the exclusive discount code AgainstMenandFish10 to get 10% off when you shop online at Somerset Angling
If you don't fancy getting out on the bank in this awful weather, you can still get your fishing fix with a copy of my book from eBay here or Amazon here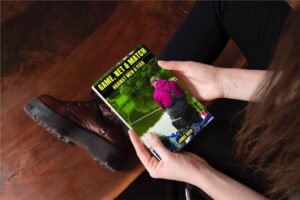 And if you could spare five minutes to leave a nice review on Amazon, it would be very much appreciated.
Next up – Summerhayes
Coming soon – Lots more match reports
Check Out – My last match (below)