Barney's Pairs is a match I'm always keen to do well in, we've fished it on various venue combinations over the years, the last time in 2020 (we didn't fish it last year due to Covid) it was on Hebditch's and Dillington. This year Rob put us on the Isle and Dillington and with the river fishing quite patchily, my partner, Terry 'The Toast' preferred the pond, leaving me praying for a flier!
Arriving at the bowling club for breakfast, I noticed something on the ground in the car park, closer inspection revealed it to be a little plastic dinosaur! Hoping it might be lucky, I picked it up and stuck it in my pocket (I'll take any help I can get!).
With another fantastic brekkie in our bellies (thanks Charlotte), it was time for the 'Wheels of Doom' to do their thing. First up were Rob and Leighton who got peg 1 on the pond and H3a on the river, next were Les (6) and Bish (15 or 17) and then it was our turn, Terry got peg 7 and then  the wheel spun for me, I wouldn't have minded another go on 122 or 123 but was overjoyed when it stopped on 14, the Tank Traps, the best peg on the river at the moment (was the dinosaur working already?).
Elsewhere, Tony C and Neil P got 123 and 5, Hurf and Hoffy were on 9 and H3, Nick (122) and Jenny (2), Jake (126) and Frank (8), then last but not least were Karl (14) and Gordon (128). There were two sections of four on each venue with one point for winning your section, two for second and so on.
We got to the river and my peg looked lovely with lots of options, I haven't drawn it since 2017 but below the traps now is a big bay and there's a large branch underwater which you can see when the river is clear (like today).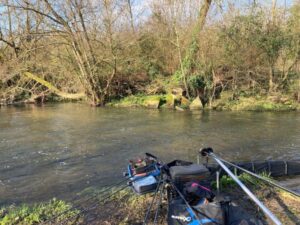 I set up a 0.6 gram DH16 plus a 1 gram bodied float to give me another option although I didn't pick it up all day. Both had size 18 Guru Match Specials to 0.10mm. Bait was just the the normal maggots, casters and Bait-Tech Super Seed hemp.
There are several spots where the fish can hold up, in the bay, by the traps or near the tree (to the left of the photo above) and sometimes they are up towards the weir on your left about 14.5 metres away.
The start time arrived and I slipped a caster on and went into the bay at 10 metres holding the rig back in the flow and after a few minutes, the float slid away and plenty of blue hydro showed itself, I shipped back and slipped the net under a nice 8oz chublet. Next put in saw a repeat performance with a smaller one and after four in four chucks I felt a good weight was on the cards, it was solid!
Then I bumped two on the trot so switched to double red maggot and had another good run of fish including a lovely dace. It was all going really well but then disaster struck when the float went under as I was about to feed and an over enthusiastic knee strike saw the rig in a right mess. Although I had similar rigs in my box (honest!), being a stubborn bugger I decided to try and untangle it and it took me nearly half an hour.
Back in action, it was still a bite a chuck and after an hour I had 16 fish for at least 4lb (at 4oz apiece). The second hour was similar and I added another 19 fish although I did lose one that snagged me. Apart from the odd dace it was all chublets with fish up to 1lb.
As we approached the halfway point, I started getting some minnows on maggot so went back to caster and carried on catching quite well but was having to chase them around a bit. Bish appeared on the far bank and said he'd only had a few small fish. Next Neil D arrived taking some photos, he'd already been out the pond and said most people were struggling, Jenny had caught an early chub and Terry had a coupe of little fish. While he was with me, I landed two more nice chublets. Check out his page ND Photography for more great photos.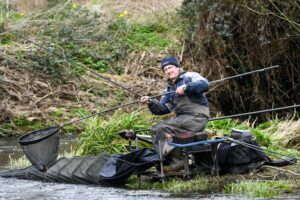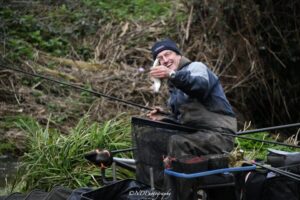 Although I was still catching quite well, bites were slowing up a bit and trying by the traps just resulted in a couple of minnows. I had a few decent chublets right by the underwater branch but also snagged up a few times and lost several hooklengths. By adding the 11.5 metre section and going tight to the far bank, I had a nice run of fish but one did me in a snag.
I carried on putting fish in the net on a regular basis including a couple of roach but did have a bit of a nightmare with about an hour to go when my landing net pole came apart just as I was about to net a decent chublet. The main flow is under your feet so I was in the rather uncomfortable predicament where my landing net and half the pole were heading off downstream and I had a 10oz chub on. I grabbed my two butt sections of pole, jumped off my box and managed to push the net into the margins before swinging the chub in and with the fish safely in the keepnet, I walked back downstream and retrieved the landing net.
The problem was, all this took place a few feet away from where I'd been catching my fish in a fairly shallow peg on a clear river! Needless to say, when I'd sorted myself out again, it took a while to get a bite after all the commotion. I did manage a few more chublets before the end of the match to finish up with 75 fish (mainly chublets with a few dace and two roach) and at a conservative 4oz apiece, I had nearly 20lb but hoped it would be a bit more.
Derek Hounsell, who'd been pleasure fishing downstream came to see how we'd got on and gave me a hand with taking my gear back to the car (cheers mate). We went round to weigh Bish in, he had 2lb 2oz which included some chublets and then up to my peg. I tipped all my fish into the weigh sling but the scales bottomed out so I removed a dozen fish and the first weigh was 18lb 3oz, the remainder went 8lb 14oz to give me a 27lb 1oz total. My best ever Isle match weight and I was well chuffed but I should have done 30lb+.
Back at the results and the river had been patchy, Tony C had two chub for 5lb 11oz from 123 to win his section, Nick P had 5lb 4oz (three chub) from 122 for second in his section. The other pegs at Isle Brewers had struggled, Jake had 1lb 12oz from 126 and Gordy didn't weigh on 128. At Hambridge, Leighton on H3 had 4lb 3oz of roach for third in his section and Hoffy was fourth in his with 4lb 2oz. Thanks to Nick Payne for the photos.*
Dillington had been rock hard, Jenny had done brilliantly to win the lake from peg 2 with 3lb 3oz thanks to an early chub. Neil P topped his section with a 2lb waggler caught chub and a few bits, Hurf was second in his section with 1lb 11oz of roach and Rob found a chub in peg 1 and weighed 1lb 10oz for three points. Thanks to Steve Hurford for the photos**
Terry had winkled out 1lb 7oz of roach but still finished last in his section, Les had 4oz on peg 6 but that gave him two points, Big Frank weighed 3oz on peg 8 and then porn star Karl on 14 didn't weigh.
With all the scores on the doors worked out, Tony and Neil were announced as the winners with a perfect two point score, followed by Jenny and Nick with three and Les and Bish on four. Terry and me ended up on five points, just missing out. I did pick up £20 for winning the section so we had a tenner each.
Pairs
1 – Tony Coubrough & Neil Purchase  – 2 pts
2 – Jenny & Nick Payne – 3 pts
3 – Steve Bishop & Les Braunton  – 4 pts
Sections
Isle
A – Jamie Rich (Against Men and Fish) – 27lb 1oz
B – Jake Woodard (Ilminster) – 1lb 12oz
Dillington
A – Steve Hurford (Ilminster) – 1lb 11oz
B – Frank Woodard (Ilminster) – 3oz
So a lovely way to end the river season for me, my best ever weight on the Isle and my third 20lb+ weight of the season. The river fished really well to begin with but was very patchy after Xmas with the roach doing a disappearing act.
Before I go I'd like to say a massive thanks to Rob Cox for organising it, Charlotte and Drew at the bowling club for looking after us and of course to all the anglers for supporting the match in Barney's memory.
There's still a great offer running if you fancy treating yourself to some new fishing gear, use the exclusive discount code AgainstMenandFish10 to get 10% off when you shop online at Somerset Angling
If you don't fancy getting out on the bank in this awful weather, you can still get your fishing fix with a copy of my book from eBay here or Amazon here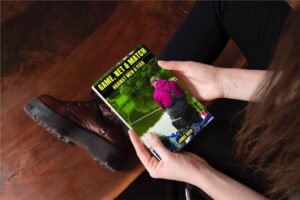 And if you could spare five minutes to leave a nice review on Amazon, it would be very much appreciated.
Next up – Revels
Coming soon – Lots more match reports
Check Out – My last match (below)