I've been dying to get back down to Revels as I love fishing the matches there, so with some leave left that I had to use up, I booked a few Tuesdays off. Steve P said he'd come and we met in Yeovil for breakfast which was really good, hopefully the rest of the day would be equally as nice. We arrived in good time and got some bait from the shop, with a slightly depleted turnout we were all on Main lake today.
When it was time for the draw, they needed to put one more peg in and the choice was between 21 (good silvers peg) and 14 (decent carp peg), most people voted for the latter and I was really hoping I didn't get it. My name was first on the list and you can probably guess what's coming next, yep peg 14 was pulled out the bucket – bugger! My drawing arm seems to have suffered a major malfunction when it comes to silvers pegs at Revels (even though I'm not doing the drawing!). Steve got peg 4 which isn't brilliant either although it does have a bit of silvers form and we decided todays nugget would be on silvers.
My peg has an island and the last time I drew it, I tried to avoid the carp by fishing in the open water to the right but actually won the match with some rather lumpy, accidental carp. Despite a chilly start, the weather wasn't too bad although some rain was due later. I set up two Guru 0.3 gram AR's, one to fish a couple of lines at 11.5 metres and the other to fish at top two plus two down to the right which was the deepest part of the swim.
On the side tray I had maggots, casters, pinkies and some Bait-Tech Special G Dark and The Juice groundbait. The match got underway and I fed some loose groundbait and pinkies on the longer lines before starting short with double pinkie on the hook and feeding a few over the top. I had an indication after a couple of minutes and then a positive bite resulted in loads of yellow hydro out and after a short scrap I landed a 3lb carp.
Next put in, after a short while, the float went again and a bigger fish gave me the run around before I netted a seven pounder. After that rather frantic start, it settled down and I began catching some little perch, rudd and gudgeon. With an hour gone and bites slowing up, I was dying to go out on the longer lines where hopefully I'd get some better quality fish.
First put in at 11.5 metres, the float buried but another gudgeon wasn't what I'd hoped for, I was getting plenty of bites but only from gobies and small perch along with the very occasional 2-3oz roach or perch. Then it started chucking it down and it was freezing cold rain, lovely! Paul Lancaster on peg 12 was getting the odd carp and I could see Alan W over on peg 20 (my dream silvers peg), catching some lumps.
From getting regular bites I was now really struggling and I even set up a rig to fish for carp and opened a tin of corn but despite trying across to the island and down the edge I never had a bite. I spent the last couple of hours hoping against hope that some better silvers might show up but only added a few bits and pieces plus a single 3oz skimbob.
To be honest, I was soaking wet and cold and it was a relief to hear the whistle, my final tally was 29 small fish plus those two carp and I knew I wouldn't be winning any prizes today. While I was packing my kit away, Steve turned up and paid me his nugget although he said he'd chucked back 2-3lb of silvers and I said I didn't have that.
When the scales reached me, Chris Burgess was leading the silvers with 7lb 12oz from peg 2 and Dave Stanbridge was winning overall with a combined 42lb 4oz from peg 11. My two carp weighed 9lb 12oz and my silvers added a massive 1lb 13oz to give me a total of 11lb 9oz. Neil Saxby on 16 weighed 18lb 13oz of carp and then Alan plonked an impressive 77lb 13oz on the scales for another win.
Bob Crisp sneaked second in the silvers with only 3lb 1oz so Steve might have been close to a pick up if he hadn't chucked back and I might not have been far off if I'd stayed fishing for small fish instead of trying to catch carp.
1 – Alan Winsper (Revels) – 77lb 13oz
2 – Dave Stanbridge (Revels) – 42lb 4oz
Silvers
1 – Chris Burgess (Revels) – 7lb 12oz
2 – Bob Crisp (Revels) – 3lb 1oz
So a really disappointing day and I'm fed up with this weather now! I'm back for another go next week so please let me draw a nice silvers peg, I must be due one. I did add another pound to the charity Nugget-O-Meter which now stands at £23.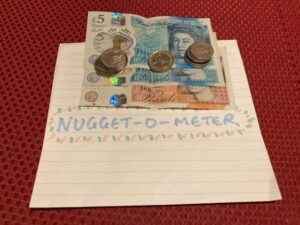 There's still a great offer running if you fancy treating yourself to some new fishing gear, use the exclusive discount code AgainstMenandFish10 to get 10% off when you shop online at Somerset Angling
If you don't fancy getting out on the bank in this awful weather, you can still get your fishing fix with a copy of my book from eBay here or Amazon here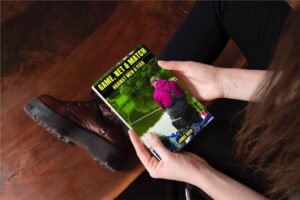 And if you could spare five minutes to leave a nice review on Amazon, it would be very much appreciated.
Next up – Barney's Pairs
Coming soon – Lots more match reports
Check Out – My last match (below)