Match two of three and I always look forward to these charity matches, a cracking venue, great banter with a lovely bunch of people and hopefully a few fish too. As always we got the day off to the perfect start with a fantastic breakfast at the bowling club (thanks Charlotte and Drew) before heading to the draw. After everybody had arrived and Grand Wiz had relieved us of our pools money, it was that time of day that people look forward to and dread in equal measure.
The two most consistent pegs on the pond are 3 and 4 so these are normally the ones everybody wants, the near bank tends to be preferable to the far side and the only peg I really don't like is number 10 in the corner. Terry 'The Toast' went straight in and pulled it out, so at least that was out the way. I grabbed one but didn't look and as people began opening their peg numbers, nobody was admitting to 3 or 4. Steve P had a look and was on 11 so I unfolded my little piece of paper to see the number 3 staring back at me (dinosaur magic strikes again!) and I got called a few rather choice names.
Marco Smith was on peg 4 and Burnsey finally drew a peg on the near bank in the shape of peg 2, Rob Wylde was on 1, Jake Berkley on 12, Bagger Burton drew 9, Nick P on 8, Grand Wiz was on 7, Rob Cox got 6 and Mark Ragless (fishing his first match in nearly 30 years) was on peg 5.
The pond looked lovely but there weren't many fish moving about although I was still expecting it to fish well. I set up a 0.6 gram Drennan AS5 Pencil float to fish two lines at 11.5 metres, one with micros and corn and the other with groundbait and maggots plus a Drennan Crystal Dibber for fishing shallow. On the side tray I had a couple of pints of reds plus some deads, corn, 6mm's, micros, and Bait-Tech Special G Dark and The Juice groundbait.
The Grand Wiz got us underway with a very enthusiastic toot of his whistle and I fed micros with a few grains of corn at 11.5 metres straight out and groundbait containing dead reds at the same distance angled to the left. I started on corn and after a couple of minutes, the float dipped before going under, for once I didn't miss it and a small 10oz carp got me off the mark. Andy B next door flew out the traps with several fish and I could hear splashing coming from the direction of Marco in peg 4 but it looked to be quite slow for everybody else.
I was catching quite well and got to ten carp, including three better fish around 3-4lb, in the first sixty minutes before bites started to slow. Trying the maggot line I had a couple of little pasties followed by my first nice skimmer around 12oz. Small rudd and roach were being a bit of a pain with most coming off as I shipped back so I tried corn and had a couple more little Ginsters but it wasn't really happening.
Andy had switched to the feeder and landed three nice carp in as many chucks but it was short lived. I was back on my original line and thought I might get another little burst of fish but the float just sat there and with two hours gone, I had sixteen carp, that skimmer and a few bits and bobs but the swim had just died. The day was warming up and odd carp could be seen cruising so I picked up the shallow rig and started pinging out a few 6mm's but never had a bite on it.
Normally here you catch carp well for 2/3 hours before it slows and in previous matches I've found when that happens, switching to the maggot line you can keep your catch rate ticking over with odd skimmers, quality roach and little pasties. Today that hasn't really got going at all, I did have two more skimmers but was waiting ages for bites and going nowhere fast.
With around two hours to go I was really struggling but so was everybody else as far as I could tell. Apparently Marco was still getting odd fish but had lost a fair few although I felt he must be ahead of me and I didn't think there was much between me and Andy B either. Then Nick P and The Grand Wiz started catching the odd carp on the opposite bank and I really needed to get a few fish from somewhere.
There's a big bed of reeds between pegs 3 and 4 and the odd dark shape could be seen but they were out of range, I did try going to 14.5 metres with the shallow rig but no bites. Picking up the deep rig I plumbed up a new line at 13 metres to the right, in front of the reeds but not too close to give me a fighting chance if I hooked a carp.
I toss potted in some micros with a few grains of corn but a further fifteen minutes passed without any indications and I was just thinking about trying something else when the float buried and after a decent scrap I landed a nice 4lb fish. Three more in as many chucks for another 14lb had me thinking I was going to bag right up for the last hour but once again it didn't last. I did manage a couple of pasties and three more decent carp before Chris brought proceedings to an end. The scores on the doors for me were, 26 carp, 3 skimmers and a few little roach and rudd.
After packing up, I went to watch the weigh in and get some photos, Rob W on peg 1 had lots of little carp for 8lb 15oz before Mr Burns weighed 24lb 12oz, I was next and my silvers went 2lb 4oz, my small carp weighed 10lb 4oz and then my bigger carp added 37lb 10oz to give me a total of 50lb 2oz. I still thought Marco might beat me but he said he'd lost a dozen fish and snapping a pole section before the start didn't help, he had 22lb 13oz.
Mark Ragless had enjoyed his first match back catching a nice carp of 5lb 13oz plus two small fish (although he said they weren't small, he just had big hands!). Rob C had one carp for 4lb 14oz, Grand Wiz weighed 13lb 6oz and then Nick had 20lb 11oz of carp and 3lb 15oz of silvers to go into third spot with 24lb 10oz, just 2oz off second.
Bagger Burton had lots of little roach and rudd for 3lb 13oz and then a very chilly looking Terry 'The Toast' had 19lb 11oz from peg 10. Steve P next door weighed 10lb 9oz and then Jake had 11lb 8oz so it had fished quite hard for most.
1 – Jamie Rich (Stoke AA/Against Men and Fish) – 50lb 2oz
2 – Andy Burns (Stoke AA) – 24lb 12oz
3 – Nick Payne (Stoke AA) – 24lb 10oz
Sections
A – Marco Smith (Stoke AA) – 22lb 13oz
B – Terry Morgan (Stoke AA) – 19lb 11oz
Silvers
Ian Burton (Stoke AA) – 3lb 13oz
I picked up £50 for winning and as quite a few of us bunged a quid in for winner takes all, the charity Nugget-O-Meter benefitted by £6 and now stands at £42.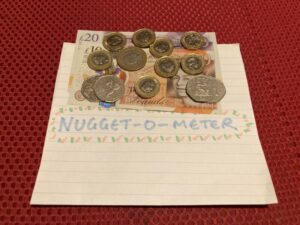 The anglers raised another fantastic £130 for the Oncology Unit at Yeovil Hospital (Nick P donated a tenner from his winnings which was a very kind gesture). As always we would like to say a massive thanks to the Hebditch family for allowing us to use the pond, Charlotte and Drew at Ilminster Bowling Club for looking after us in the mornings, Chris White for his faultless organisation and of course the anglers for their continued support.
There's still a great offer running if you fancy treating yourself to some new fishing gear, use the exclusive discount code AgainstMenandFish10 to get 10% off when you shop online at Somerset Angling
I still have copies of my book available from eBay here or Amazon here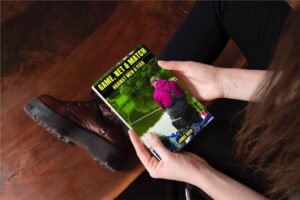 And if you could spare five minutes to leave a nice review on Amazon, it would be very much appreciated.
Next up – Summerhayes
Coming soon – Lots more match reports
Check Out – My last match (below)